Diesel Technology
South Plains College receives provisional accreditation for diesel technology program
LEVELLAND – South Plains College has been granted provisional accreditation for its diesel technology program through the Associated Equipment Distributors (AED) Foundation, a national organization that sets the standards and oversees diesel equipment technology programs.
SPC will become the only facility in Texas to achieve the accreditation status upon approval with the nearest other programs in Oklahoma and Louisiana.
"This process has taken us about five years to gain national accreditation," said Whitney Owens, program coordinator and professor of Diesel Service Technology. "They came here for the site visit and sent their report on to the AED. They notified us of a few changes we need to make in our reporting. We should have updated our documentation and resubmit it. Hopefully, we will be fully accredited in six months."
Owens said that according to its website, the AED Foundation Accreditation is an important credential for post-secondary community colleges and technical schools that recognize and value the importance of the broader, more complex and more sophisticated skills and knowledge sets, both technical and academic, for modern diesel/equipment technicians.
"While service technicians must have skills and knowledge to service and repair equipment, we try to teach them to be ready and know that this is only the beginning," Owens said.
Additionally, the AED Foundation requires schools or colleges to spend class time on topics including safety; electrical and electronics; hydraulics and hydrostatics; power trains; diesel engines as well as air conditioning and heating.
"The end result would be for SPC to obtain the seal of approval from a nationally accredited organization and that's what we want for our program and our students," he said.
For more information on the Diesel Technology Program at South Plains College, contact Owens at (806) 716-2293 or email wowens@southplainscollege.edu .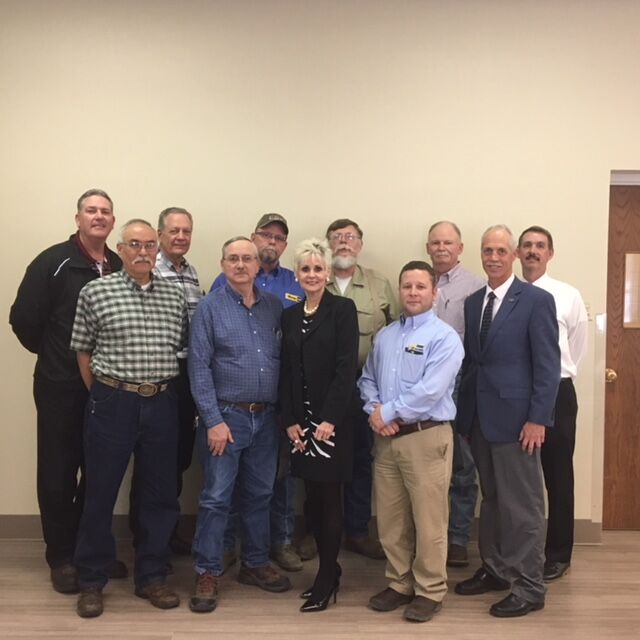 AED ACCCREDITATION – South Plains College's Title V Diesel Technology Heavy Equipment Program recently received provisionary accreditation from the Associated Equipment Distributors (AED) Foundation, a national organization that sets the standards and oversees diesel equipment technology programs. Shown are, front row from left, Tony Ortiz, professor of Automotive and Diesel Service Technology; Terry Chrestman, instructor in Diesel Service Technology; Dr. Gail Malone, director of the Teaching and Learning Center and Education Department and Title V Project director; Brad Western of Yellowhouse Machinery Company of Lubbock, advisory board member; and Rob Blair, dean of Technical Education. On the back row, from left, are Tony Tice, AED Thompson Machinery in Mississippi; Ivan Bullock, AED Pocatello, Idaho; Sammy Greenfield, Warren-CAT, advisory board member; Whitney Owens, program coordinator and professor of Diesel Service Technology; Pete Stracener, chairperson of the Industrial Technology Department, Program Coordinator and professor of Welding Technology; and Todd Holland, Title V Coordinator. (SPC Photo/Wes Underwood)