Livestock Judging Team
SPC's Livestock Judging Team wins San Antonio Collegiate contest
LEVELLAND – The South Plains College Livestock Judging team recently won the San Antonio Collegiate Contest. The event was held at the San Antonio Stock Show and Rodeo.
South Plains College finished the contest with 4,528 points ahead of Blinn College's 4,523 total points. The contest featured more than 21 teams from across the nation including three from Texas. The win also represented the first time South Plains College has won this contest since it began in 2005.
"This was probably as big a win as any other as we prepare for the National Championship at the Houston Collegiate Livestock Judging Contest on March 12," said Conner Newsom, coach of the SPC Livestock Judging Team. "After winning the national title in Houston last year, we know we will have a target on our backs."
The team members are Madison Shults and Ty Dunham, both of Meeker, Colo.; Bailey Baade of Franklin; Tanner Keeton of Borger; Drew Lamle of Columbia City, Ind.; Conner Cross of Wilkinson, Ind.; Kyle Malaer of Port Lavaca; Julia Koltermann of La Vernia and Jeyson Price of Brackettville.
Shults finished sixth high individual overall, high individual in sheep, fourth high individual in swine and goats. Lamle finished ninth high individual overall, high individual in goats, seventh high individual in oral reason. Cross finished seventh high individual in goats and tenth high individual in swine. Price finished third high individual in sheep. Koltermann finished seventh high individual in sheep. Keeton finished eighth high individual in goats.
The SPC Livestock Judging Team won the contest by finishing high team in sheep, high team in goats, high team in swine and third high team in oral reason.
"I think the main thing was the team was probably as consistent as I've seen all season," Newsom said. "We clicked at just the right time and I hope we can do it again in Houston."
For more information, contact Newsom at (806) 716-2312.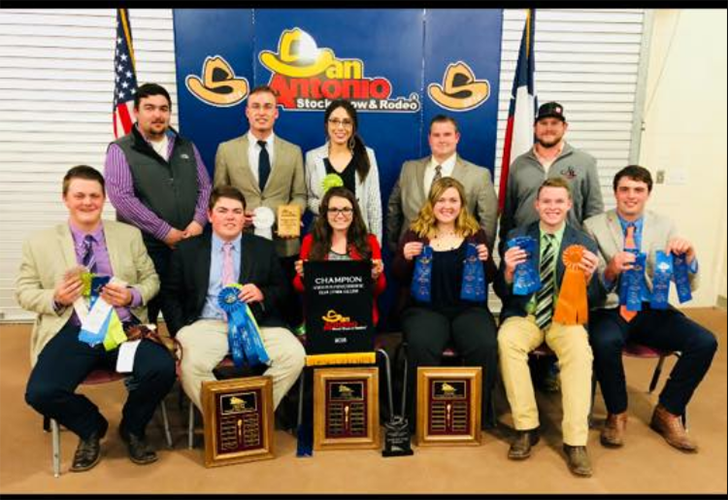 SAN ANTONIO CHAMPIONS – Members of the South Plains College Livestock Judging Team recently won the San Antonio Stock Show overall championship. Seated on the front row from left are Conner Cross of Wilkinson, Ind., Drew Lamle of Columbia City, Ind., Madison Shults of Meeker, Colo., Bailey Baade of Franklin, Tanner Keeton of Borger and Ty Dunham of Meeker, Colo. Shown standing are, from left, Cam Anderson, student assistant; Jeyson Price of Brackettville, Julia Koltermann of Lavernia, Kyle Malaer of Port Lavaca and Conner Newsom, coach of the SPC Livestock Judging Team. (Photo courtesy of Conner Newsom)