Youngest Graduate Tori Wright
SPC annual commencement ceremony to include youngest graduate in college's history
LEVELLAND – On Friday (May 11), South Plains College will hosts its 60th Annual Commencement in the Texas Dome. The festivities will include presentations to the 2018 Faculty Award recipient, the 2018 Distinguished Alumnus and the graduating Class of 2018.
The highlight of the event will be the awarding of associate degrees and certificates to the Class of 2018. Among the recipients will be the youngest graduate in the history of SPC Victoria Wright of Littlefield. Wright, 15, will receive her Associate of Art degree.
The SPC Class of 2018 also will include 12 candidates for graduation that will receive their associate degree before obtaining their high school diplomas. Three students were homeschooled – Malachi Bazar, Charis Hunt and Claire Tomba. The remaining candidates are high school seniors – Sara Beadle of Jayton High School; Conner Faught of Wellman Union High School; Jane Fidaleo of Levelland High School; Sara Guenter of Wellman Union; Bailey Kidder, Southcrest Christian High School; Mikayla Merigan of Lazbuddie High School; Hunter Neil of Wellman; Mia Olivio of Shallowater High School; and Ashleigh Winks, Lubbock Cooper High School.
The previous record was held by John David Ricker of Ropesville. He was 16 years old when he received his degree in 2013. Wright will celebrate her 16th birthday in June.
"I was home schooled in high school – from freshman year to senior year," Wright said. "It took me a year to finish it all. I graduated high school when I was 14, and at 15 here I am at college."
Wright sustained a head injury after a nine-foot-fall from a ladder while attending school at Sudan. She suffered a concussion, and spent the next nine months recovering from the injury. Because she missed so many days of school, Wright and her parents, Casey and Vanna Wright decided to pursue homeschooling to help their daughter.
According to Vanna Wright, "In Texas, you can start dual-credit courses when you are 13 years old. We signed her up, and she took dual credit and home school classes."
Wright said the concussion caused her to struggle with memory. After implementing a routine using flash cards, Wright was able to recover the lessons from the previous day and add new material daily. Wright's drive and dedication earned her a trip to the Congress of Future Medical Leaders in Boston, Mass., where she received the National Academy of Future Physicians and Medical Scientists Award of Excellence. She also was inducted into the Torch and Laurel Honor Society. She graduated with a diploma from home school in June 2017.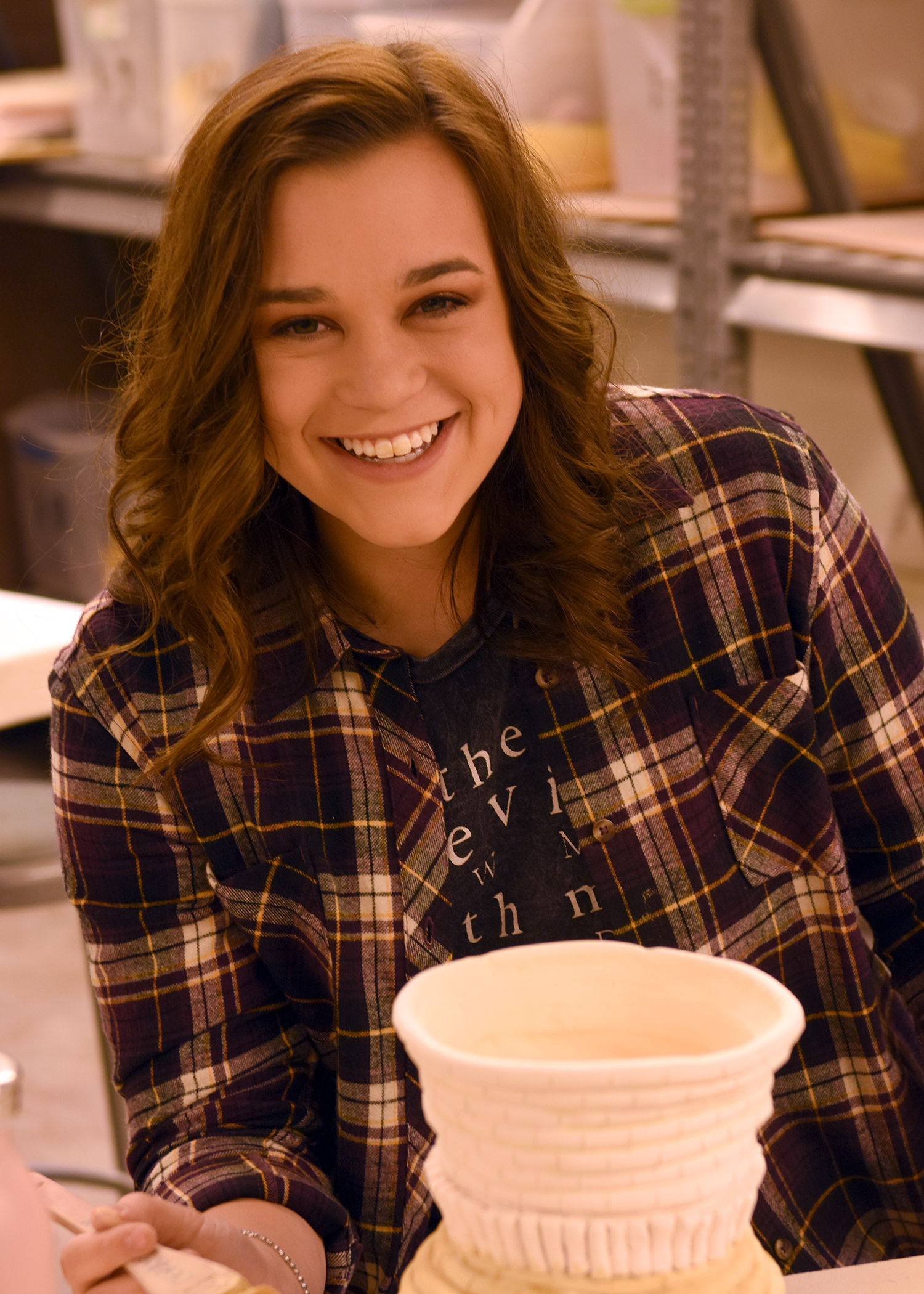 In fall 2017, Wright started her first year of college at Texas Tech University where she wanted to study science. She said she found the size of the campus, the number of students and the experience very overwhelming.
"I could not do it," she said. "I went from a class of one to hundreds of students. It wasn't that (the class size) that bothered me, it was just more of the environment. That just really overwhelmed me. There's crazy stuff that I didn't want to see in my whole life."
Following her experience at Texas Tech, Wright took a semester break. Wright then decided to come to South Plains College. Both of her parents received their associate degrees from SPC.
"I didn't actually see myself really graduating from Texas Tech," she said. "I wanted to try it because I knew that I would question whether or not I could have done it."
At SPC, Wright found her niche. She switched from majoring in science to art.
"I'm a very social person, and I like to talk to people," she said. "But I could never do that at Tech."
Wright will complete the final 18 she needs to obtain her associate's degree where she is studying two dimensional art. Additionally, Wright was inducted into the Phi Theta Kappa International Honor Society at SPC.
Although she will graduate on Friday, Wright said she plans to transfer to Wayland Baptist University. She already has been recruited to join their cheer team.

Victoria credits her successful recovery and accomplishments to both her SPC and her 'real family.' She said she is grateful for their support.
"I want to take my time now," she said. "I think where I'm different is I see where my priorities are supposed to be however the path is going to be a little different, but slower."
Wright said she found solace in the quote "If you want to make God laugh, tell him about your plans."
"God laughed at me about my 10-year plan," she said. "So now it's whatever his plan is for me."