Commencement Ceremony
South Plains College will host 60th Annual Commencement Ceremony on May 11
LEVELLAND – South Plains College will host its 60th Annual Commencement Ceremony on Friday (May 11). The first ceremony will begin at 9:30 a.m. with the second ceremony set to start at 1 p.m.
In the first ceremony, 445 candidates for graduation will participate. In the second ceremony, 388 candidates for graduation will participate. This year, 1,460 students applied for graduation and 833 will participate in the event.
The college will honor the 2018 recipient of the Faculty Excellence Award, who will carry the banner as the faculty enters the Texan Dome. Also, the departmental chairpersons and instructional deans will select candidates for graduation to carry the divisional banners in the Commencement processional.
The banner bearers will represent the Division of Arts and Sciences, the Division of Health Occupations and the Division of Technical Education.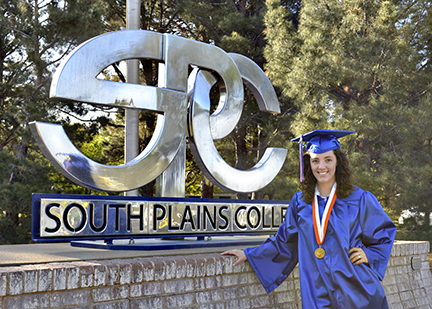 SPC SPRING 2018 COMMENCEMENT – South Plains College senior Danae Race of Levelland will participate in the 60th Annual Graduation Commencement ceremony on Friday (May 11) in the Texan Dome. SPC will host two ceremonies – one at 9:30 a.m. and the other at 1 p.m. Approximately 828 students will participate in the event. (SPC Photo/Adrian Mellberg)