Catherine the Great
Dowager Empress of Russia
Artist Unknown, 18th Century
42" x 54" oil on canvas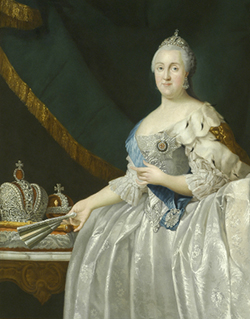 This oil painting is a pastiche of an original portrait of the Russian Dowager Empress painted after she assumed the throne in 1762. It was common at the time for court artists to make copies of original portraits of monarchs for other royalty to display in their residences. On the back of the painting is an old label saying it had been in the collection of Prince Alexander Mikhailovitch Beloselsky (1752-1809). It was in all likelihood displayed in the grand and enormous Beloselsky-Belorzersky Palace on the Neva Prospeck in St. Petersburg, Russia, across from the imperial Anitchkov Palace.
Catherine the Great was Empress of Russia from 1762-1796. The Academy of Arts, reorganized in 1774 under Catherine II became the nursery of Russian artists. The Academy was a copy of that in Paris, even sending its professors to Paris to study. However, the majority of Russian artists of the period were peasants. At an early age, they were sent to study with a master, requiring them to work in the manner of the master. This is the reason so many fine portraits of the 18th century are attributed to unknown artists.
The entire 18th century constituted a period of following, on a grandiose scale, Renaissance styles from the early phases through the Baroque, the Rococo, and the Classical Revival. This imitation influenced Russian art especially in the field of literature, music and dance. Russia followed the same sequence of styles from the Baroque to the Classical Revival, as did the other countries of Europe.
This painting was presented to the College in June 1968. A generous grant from the Helen Jones Foundation allowed for restorative treatment to the painting in 2011.
Flemish Countryside
F. Van Paemel, 1780
80" x 92" oil on canvas
This is a Flemish painting that depicts a genre scene in the landscape, a subject highly appreciated and expressed among Dutch artists during the late 18th century. It presents a narrative of celebration and play in the lives of common people. The landscape is the kind that enjoyed great popularity because its elements were so familiar, from the distant city in atmospheric perspective to the fluidity of brush stroke expressing foreground detail.
The painting was originally displayed in Mrs. Post's Florida Mar-a-Lago Estate in the Pine Hall, along with four other paintings depicting similar genre scenes. The series of five paintings was purchased by Mrs. Post in the 1920s. This painting, the largest of the series, was given to the College in January 1966.

Birds in Landscape
Carl Jutz, 1860
68" x 52" oil on canvas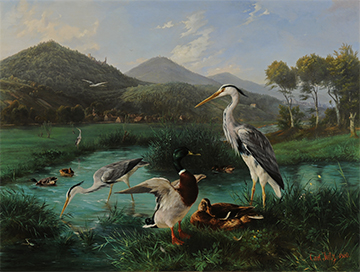 This oil painting portrays a serene landscape with colorful birds in the immediate foreground. Thelandscape terminates at the mountain range in the background. The detail given to the birds suggests a scientific illustration. However, this was typical of the style of Carl Jutz (1838-1916), a very fine German painter of still life and nature studies. In 1853, Jutz joined the studio of animal painter Augustus Knip in Baden-Baden, Germany. After Knip's death in 1861, he wanted to study at the Munich Art Academy, but he seems not to have been admitted. Therefore, he continued his training auto-didactically.
On his travels, Jutz came into contact with Dusseldorf painters and subsequently moved there to study at the academy. By 1865, his art was regularly exhibited in Dresden, Munich and Berlin. International recognition of Jutz's art came in the following decade where he received awards from expositions in Vienna (1879), Melbourne (1881) and New York (1902). His paintings have been reproduced by a number of art houses and are still popular for their careful individual studies of animals and pets.
The painting belonged to C.W. Post and was passed to his daughter, Marjorie M. Post. The painting was the first of three works that were loaned to the College in February 1965. It was later gifted to South Plains College in May 1973.
Through a generous grant from the Helen Jones Foundation, the Jutz painting received restorative treatment in 2015.

Bacchanalian Feast
Artist Unknown, 18th Century
114" x 70" oil on canvas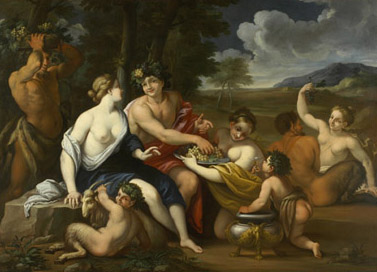 An excellent example of 18th century Italian genre art, this oil painting features the Roman god Bacchus in revelry with humans, satyrs and other mythical creatures. The painting was purchased by Marjorie M. Post's father, C.W. Post in 1912 at the famous Galleria Borghese sale in Rome. The Galleria Borghese dates back to Cardinal Scipione Borghese, nephew to Pope Paul V (1605), and a great collector of Italian sculpture and art.
This painting was presented to the College by Mrs. Post in January 1966.
Through a generous grant from The CH Foundation, the painting received restorative treatment in 2011.
Napoleon's Retreat from Russia
Joseph Emmanuel van den Bussche, ca. 1884
76" x 56" oil on canvas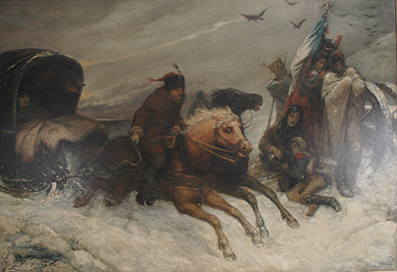 Joseph Emmanuel van den Bussche was a painter of "genre" and history. He was born in Antwerp, Belgium, in 1837 and died in Boitsfort near Brussels in 1908. He was a professor in Brussels. Emperor Napoleon was a favorite subject of van den Bussche. Two other paintings – Napoleon's Battle at Waterloo and Laissez Passar L'Empereur – picture Napoleon in a historical context. Napoleon's retreat from Russia in 1812 was a major turning point in the Napoleonic Wars. The campaign reduced the French and allied invasion forces to a tiny fraction of their original strength.
There is evidence compiled by Paul Grimwood of Jerseyville, Ontario, Canada that the painting at one time hung in Senator William Eli Sanford's grand estate Wesanford in Hamilton, Ontario. The painting was sold in an estate auction in 1938 for the disappointing price of $80. It is unknown if Mrs. Post purchased the painting at this estate sale or later through an art dealer.
This historical painting was given to SPC in January 1966.

Granville, 2nd Earl of Gower
Sir Joshua Reynolds, P.R.A., ca. 1760
57" x 88" oil on canvas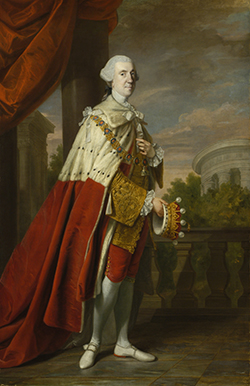 The middle-aged nobleman is portrayed in full length, standing on a balcony. He is garbed in the robes of a Peer, a long, ermine-trimmed cloak partly concealing his tall, erect figure. The chain and pendant of St. George encircle his shoulders. In his right hand he holds a coronet, and with his left he lightly touches the ribbon that fastens his cloak at the neck. The immobility of his lean face tends to emphasize the keenness of his dark eyes, which are turned inquiringly upon the spectator. In the immediate background are a pillar and a draped crimson curtain, interrupting the more distant view of sky and tree tops.
The Earl portrayed in this painting is believed to be Granville Leveson-Gower, the son of John, first Earl of Gower. He was born August 4, 1721, and died October 26, 1803. From 1747 to 1764 he sat in Parliament as member from Westminister; and at various times was Lord Privy Seal, Lord Chamberlain and Lord President of the Council. He succeeded as second Earl of Gower in 1754 and was created Marquess of Stafford on March 1, 1786. He sat to Reynolds in 1760-1761.
Sir Joshua Reynolds (1723-1792) was an English Painter in the Grand Manner, who was the foremost portraitist of his day. He was born in Plympton, Devonshire, on July 16, 1723, the son of a cleric. He learned portraiture from Thomas Hudson, the most fashionable painter at the time in London. After three years traveling in Italy, he returned to London, where he soon attracted notice by his portraits of prominent persons. He came to be the first English painter to achieve social recognition for his artistic achievements.
In 1764 Reynolds founded the Literary Club, which included essayist and critic Samuel Johnson, actor David Garrick, statesman Edmund Burke, writer Oliver Goldsmith, writer James Boswell, and dramatist Richard Brinsley Sheridan. When the Royal Academy of Arts was instituted in 1768, Reynolds was elected president and was knighted. In 1769, he delivered the first of his annual Discourses to the students of the academy in which he set forth the idealistic, moralizing principles of academic art. In 1784, he succeeded Allan Ramsay as painter to the king. In the same year he exhibited his portrait of the English actor Sarah Siddons as the Tragic Muse (1784, Huntington Art Gallery, San Marino, California), probably his greatest portrait.
Reynolds is credited with more than 2,000 portraits. Stylistically, he was influenced by Michelangelo and the Flemish painter Peter Paul Rubens. Reynold's portraits were distinguished by calm dignity, classical allusions, rich color, and realistic portrayal of character. His portraits form the epitome of London society of his day. He died in London in February 23, 1792.
This portrait was purchased by Marjorie M. Post at the Sale of the Blakslee Collection in New York in 1915 reportedly for $4,000.
Prior to it being loaned to SPC, the portrait was examined in 1962 by Eric Waterhouse of the Barber Institute of Fine Art, Birmingham University, England. Professor Waterhouse, at the time, was a leading authority on Reynolds and his portraits. While he substantiated that the portrait was indeed a product of Reynolds' studio, he was more inclined to identify the gentleman in the picture as James, 2nd Earl of Waldegrave (1715-1763). His identification was based on its comparison to other portraits of Granville Leveson-Gower, 2nd Earl of Gower, and those of Lord Waldegrave who may have sat for the portrait in 1760-1761.
At the time the painting was loaned to South Plains College in February 1965, it was said to be the only Sir Joshua Reynolds portrait on public display west of the Mississippi River. Mrs. Post officially gifted the painting to the College in May 1973.
Through a generous grant from The CH Foundation, the painting received restorative treatment in 2009.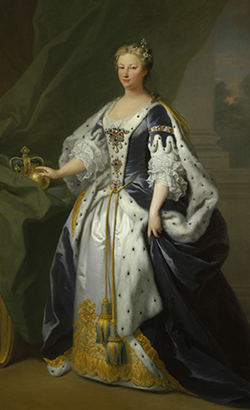 Caroline, Queen of George II
Sir Godfrey Kneller, ca. 1716
52" x 86" oil on canvas
This full-length portrait represents Caroline of Brandenberg-Ansbach, who became Queen Consort of England in 1727. She is standing and facing the left, three-quarters front. She wears a blue gown trimmed over in ermine and satin. Her sleeves are short and draped with lace, and her low-necked bodice is adorned with jewels. Her right hand rests on the regalia on a table at her side.
Caroline (1683-1737) was the daughter of John Frederick, Margrave of Brandenburg-Ansbach. Five years after her father's death in 1687, her mother married Elector John George IV of Saxony, and Caroline lived with her mother at Dresden. Left an orphan in 1696, the girl lived at Berlin with her guardians, Elector Frederick III of Brandenburg, and his wife, Sophia Charlotte, daughter of Electress Sophia. At the age of twenty-two she married George Augustus, Electoral Prince of Hanover, by whom she had eight children, the eldest being Frederick. When her father-in-law George I became King of England in 1714, she and her consort went to England and shortly thereafter were invested as Prince and Princess of Wales. Thirteen years later, in 1727, George Augustus ascended the throne as George II.
When Mrs. Post acquired the painting, the sales catalogue attributed the painting to [?] Allan Ramsay (1713-1784), who George III appointed Principal Painter to the king in 1767, long after Caroline died in 1737. However, when the painting underwent conservation treatment in 2009, two faded and deterioated labels were discovered on the stretcher, which attributed the painting to Sir Godfrey Kneller (1646-1723). Kneller was the leading portrait painter in England during the late 17th and early 18th centuries, and was court painter to Britist monarchs from Charles II to George I, a span of 43 years.
Kneller was born Gottfried Kniller in Lübeck, Germany. He studied in Leiden, but later became a pupil of Ferdinand Bol and Rembrandt in Amsterdam. After working in Rome, Venice and Hamburg, he came to England in 1674 at the invitation of the Duke of Monmouth. He was introduced to, and painted a portrait of, Charles II. Concentrating almost entirely on portraiture, he founded a studio which produced portraits on an almost industrial scale. His portraits set a pattern that was followed until Joshua Reynolds and William Hogarth. When Sir Peter Lely died in 1680, Kneller was appointed Principal Painter to the Crown by Charles II.
In the 1690s, Kneller painted the Hampton Court Beauties depicting the most glamorous ladies-in-waiting of the Royal Court for which he received his knighthood from William III. Created a baronet by King George I, he was also head of the Kneller Academy of Painting and Drawing from 1711-1716 in London. Kneller died of fever in 1723. There is a strong likelihood that this portrait of a young Caroline was painted sometime after she and George Augustus arrived in England as Prince and Princess of Wales.
This portrait was part of the Collection of the Duke of Fife, Duff House, Banffshire, Scotland and was exhibited in the Guelph Exhibition in the New Gallery, London in 1891.
The painting was loaned to the College from Marjorie M. Post's private collection in February 1965. It was gifted to the college in May 1973.
Through a generous grant from the Helen Jones Foundation, the Caroline portrait received restorative treatment in 2009. The conservation process revealed that the painting had received later painted additions to the background drapery and to the sitter, perhaps in an attempt by an auction house to make the painting more desirable for sale. These later additions were removed, revealing Caroline's classic features, as well as the original background.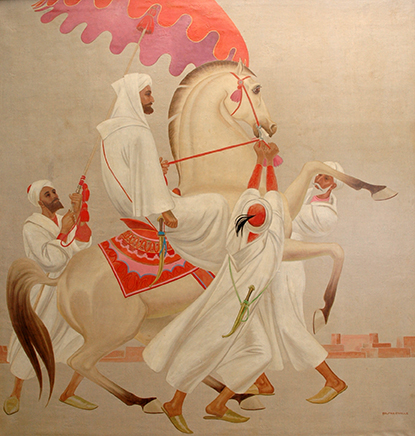 The Sultan of Morocco on a Stallion
Charles Baskerville, Jr., ca. 1927
82" x 80" oil on canvas
The only 20th century artist represented in the collection, Charles Baskerville, Jr., was a prominent American portrait painter, illustrator, cartoonist, and muralist. Named after his father, he was born in 1896 in Raleigh, N.C. He later lived in Chapel Hill, N.C., where his father was a professor of chemistry at the University of North Carolina. The family came to New York City when the elder Baskerville founded the department of chemistry at the City University of New York.
The younger Baskerville intended to become an architect, but interrupted his college years at Cornell University to join the Rainbow Division in World War I. After the war, he returned to Cornell and began to pursue a career in art. Upon graduation, he came to New York and achieved immediate success with drawings published in the day's leading humor magazines. In 1925, he was recruited by The New Yorker magazine to illustrate a night club column, where he used the pseudonym Top Hat.
Those prominent individuals who sat for Baskerville included Jawaharlad Nehru, Bernad Baruch, William S. Paley, the Duchess of Windsor, Cornelius Vanderbilt Whitney, Mr. and Mrs. Paul Mellon, Richard Rogers, and Helen Hayes. He trekked by pony and foot through the Himalayas to Katmandu to paint the King of Nepal.
During World War II, Baskerville was designated the official portrait painter of the Army Air Forces. As a lieutenant colonel, he traveled to the theaters of war to create more than 60 likenesses of officers and enlisted men that were exhibited widely and are on permanent exhibition at the Pentagon.
In his lifetime, he has had more than a dozen one-man shows in New York City and his work was exhibited at the National Gallery of Art and the Corcoran Gallery in Washington, the Metropolitan Museum of Art and the Whitney Museum of Art in New York City, the Carnegie Institute in Pittsburgh and the Chicago Art Institute.
As a muralist, he painted for private residences as well the Wall Street Club, the conference room of the Joint Committee on Military Affairs of the Senate and House and for the main lounge and ballroom of the ocean liner America, once the largest of liners.
Baskerville was an acquaintance of Marjorie Post, and Mrs. Post built the ballroom of her Palm Beach, Florida, home, Mar-a-Lago, around his mural, The Sultan of Morocco on a Stallion. Further research has revealed that Baskerville painted and signed a "copy" of this original for Mrs. Post to replace his original at the time of her gift to the College.
The subject of the painting is believed to be Sultan Moulay Youssef, King of Morocco from 1912 until his death in 1927. Baskerville was well known for painting portraits of celebrities, suggesting that this painting is likely a true portrait and not an imaginary one.
The painting was added to the collection and donated to the College in March 1966.