Jackson
South Plains College honors Distinguished Alumnus Rear Admiral Ronny L. Jackson
LEVELLAND -- At South Plains College, your future starts here. This message rings true for 2018 Distinguished Alumni honoree Rear Admiral Ronny L. Jackson, Deputy Assistant to the President of the United States and White House Physician.
The Distinguished Alumni Award recognizes the achievements of outstanding former students. Since the award's establishment in 1987, South Plains College has presented this honor to 33 outstanding alumni. It is the highest honor the College bestows on a former student.
Dr. Jackson is being recognized for his outstanding career accomplishments and his 12 years of service as the White House physician. He represents the thousands of successful SPC graduates who are contributing to their professions and to society in a multitude of ways.
Dr. Jackson's roots began in Levelland where he attended school and graduated from Levelland High School in 1985. The decision he made after graduation set him on a path to success that few have taken.
"Initially I wasn't planning on going to college, and most of my friends ended up going to (Texas) Tech or SPC," Dr. Jackson said. "I started college at SPC just because that was what all of my friends were doing. And, I really wasn't focused on what I was going to do.
"I think I started out as an engineering major and quickly realized that it wasn't my thing," he said. "I took an engineering graphics class and had a lot of difficulty visually seeing things three-dimensionally, and I realized that was an important ability if I was going to be an engineer."
Dr. Jackson said he removed himself from classes for a semester and worked at United Supermarkets, a place he'd worked since his early teens. He saved his money and went on a trip with a friend to Australia. There, he worked as a dive master on the Great Barrier Reef for a couple of months. This is where he discovered his passion for marine biology.
When Dr. Jackson returned to SPC, he changed his major to biology. He excelled academically and graduated with an Associate of Science degree in 1988. Following his time at SPC, he transferred to Texas A&M University.
During his time as a student at Texas A&M, he developed an interest in medicine while working as an autopsy assistant.
"I didn't really intend to go to med school, but I ended up getting an off-campus job to make a little extra money while I attended Texas A&M," he said. "I was basically doing the dissections and removing organs. Then the pathology residents started teaching me things. So that's what kind of sparked my interest in medicine."
Dr. Jackson graduated from Texas A&M University with a Bachelor of Science degree in Marine Biology in 1991.
His journey to medical school also lead him into a new career path – the United States Navy. When faced with the challenge of paying for medical school, he said he realized he would have to take out student loans and be in debt, or he wouldn't be able to attend. A new option then presented itself.
"I went and spoke to the recruiters in Houston and asked them about military medical school and they told me there was no such thing as the military medical school," he said. "They said they instead had a medical school scholarship and that all I had to do was get accepted into a school in the United States, and then once I got accepted then they would pay for it."
With one week until the deadline, he registered to take the MCAT. Although he had little time to study, Dr. Jackson excelled and passed the exam. He then applied to Texas Tech, Texas A&M, UT Medical Branch, UT Southwest and UT San Antonio. He was accepted to all of the universities, and he chose to attend the University of Texas Medical Branch in Galveston.
In 1995, he obtained his doctorate of medicine from UTMB-Galveston. Although he said he is proud to have attended Texas A&M and UTMB, he remains confident that his foundation was laid at South Plains College.
"The one thing about South Plains College that I've told people, this when I went to A&M, was that I felt like, and to this day I still feel like, I got a better education at SPC because there was more one-on-one time with the instructors," he said. "I had unlimited time with Mr. Bob Beck (chemistry professor) and he really helped me."
Dr. Jackson said that his great chemistry background was not the only tool helping him through his educational journey. He said when he went to Texas A&M, he had small town values and a great work ethic that propelled him through college and into his military career.
Dr. Jackson's active duty service began in 1995 at the Portsmouth Naval Medical Center in Virginia where he completed his internship in transitional medicine. After completing his first year of residency training in 1996, he later became an honor graduate of the Navy's Undersea Medical Officer Program in Groton, Conn.
In 2001, Dr. Jackson returned to Portsmouth Naval Medical Center to begin his residency in emergency medicine where he finished at the top of his class and received the honor graduate designation. In 2004, after completing his residency, he was assigned as clinical faculty in the Emergency Medicine Residency Program at the Naval Hospital in Portsmouth, Va.
In 2005, Dr. Jackson joined the 2nd Marines, Combat Logistics Regiment 25 in Camp Lejeune, N.C. From there, he deployed in support of Operation Iraqi Freedom as the emergency medicine physician in charge of resuscitative medicine for a forward deployed Surgical Shock Trauma Platoon stationed at Al Taqaddum Air Base, Iraq, located West of Baghdad.
While still in Iraq in 2006, his special leader in emergency medicine nominated Dr. Jackson for a White House physician position. Months after submitting his professional summary packet, he was selected as one of three candidates to interview for the position.
"I had five days to be in D.C. and I was in Iraq with the Marines so I didn't think it was going to be possible," he said.
However, his commanding officer knew exactly what to do to make sure Dr. Jackson would not miss the opportunity. He told Dr. Jackson to pack a bag and he would be on his way by sunset.
"So, I packed a bag real quick, got on a helicopter and flew into Baghdad. When I got to Baghdad, I got on a C5 cargo plane full of broken helicopters and they flew me back," he said. "I'd lost 40 pounds because I was running all the time, so none of my uniforms really fit, and my suits didn't fit and I knew I had to interview three days – one day in a suit and two days in a uniform. So, I just went to the Men's Warehouse and bought a new suit and basically begged them to tailor it for me that day, and they did. Then I got them to fix up my uniform to where it fit a little better. So, then I jumped in my car, drove to D.C., interviewed for the job for three days and got the job."
Dr. Jackson was selected as a White House physician in 2006 by former President George W. Bush. At the White House, he directed the Executive Health Care for the President's Cabinet and Senior Staff, served as physician supervisor for the Camp David Presidential Retreat and led the White House Medical Unit as its director. He served as a White House physician during the past three administrations and was appointed by former President Barack Obama as his own personal physician. Most recently, he served as the appointed physician to the president to President Donald Trump, a post he held until March 2018.
Dr. Jackson has served with distinction in the U.S. Navy. His awards include the Defense Superior Service Medal, the Legion of Merit, the Navy/Marine Corps Commendation Medal (four awards) and the Navy/Marine Corps Achievement Medal (three awards) as well as other individual, unit and campaign awards. He is recognized as a diving and undersea medical officer, naval parachutist, Fleet Marine Force Warfare qualified officer and submarine warfare qualified medical officer.

He is a board-certified diplomat of the American Board of Emergency Medicine and is designated as a fellow of the American Academy of Emergency Medicine. Currently, Dr. Jackson holds faculty clinical appointments with the Harvard School of Medicine affiliated Beth Israel Deaconess Disaster Medicine Fellowship Program and the Uniformed Services University of the Health Sciences.
Dr. Jackson and his wife Jane, are the parents of two sons, Ben and Matt, and a daughter Libby, all of Silver Springs, Md. His parents are Waymon and Norma Jackson of Levelland. His sister Stacy Jackson and brother Gary Jackson both reside in Levelland.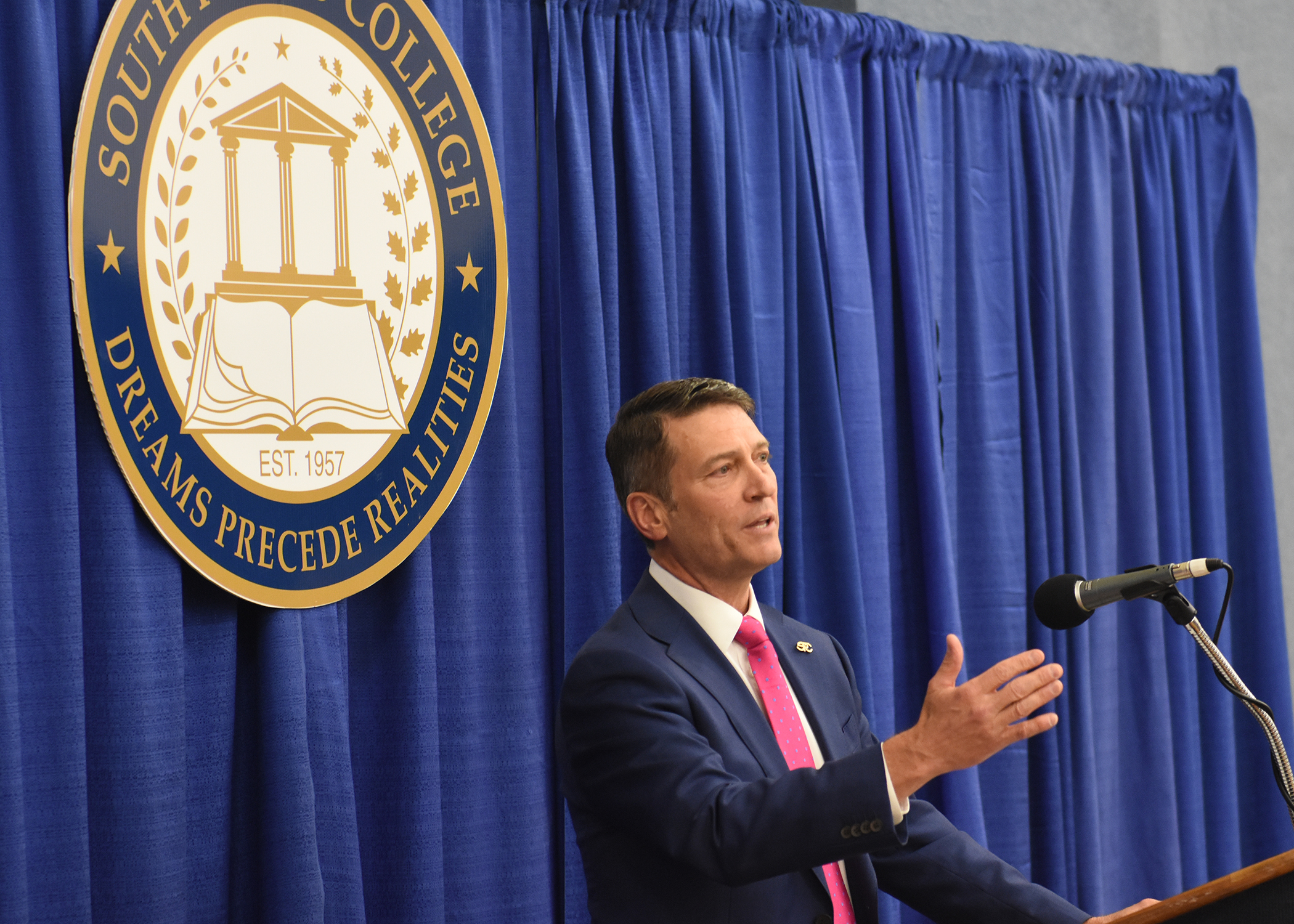 2018 SPC DISTINGUISHED ALUMNUS – Rear Admiral Ronny L. Jackson was named 2018 Distinguished Alumnus of South Plains College. He spoke to the members of the SPC faculty and staff during the 30th Annual Employee Recognition Banquet and Distinguished Alumni Awards. The event was held Thursday (May 10) in the Physical Education Complex. (SPC Photo/Wes Underwood)