Miss Caprock 2018
South Plains College crowns Miss Caprock 2018 in Scholarship Pageant
LEVELLAND – Rita N. Reyes of Lubbock was crowned Miss Caprock 2018 on Friday (Nov. 17) during the 60th annual Miss Caprock Scholarship Pageant at South Plains College. The pageant was held in the Tom T. Hall Studio.
Reyes represented the Student Government Association. She received a $750 scholarship along with the crown and sash.
"Winning Miss Caprock brings me closer to my dreams," Reyes said. "The scholarship will help my father pay for my college and take some of the burden off his chest. I want to help him in any way I can, and with this, I can."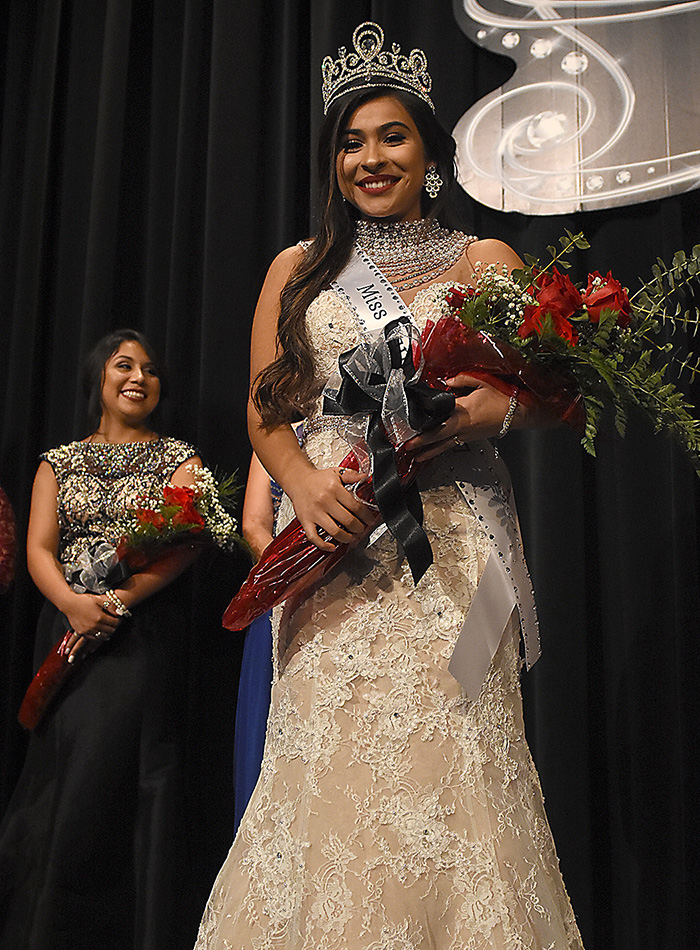 Reyes, 20, is a sophomore Government major from Lubbock. She is the daughter of Rita and Abel Reyes of Lubbock.
Miah Hernandez, 19, was named first runner-up and she will receive a $500 scholarship. She is a sophomore Pre-Nursing major from Lamesa.
Allyssa Almager, 18, a freshman Pre-Veterinary Medicine major from Levelland; Tina Gonzalez, 18, a freshman Public Relations major from Lubbock; and Destiny Lyon, 18, a freshman Elementary Education major from Lenorah, rounded out the top five.
Sharon Race, assistant professor of English, served as the Mistress of Ceremonies. Lily Reaves was Miss Junior Caprock. Musical entertainment was provided by Hayden Spears. The Escorts for the nominees were Fabian Acosta and Pere Guajardo.
There were 14 contestants representing SPC clubs, organizations or residence halls to compete for the title. The interview segment of the competition made up 50 percent of the total score with casual and evening wear comprised 25 percent. The contestants' responses to the question segment counted as 25 percent on the judges' ballots.