Rodeo Teams
STEPHENVILLE—What a ride.
The South Plains College men's and women's rodeo teams wrapped up their final competition over the weekend at the Tarleton State University Rodeo. In what started on Sept. 15 in Portales, N.M., South Plains barreled its way into national contention as Chet Boren and Rainy Robinson will represent South Plains College at the College National Finals Rodeo in Casper, Wyoming on June 9-17.
A freshman from Vernal, Utah, Boren officially took claim to the title of Southwest regional champion after closing out the year as the top point-getter in men's steer wrestling with 585 points. Boren held off Western Texas' Kodie Jang and Logan Hyatt who finished the year with 580 and 315 points, respectively.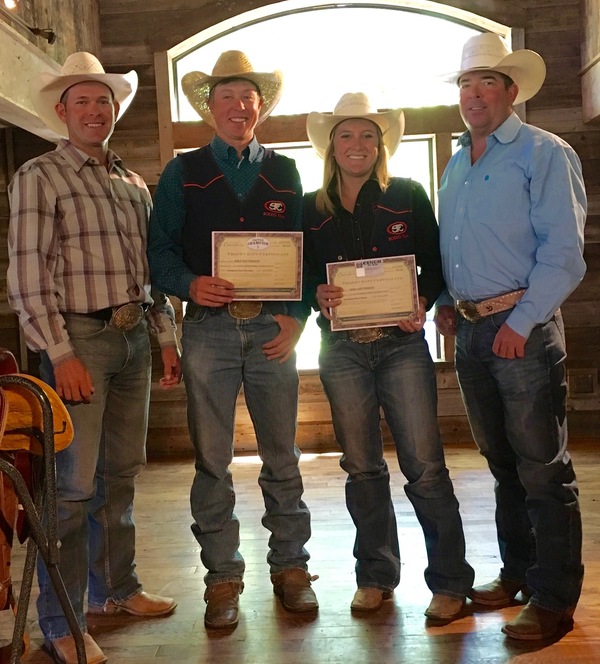 The Texans' Cameron McCarley and Coy Surrett also finished the season ranked inside the top six in steer wrestling as McCarley capped off the year tied for fourth in the region with 315 points, and Surrett finished sixth in the region with 305 points.
The Lady Texans will get their crack at national gold come June as sophomore Rainy Robinson won the Southwest region in the barrel racing event with 530 points. Robinson's final point total held firm over second place regional point getter Llyssa Glass from West Texas A&M University who finished the year with 445 points.
The Texans finished the season with a fifth place finish over the weekend after tallying 345 team points. Surrett took first overall in steer wrestling after running a long time of 4.4 and a finals time of 4.6, finishing with a 9.0 average and 175 points. Riley Hayes placed sixth for the Texans in steer wrestling with his long round time of 5 followed by a short round time of 14.3, ending the weekend with 35 points.
In team roping, Kade Sherwood and Stefan Ramone combined for a second place finish after their long round time of 6.8, followed by a finals time of 6.3, racking up 130 points for the Texans. Denton Halford and Kade Cotton earned a fourth place finish in team roping as the duo ran a long round time of 6.5 and a short round finals time of 11.40 to tack on 85 points for South Plains.
The Lady Texans were led by freshman Jenna Dallyn who placed third in goat tying. Dallyn ran a long round time of 7.4 and a short round time of 8 to pick up 125 points. Freshman Alex Odle rode her way to a fifth place finish in barrel racing after her long round time of 15.75, followed up with a short round time of 15.74, capping off the competition with 40 points. In the breakaway roping event, the Lady Texans' Lariat Larner used a long round time of 2.7 to take seventh overall with 30 points.
The Lady Texans finished the year ranked fifth in the Southwest regional standings and second in the WJCAC with 797.50 total points. Tarleton State, Eastern New Mexico University, Texas Tech University and Weatherford College round of the top four on the women's side. The Texans end their season ranked ninth in the Southwest region after compiling 1.060 points for the year.
South Plains finished the season with numerous athletes ranked inside the top 25 in the Southwest region, which include:
Zack Kirkpatrick - #19 in Tiedown Roping with 125 points
Coy Surrett - #20 in Tiedown Roping with 120 points
Chet Boren - #1 in Steer Wrestling with 585 points
Cameron McCarley - #4 in Steer Wrestling with 315 points
Coy Surrett - #6 in Steer Wrestling with 130 points
Chase Wilson - #14 in Steer Wrestling with 130 points
Kade Sherwood - #5 in Team Roping Header 290 points
Jhett Trenary - #17 in Team Roping Header with 115 points
Riley Hayes - #21 in Team Roping Header with 105 points
Stefan Ramone - #5 in Team Roping Heeler with 290 points
Jose Domenigo - #11 in Team Roping Heeler with 230 points
Cory Cloward - #19 in Team Roping Heeler with 105 points
Kade Cotton - #21 in Team Roping Heeler with 105 points
Taylor Boren - #25 in Team Roping Heeler with 85 points
Rainy Robinson - #1 in Barrel Racing with 530 points
Alex Odle - #11 in Barrel Racing with 235 points
Kashley Seitz - #23 in Barrel Racing with 95 points
Avery Gonzales - #15 in Breakaway Roping with 132.50 points
Jenna Dallyn - #8 in Goat Tying with 275 points
Megan Burbidge - #12 in Goat tying with 150 points
Baylee Henderson - #20 in Goat Tying with 60 points
Avery Gonzales - #25 in Goat Tying with 60 points