New Deal High School
New Deal High School team captures SPC robotics competition
REESE CENTER – Dreadnought, a robot from New Deal High School, claimed the coveted Tin Man trophy following the robotics competition held recently in Building Six on the South Plains College Reese Center campus.
The Tin Man XX contest featured four preliminary rounds, one redemption round before the final battle. The Dreadnought team was comprised of Courtney Ward and Temo Diaz. Rocky Upchurch coached the team.
The competition featured teams from SPC Levelland, SPC Reese Center and SPC Plainview Center as well as teams from Lazbuddie High School, New Deal and New Home Independent School District.
The teams representing SPC Levelland were Blades of Fury, comprised of Alfredo Aguirre and Wesley Newberry, both of Denver City; and Joshua Merriott of Lubbock; and team Barracuda featured Kwade Baccus of Sundown.
SPC Plainview Center entered one team, the Black Panther.
The teams representing the SPC Reese Center campus were Wall-E, comprised of Damon Owens, Jeremiah Vega of Wolfforth and Caleb Plesant; team Bam Bam, comprised of Israel Hernandez of Lubbock and Rocky Day of Texline; and team Skeeter.
The Lazbuddie team entered the Meme Machine. The team was comprised of T.J. Ballard, Ian Albertson, Mikayla Merigan, Bernardo Lopez, Alex Sanchez, Coy Baird, Michael Wales, Andres Solano, Jazlyn Osequera, Alexia Osequera, Preston Steward, John Henry Schacher and T.J. Radford, all of Lazbuddie. Debbie Weir coached the team.
The New Home Independent School District entered Ankylosaurus Magniventris. Team members included Hunter Bolton and Elena Pando, both of New Home; and Whit Smithson and Cayman Smith, both of Lubbock.
The contests judges were Manuel Prieto, Maintenance Supervisor for SPC Plainview Center; Terry Nelson, robotics instructor at Plainview High School; Denise Johansen, instructor of Mathematics at SPC Reese Center; and Eric Johansen. SPC graduate Wheeler Osborne, former IMET and welding student, served as the announcer.
The IMET Program includes the Robotics course as part of the electronics curriculum. Among the concepts introduced range from what is a robot through the construction of a home-made Computer Numerical Control machine. A CNC Machine is a machine that uses a computer to control its motions and associated with milling and cutting machines. Industrial robotics is emphasized throughout the curriculum.
For more information, contact Bill Tackett, instructor in Industrial Manufacturing/Emerging Technology, at (806) 716-2297.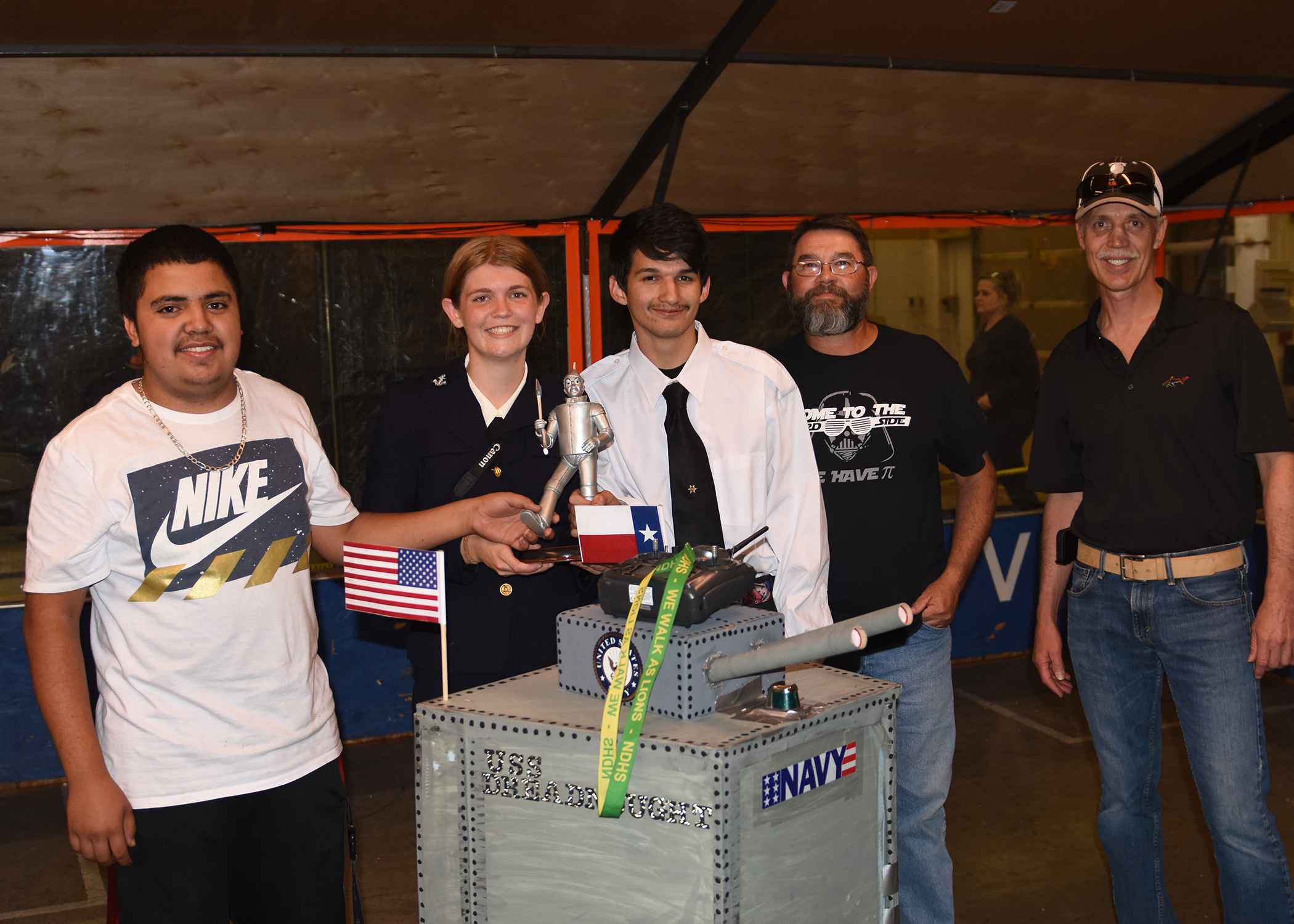 ROBOTS BATTLE WINNERS – Team Dreadnoughts from New Deal High School was crowned champions in the Tin Man XX Robotics Competition. The event was held Friday (May 4) in Building Six on the South Plains College Reese Center campus. Shown are, from left, Andy Gomez, Courtney Ward, Temo Diaz and Rocky Upchurch, coach. Also shown is Rob Blair, dean of Technical Education at SPC. (SPC Photo/Wes Underwood)