What is athletic training?
Athletic training encompasses the prevention, examination, diagnosis, treatment and rehabilitation of emergent, acute or chronic injuries and medical conditions. Athletic training is recognized by the American Medical Association (AMA), Health Resources Services Administration (HRSA) and the Department of Health and Human Services (HHS) as an allied health care profession.
Who are athletic trainers?
Athletic trainers (ATs) are highly qualified, multi-skilled health care professionals who render service or treatment, under the direction of or in collaboration with a physician, in accordance with their education, training and the state's statutes, rules and regulations. As a part of the health care team, services provided by athletic trainers include primary care, injury and illness prevention, wellness promotion and education, emergent care, examination and clinical diagnosis, therapeutic intervention and rehabilitation of injuries and medical conditions.
Athletic Training Education:
Athletic training is an academic major or graduate equivalent major program that is accredited by the Commission on Accreditation of Athletic Training Education (CAATE). Using a medical-based education model, athletic training students are educated to provide comprehensive patient care in five domains of clinical practice: prevention; clinical evaluation and diagnosis; immediate and emergency care; treatment and rehabilitation; and organization and professional health and well-being. The current minimum entry point into the profession of athletic training is the baccalaureate level, however it was recently decided by the AT Strategic Alliance that the minimum professional degree level will be a master's, that will be implemented at the start of the fall 2022 term. More than 70 percent of athletic trainers hold at least a master's degree. Upon completion of a CAATE-accredited athletic training education program, students become eligible for national certification by successfully completing the Board of Certification, Inc. (BOC) examination.
Where ATs Work
Athletic trainers treat a range of patients and can work in a variety of settings. Regardless of their practice setting, athletic trainers practice according to their education, scope of practice and state practice act.
Athletic Trainers Work In:
Public and private secondary schools, colleges and universities, professional and Olympic sports
Youth leagues, municipal and independently owned youth sports facilities
Physician practice, similar to nurses, physician assistants, physical therapists and other professional clinical personnel
Rural and urban hospitals, hospital emergency rooms, urgent and ambulatory care centers
Clinics with specialties in sports medicine, cardiac rehab, medical fitness, wellness and physical therapy
Occupational health departments in commercial settings, which include manufacturing, distribution and offices to assist with ergonomics
Police and fire departments and academies, municipal departments, branches of the military
Performing arts including professional and collegiate level dance and music
The average annual wage for athletic trainers was $47,510 in May 2018.
Employment of athletic trainers is projected to grow 19 percent next 10 years, much faster than the average for all occupations. Demand for athletic trainers is expected to increase as people become more aware of the effects of sports-related injuries, and as the middle-aged and older population remains active.
https://www.nata.org/about/athletic-training
https://www.atyourownrisk.org/
South Plains College Athletic Training Program
The Athletic Training Program at South Plains College is an undergraduate internship program which prepares students interested in pursuing a career in the health care profession to transfer to a 4 year university. Our former students have moved on to numerous 4 year universities, in a variety of health care programs including athletic training, physical therapy, nursing, and more.
AT students at SPC have the opportunity to work with many of the nation's top athletes and coaches, and work with an amazing sports medicine staff, including Master of Athletic Training students from nearby Texas Tech University Health Sciencess Center, giving them a vast array of sources to learn from.
The AT program at SPC is unique in that our students have the opportunity to learn hands-on from the start. With daily educational opportunities, and weekly in-service classes our students separate themselves from other applicants at the next level.
If you are a current or incoming student at South Plains College and desire to become an athletic training student you will need to complete the athletic training student application and contact the SPC athletic training staff.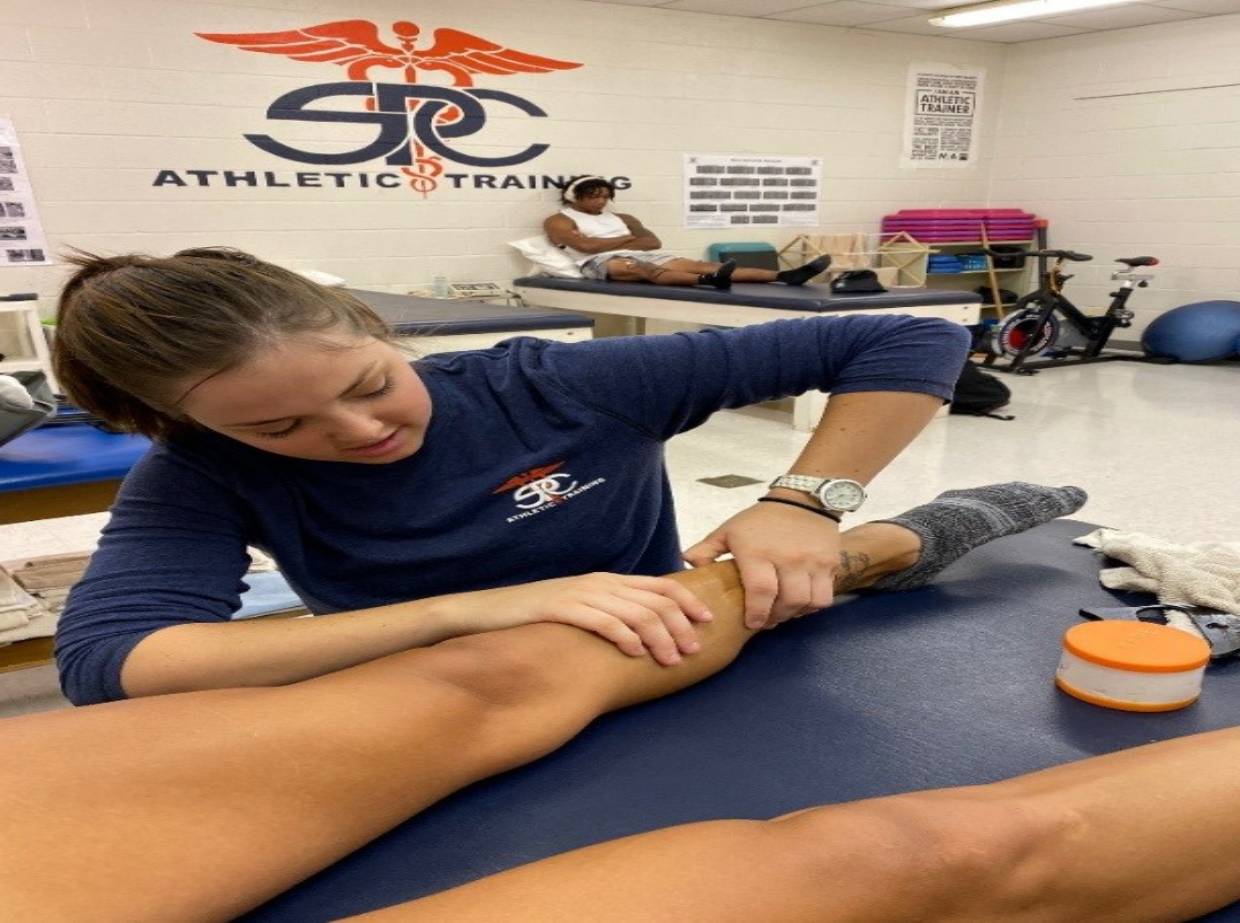 Kinesiology - Athletic Training Option -Major Code 0835, CIP Code 310501
---

This transfer guide is designed to prepare a student for academic transfer to a university to complete requirements for a baccalaureate degree in sports medicine or athletic training. The recommended courses meet the requirements for the Associate of Science degree.
Faculty advisor is Jon Marc Moore, professor of kinesiology.
Suggested Transfer Guide
*Although not a requirement, students are strongly encouraged to take EDUC 1100 during the first semester of enrollment.
**Consult faculty advisor for proper choice of course.