What are you doing now?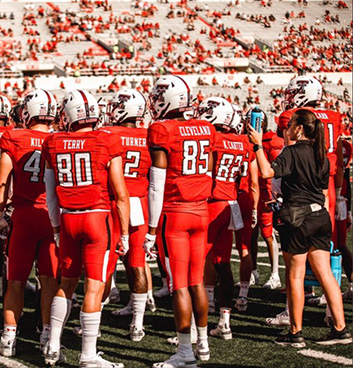 I am currently in my first year of the Masters of Athletic Training program at Texas Tech Health Science Center. Furthering my education has allowed me to expand on my previous knowledge in the field of athletic training. I'm not certain on what setting I want to work in after graduation, but I know that regardless of where I end up I want to be a great health care professional.
What educational accomplishments are you most proud of? Why?
Earning a bachelors in Kinesiology out TTU. I was accepted into graduate school upon graduating in December of 2021. In my semester off from school, I was able to accumulate enough hours to sit for my licensure exam and become a licensed athletic trainer in the state of Texas. Being a licensed athletic trainer has allowed me to work in Lubbock and surrounding areas to gain experience and the ability to network myself. Once I earn my masters degree, I hope I can continue to use my abilities to change and make an impact in an athlete's life. I will always be a proud South Plains College Teas because this is where everything started for em.