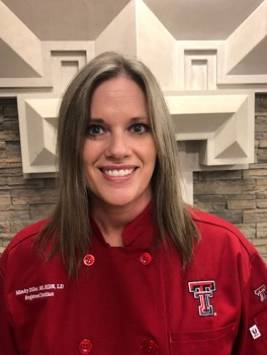 Mindy Diller is a wife, mother, daughter, friend, and dietitian with a servant's heart. She is a Christian, lover of nutrition, art, books, and cooking. Her profession, as a Registered Dietitian often merges all her loves.
She completed her associate's degree at South Plains College in 2007 as a non-traditional student before transferring to Texas Tech University in 2008. "South Plains College was the perfect place for me to re-enter my education. It was an environment where I thrived and began my journey towards serving others in my community through education. I once thought college and a degree from any setting was out of my reach, it simply wasn't for me, yet here I am, years later with multiple degrees. I am incredibly blessed by those that helped me along the way and to be able to do what I love." Mindy earned both her Bachelors and Master's Degree in Nutrition and Dietetics at Texas Tech University as well as completed a 10 month, 1248 hour Comprehensive Dietetic Program from 2008-2012. She currently works in administration through Hospitality Services at Texas Tech, as the Campus Dietitian. She supports the student body and staff with dietary needs through educational presentations, and resources for balanced intake, personalized nutritional coaching strategies, staff in-services, and she works directly with the Executive Chef of Operations to analyze and identify healthy, affordable, and safe options campus-wide.
In addition to her work with students and staff. Her primary nutritional specialties are in food service, dietary food allergies, lifestyle choices, weight maintenance, eating disorders, supplements, and sports nutrition. She enjoys volunteering her time with supporting college ministry and the creating/presenting food demos for underserved patrons in the community, through the Lubbock Dream Center-Family Action. Mindy has a love for kayaking, cooking, watercolor painting, working out, reading, and outdoor activities with her family.
Mindy is passionate about sharing nutrition information that supports her clients and their families, as well as within her own family and the West Texas Community.