National TRiO Day
SPC recognizes two students during National TRiO Day
LEVELLAND – South Plains College honored two former students during the annual National TRiO Day reception slated Thursday (April 18) in the Matador Room of the Student Union Building at Texas Tech University.
The National Trio Day event is celebrated by SPC Upward Bound Program; LEARN Inc. Educational Opportunity Center and Talent Search; Texas Tech University McNair Scholars Program and Student Support Services and the SPC STAR Center Program.
Each program recognized a TRiO achiever during the reception. South Plains College honored Maria Guadalupe (Lupita) Nevarez of SPC Upward Bound and Diana Garza of the SPC STAR Center.
Nevarez joined the Upward Bound Program at SPC in fall 2010 while she was a freshman at Whiteface High School. She was always involved at school and managed to succeed in all of her endeavors.
While in high school, Nevarez participated in the band, played basketball as well as served as member of the Science National Honors Society, student council, the National Honor Society, Family Career and Community Leaders of America, WHS Debate team, Fellowship of Christian Athletes, University Interscholastic League Prose/Poetry and the drama club. She also served in the Upward Bound Student Leadership Council where she demonstrated her commitment, sacrifice and dedication to her school and others.
In 2014, Nevarez graduated near the top of her class with a GPA of 3.48. At UB, she had the opportunity to job shadow a nurse which confirmed her own desire to become a nurse. She enrolled at SPC where she joined Phi Theta Kappa Honor Society, the STAR Center, served as a Campus Ambassador and as a Wing Advisor in the dorms.
After being accepted into the nursing program at SPC, Nevarez went on to complete her Associate of Applied Science in Nursing in May 2017. She became a licensed Registered Nurse (RN) and began working in Texas and the 25 states included in the Nurse Licensure Compact. It is no surprise, because of her preparation in high school (as a participant in UB), and while a student at SPC (participant in the STAR Center), coupled with the fact she is bilingual in Spanish and English, that she was employed by the University Medical Center in Lubbock, almost immediately, after graduation.
The SPC STAR Center honoree is Diana Garza. She joined the STAR Center in the fall 2016. She was a non-traditional student who had to manage her time between family, academics and work.
When asked what were some of the challenges she faced as a first generation college student, Garza said, "One of the greatest challenges as a first generation student was not knowing where to start or trying to figure out how to manage my time with school, work and family."
Garza took advantages of the services provided by the program. She served as a tutor for the program and was very involved with its student organization activities.
"They helped me get on track to get my associates degree in the least time possible," she said.
Garza graduated from SPC with her Associate of Science Degree in May 2017. She recently completed her Registered Nursing Diploma from the Covenant School of Nursing. She is employed at Covenant Medical Center as a Registered Nurse. She plans to one day become a family nurse practitioner.
In 1965, Title IV of the Higher Education Act established the TRIO programs to help low-income Americans enter college, graduate and move on to participate more fully in America's economic and social life. Nationally, more than 10.5 million students benefited from these programs.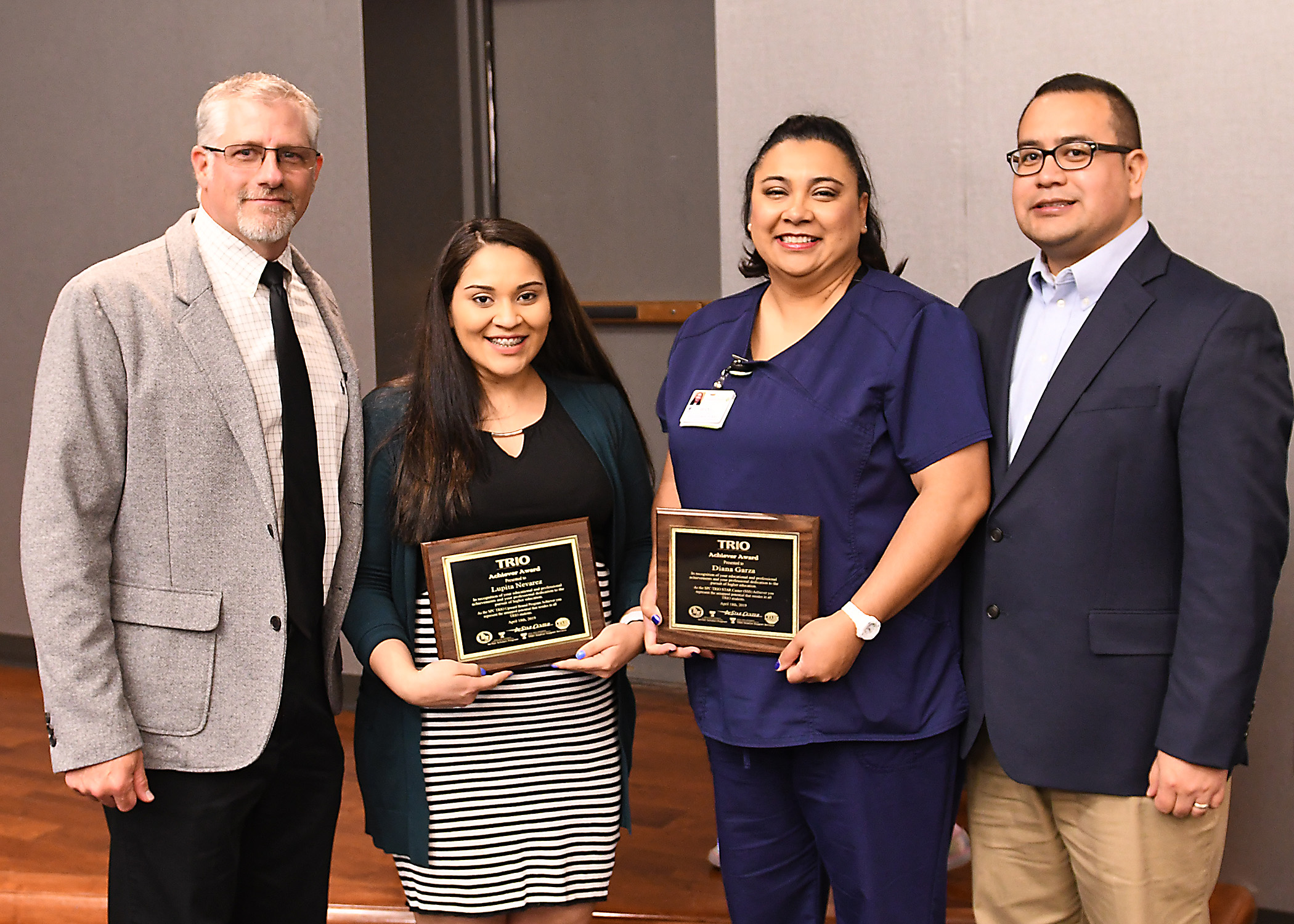 PROGRAM AWARDS – South Plains College recently participated in the annual National TRiO Day reception on Thursday (April 18) in the Matador Room of the Student Union Building at Texas Tech University. South Plains College recognized Maria Guadalupe (Lupita) Nevarez, of SPC Upward Bound, left, and Diana Garza of the SPC STAR Center. Also shown are Chris Riley, director of SPC Upward Bound, left, and Manuel Cedillo, academic coordinator at the SPC STAR Center. (SPC Photo/Wes Underwood)