21st Annual Scholarship Gala
South Plains College to host 21st Annual Scholarship Gala on Feb. 28
LEVELLAND – South Plains College will present the 21st Annual Scholarship Gala on Feb. 28 at the Mallet Event Center. This year's theme is "Unlimited Opportunities." As they have done every year of the event, City Bank Texas is serving as host of the scholarship gala.
The doors will open at 6 p.m., with dinner service starting at 6:30 p.m. Those with top-level sponsorships will enjoy a private cocktail hour from 5:15 to 6:15 p.m.
For the second year in its new venue, gala guests will be able to purchase beer and wine with all profits going to the fundraiser. As in years past, guest will enjoy a meal served at their table. Musical entertainment will be provided by select SPC student ensembles from the Creative Arts Department. Other gala events will include a silent and a live auction as well as raffles. New this year will be a Kendra Scott jewelry "pull" for which guests will purchase a chance to win an item valued at more than 2½ times the price of the ticket. Planners expect at least 35 pieces of Kendra Scott jewelry for this activity.
"The purpose of the Scholarship Gala is to raise funds for scholarships," said Julie Gerstenberger, director of development and alumni relations. "The SPC Foundation provided more than 900 scholarship awards this academic year. For many students, scholarship support is the pivotal factor on which their decision to attend college is made. Our guests will have an enjoyable evening knowing they are helping increase opportunities for people to attend South Plains College."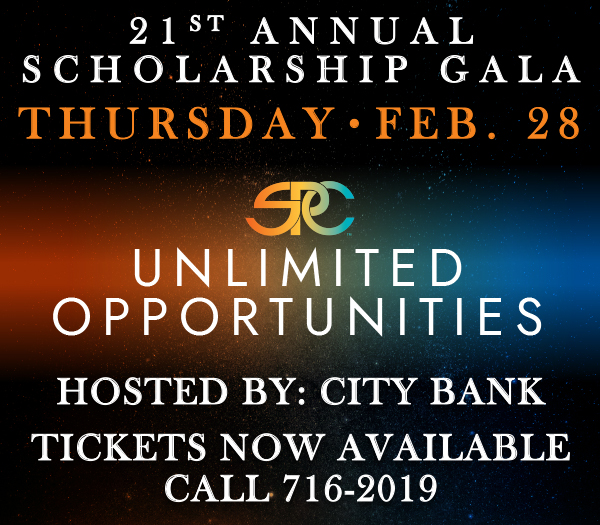 One hundred percent of the Gala proceeds go directly to student scholarships.
Another highlight of the gala is the recognition of the 2019 Pacesetter Award winner. Established in 2003, the Pacesetter Award is presented annually by South Plains College on recommendation of the South Plains College Foundation Board of Directors to recognize philanthropy that has set the pace and inspired others to support SPC. The 2019 Pacesetter honorees are Mr. and Mrs. Terry and Shari Hill of Redmond, Wash.
Mrs. Gerstenberger said there are opportunities for community involvement now and until the event itself. Interested patrons are invited to purchase tables and tickets now. All sponsorships levels are the same as for the last Gala with the top two featuring a VIP Meet and Greet Cocktail Hour immediately preceding the event. The sponsorship levels are Underwriting Partner – $7,500; Diamond Sponsor – $5,000; Ruby Sponsor – $2,000; Sapphire Sponsor – $1,000; and Gold Sponsor – $125.
Attendees should consider purchasing their tables before this year ends. Credit Card payments may be made by phone or in person until 4 p.m. on Dec. 13 (Thursday) by calling or visiting the development office. During the college's Christmas break, credit cards may be used to purchase tables and tickets online at www.southplainscollege.edu/donate. Payments by check dated and postmarked by Dec. 31, 2018 will count toward 2018 tax deductions.
For assistance, call D.J. Torrez, administrative assistant to the director of development and alumni relations, at (806) 716-2019 or email etorrez@southplainscollege.edu.
SPC will open Jan. 2, 2019 at which time sponsorship reservations by phone and in person will resume. Detailed information and a printed invitation will be mailed shortly thereafter.
For information on this fundraising event or other ways to support scholarships and students at South Plains College, contact Mrs. Gerstenberger at (806) 716-2020.