Jeffrey Fortner
SPC selects Jeffrey Fortner as Thomas Spencer Sr., Award recipient
LEVELLAND – South Plains College student Jeffrey Fortner of Whiteface has been named the 2022 recipient of the Thomas Spencer, Sr. Award for Outstanding Achievement. The award was presented Friday (May 13) during the 64th Annual Commencement Ceremony in the Texan Dome.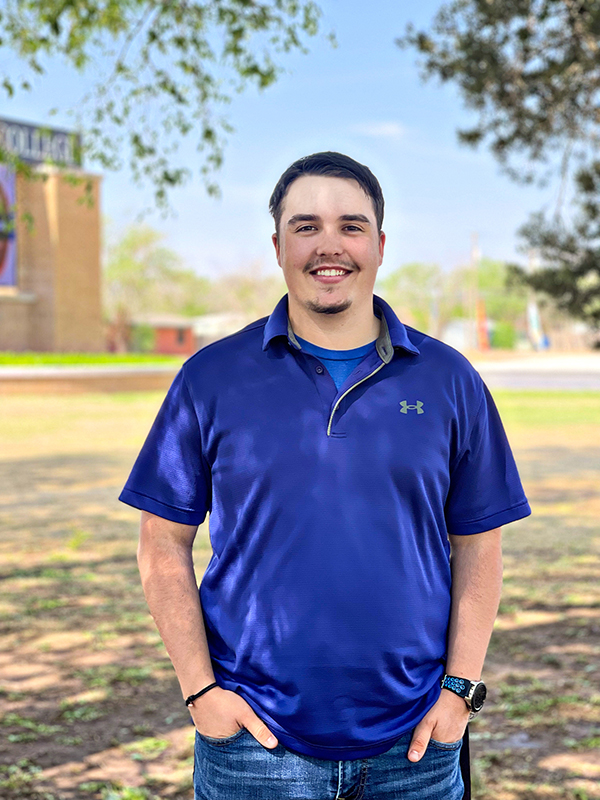 The Thomas Spencer Sr. Award is presented annually to an outstanding male student who demonstrates the qualities of leadership and service to the college and community. The late Dr. Thomas Spencer, Sr., played an important role in the formative years of South Plains College as its founding president. In conjunction with the college's 40th anniversary, the Thomas Spencer Sr. Award was established in 1998.
"I chose to attend South Plains College because, aftergraduating salutatorian ofmy class, it's close to home and it's affordable," he said. "I'd be dumb to go anywhere else!"
Fortner said he wanted to stay close to home so that he could continue to watch his younger brother, Joel, play sports for Whiteface ISD.
"That's the thing about small schools; he plays everything, including football, basketball, track, UIL and band," he said.
Fortner is a sophomore mathematics major. He and Joel are both geared towards mathematics, while his parents are more proficient in English, he said.
"My Dad is the reason that I want to become a math teacher," he said. "He has been the best role model for me because he believed in me. If I need help in English, I can come to them and, if they need help with math, they can come to us."
Fortner worked last summer as a resident assistant for Upward Bound. He also assisted with the Saturday classes for UB. He is recognized on the President's List for Spring 2021 and the Dean's List for Fall 2020 and Fall 2021 semesters.
He said he considers Dr. Jay Driver, professor of mathematics; Rebecca Grunder, academic support coordinator; and SPC Campus Ambassadors as being the most influential people he has met on campus.
"Dr. Driver gave me the confidence to become a tutor," he said. "He saw something in me and that motivated me to do something where I am helping others."
His conversation with Dr. Driver led him to Grunder who hired Fortner as a math tutor. The good things kept happening to him because Fortner also received a phone call letting him know that he had been chosen as a SPC Campus Ambassador.
"Being a Campus Ambassador really helped me out a lot because it allowed me the opportunity to be involved in events and activities," he said. "I am so thankful that South Plains College allowed me to come here for my academics. I am so honored to be nominated for this award."
Fortner is the son of Leanna Fortner and Jason Fortner, both of Whiteface. After graduating from South Plains College, he plans to attend West Texas A&M University to compete a bachelor's degree in mathematics.