Ashley Walters
Student finds career path in diesel service technology program
LEVELLAND -- Ashley Walters' path to the Diesel Service Technology Program at South Plains College is a bit different from most students, and with good reason. She chose to experience life for a time before deciding on her future.
The Lubbock native left Texas before finishing high school, and she and her mother lived in several states, including Louisiana and California. Walters later decided to live with her grandmother in California, where she put down roots.
She said she was just like any other headstrong teenager, and she learned some of life's lessons the hard way. Those experiences gave her the opportunity to grow as a person and taught her to focus on the important people in her life. She had become the mother of three children, and at the age of 31, she knew it was time to turn her life around. The first step was the completion of her high school education.
Walters earned her high school diploma at Merced Comeback Charter School in Merced, Calif. Then she began taking classes at Ashford College where she worked on a human resources degree. Although things were looking up, she knew something was missing. It was then that Walters decided to move to Anton where she reunited with her parents.
"My dad was a truck driver, and when I was young, there was a lot of animosity," she said. "So, after returning home, things just sort of clicked. My dad purchased a '95 Kenworth semi-truck that had a few issues. I knew I liked working on gasoline engines, but I had only done some of the little stuff. And I realized that's what I wanted to do with my life. I wanted to beat the odds and prove that I could be something."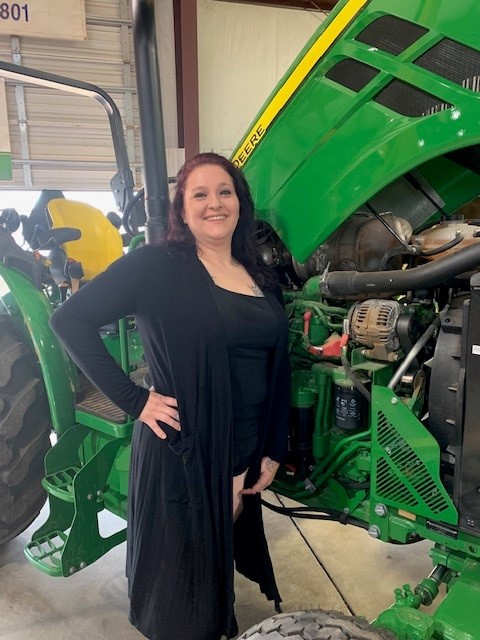 In fall 2021, Walters enrolled in the Diesel Service Technology Program at South Plains College. She has completed the Basic Diesel Technology Certificate, and she also passed the Automotive Service Excellence Standards. She will graduate in May 2023 with an Associate of Applied Science degree in Diesel Service Technology.
"At the end of the day, I love being covered in grease and oil," she said. "I like having to dye my hair a dark color so that the grease is not noticeable if I have to run into the store after work."
Walters said her time in the program has been very beneficial. She is grateful that she catches on to things quickly. When she started, there was another female student in the class, and the two of them partnered on engines and transmission. This year, she works alongside her male counterparts on projects in the classroom.
"Keeping up with everything has been the most challenging part of the program," she said. "I'm trying to make sure that I have time to balance being a mom and being a student while still doing daily tasks, but I make it work. I just had to find out a routine, and it took me the first year to do that."
Walters said she is more comfortable in her steel-toe boots than she is in a pair of tennis shoes or sandals. In the future, she wants to own and operate her own diesel service shop.
"I want to one day own my shop, and I want to let my children see that it doesn't matter where you've been or what you've done in life, that you can do anything you want," she said. "My youngest is already walking around and kicking the tires of my dad's semi-truck. She asks for her wrenches, and she says she has 'stuff-a-do' (stuff to do)."
Walters said she is the oldest of 10 children in her blended family. While she's not the first one to attend college, several of her siblings have found careers after college. One brother has a degree in social work and he is studying psychology. One of her brothers is a bull farmer who shows and raises bulls. She has a sister who is a teacher, another who is a certified nurse aide, and another sister who is studying cosmetology. Walters is the only diesel mechanic.
"They all started earlier in life than I did," she said. "And unlike most people, I took my time getting here. I had a plan coming in, and now all I must do is finish this part and build a great life for myself and my family."
Diesel Service Technology Program
The Diesel Service Technology program offers an Associate of Applied Science degree with the option for specialization in either equipment or transportation.
The diesel equipment option is designed to meet the needs of the diesel-powered equipment industry including agricultural and construction equipment. This area of specialization provides further focused training in electronics, hydraulics, hydrostatic and power-shift transmissions such as are found in agricultural and construction equipment applications.
The diesel transportation option is designed for the needs of the diesel-powered trucking and transportation industry. This specialization focuses on further studies in electronics, engine overhaul, steering, suspension and transmissions.