Capitol Elementary
Students, faculty of Capitol Elementary School support SPC Scholarship
LEVELLAND – Capitol Elementary School students and faculty recently made a donation to support the Jeanette Swaringen Memorial Scholarship Endowment at South Plains College in memory of the late counselor.
The donation totaled $600. According to Principal Joanna Runkles, the school conducted a "Bring Your Fluffy Friend to School Day" where students donated $2 to bring their favorite stuffed animal to spend the day with them.
"Since she was such a loving friend to students, we thought this would be a good fundraiser," she said. "We actually raised $400 from this event alone."
The remaining $200 in contributions was raised through candy sales.
Jeanette Swaringen was a counselor for three years at Capitol. She died unexpectedly on Jan. 18, 2017. Her husband, David established a scholarship endowment with the South Plains College Foundation in February 2017 to assist Levelland High graduates attend SPC.
Anastasia Maldonado, a graduate of Levelland High School, was awarded the Jeanette Swaringen Memorial Scholarship in 2018. The scholarship will assist students who plans to major in education in preparation for a career as a public school teacher.
"I am honored that the students and faculty continue to remember Jeanette," said David Swaringen. "The fact that the students are learning a lesson in giving and honoring a person who they don't know is very humbling. I am grateful and thankful to everyone."
For more information on the scholarship, to make a donation or for more information about ways to support scholarships and students at South Plains College, contact Julie Gerstenberger, director of development and alumni relations, at (806) 716-2020.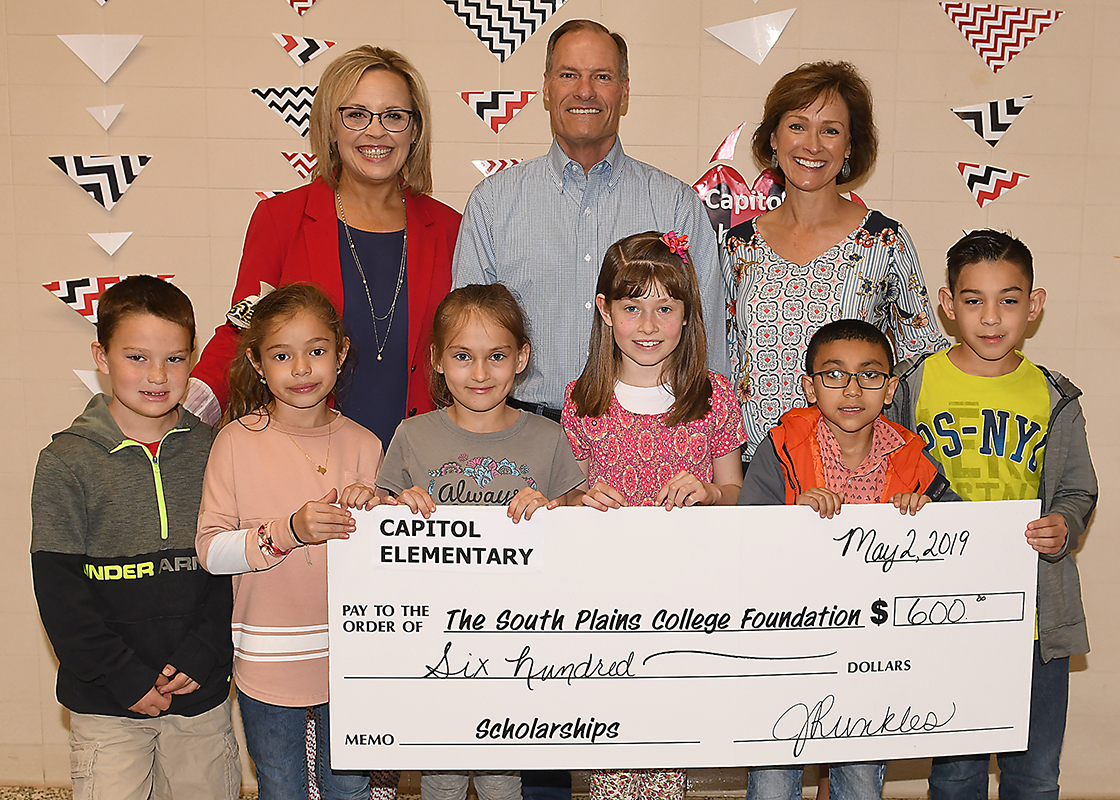 REMEMBERING JEANETTE – The students of Capitol Elementary School recently contributed $600 to support the Jeanette Swaringen Memorial Scholarship Endowment at South Plains College in memory of the late counselor. Shown on the front row, from left, are Kace Johnson, Allegra Gavina, Anna Wheeler, Martha Jane (M.J.) Niederhauser, Isaak Rodriguez and Tyler John Torres. On the back row, from left, are Principal Joanna Runkles, David Swaringen and Julie Gerstenberger, director of development and alumni relations at South Plains College. (SPC Photo/Wes Underwood)