Cosmetology
South Plains College Cosmetology seeks clients for student stylists
LEVELLAND – Although Halloween is over, now is the best time to update your style. South Plains College Cosmetology program is looking for clients to serve in the salon, located at 206 Clubview Drive.
During this two-semester cosmetology program at South Plains College, students are taught the rules and regulations of the Texas Department of Licensing and Regulation. Students learn the theory and skills of shampooing, hair and scalp treatment, hair cutting, chemical hair relaxing, hair styling and shaping, manicuring, cold waving, hair coloring, skin care and facials. Students also learn all applicable safety and sanitation rules and regulations to be compliant with TDLR along with salon development, salon operations, professional ethics and record keeping. To practice their skills, students often work with members of the community while still under the watchful eyes of their instructors.
Interested patrons can make appointments for Tuesdays, Wednesdays and Thursdays between the hours of 9:30 a.m. to 12:30 p.m. for chemical hair care or 9:30 a.m. to 3 p.m. for regular hair, skin and nail care. Senior citizens older than 65 can receive discounted rates.
According to Assistant Professor of Cosmetology Sarah Thompson, program coordinator, "Our students look forward to working with members of the community as an opportunity to improve their skills," she said. "Although they are students and may take a bit longer, they pride themselves in performing the hands-on experience."
SPC Cosmetology students study theory during their courses every morning from 8 to 9:30 a.m. as well as attend labs where they work with mannequins and clients to complete TDLR requirements for practical experience. The students and instructors welcome all clients.
Other services available for clients include high-lights, low-lights, hot iron styling, wet sets and all over coloring both permanent and semi-permanent and bleach. Chemical services include permanent waves, relaxers and deep conditioners. Pedicures and manicures are also offered. Basic facials and RX Clinical Spa facials are also available.
For appointments, call (806) 716-2288. For more information on the program, contact Thompson at (806) 716-2647.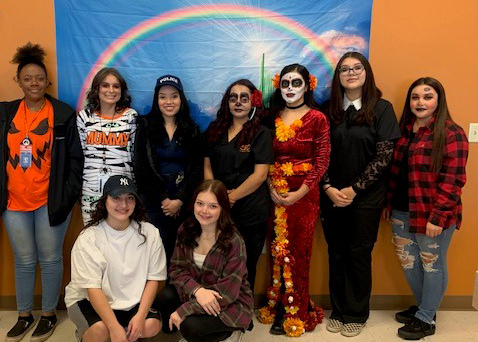 SPC COSMETOLOGY STUDENTS – Students in the South Plains College Cosmetology Program are seeking new clients from the community. The partnership between the college and the community helps to train the stylists as well as provide aesthetic services for the public. Shown standing are, from left, Caris Brown of Smyer, Paige Oman of Littlefield, Miriam Martinez of Lubbock, Amalia Palomino of Levelland, Citlalic Nava of Morton, Orchid Rodriguez of Whiteface and Adrianna Lemus of Lubbock. Kneeling on the front row are Harley Garcia of Abernathy, left, and Gracie Elms of Lubbock.