Drones
South Plains College recipient of drones from Swoop Aero
REESE CENTER – South Plains College has been given two 4th Generation Kookaburra aircraft from Swoop Aero. The drones were delivered last month to Building Six.
Swoop Aero of Port Melbourne, Australia exists to make access to the skies seamless by providing an integrated on-demand drone network. Swoop operates on six continents. Their network provides delivery of emergency medicine, vaccines, blood and tissue samples. They also provide data gathering, mapping and specialized solutions.  
On Dec. 18, 2018, in Cook's Bay on the remote side of Vanuatu's Erromango Island, a 1-month-old baby named Joy became the first child in the world to receive a vaccine delivered by drone thanks to Swoop Aero. Since then, Swoop has continued to innovate and push improvements to their fleet.
According to Swoop Aero's Chief Operating Officer Craig Arnold, "There is no better way to pay tribute to the service of its 4th generation aircraft than to donate a couple of these decommissioned units to South Plains College.
The 4th generation model has been the workhorse of Swoop Aero's expansion, flying over 25,000 missions and delivering 1.5 million medical items.  Craig added that putting these two crafts in the hands of future UAV mechanics is a privilege. The drones have flown and completed more than 25,000 missions or more than 200,000 miles in Malawi before arriving at South Plains College.
In March 2021, Matador Uncrewed Aircraft System Consortium, sponsored by 2THEDGE and the Texas Tech University Health Sciences Center began working with South Plains College to create a new standard certification program for small drones, something that does not exist today. Technicians will be needed to fly, repair, maintain and launch the drones from the SPC Reese Center location to service communities in the Panhandle area of Texas.
South Plains College's mission is to provide certificate and associate degree programs in career and technical education areas throughout West Texas. As a member of Matador UAS, this year, the college revised its Industrial Manufacturing/Emerging Technologies curriculum to include Drone Pilot Test Preparation and Drone Assembly and rigging coursework. SPC will partner with high school teachers to train students who receive FAA UAS 107 Remote Pilot Certification to transfer toward Industrial Manufacturing/Emerging Technologies Basic Certificate of Proficiency and an Associate of Applied Science Degree.
According to Tyson Harmon, chief of technology reconnaissance at 2THEDGE in Dallas, his company enhances an enterprise's ability to see and secure growth opportunities by leveraging emerging technologies with a competitive advantage.
"The project was originally designed to transport donated organs," Harmon said. "The drone network would use rail and electric line corridors as its delivery system. Inspections would be conducted to make sure there is no risk to deliver goods or to the communities."
SPC's Billy Tackett, associate professor of Industrial Manufacturing and Emerging Technologies, said, "We are very hands-on at South Plains College, and we specialize in doing more than actual theory."
SPC students presently enrolled in the Programmable Logic Controller Class were in class and became the first students to view the newly arrived aircraft. Currently, the college is providing two classes during the fall 2023 semester: 1108 Drone Pilot Test Preparation and AERM 2233 Drone Assembly and Rigging.
The Pilot Test Preparation Class, which was introduced in spring 2023, is taught by a Federal Aviation Administration-licensed instructor Tackett. Students also will learn to fly drones. The AERM course focuses on repairing and restoring drones. SPC students will work to repair the damage to the 4th Generation Kookaburra aircraft and bring it back to operational flight status.
For Swoop Aero, they will launch their 5th Generation drone called the Kite in December 2023.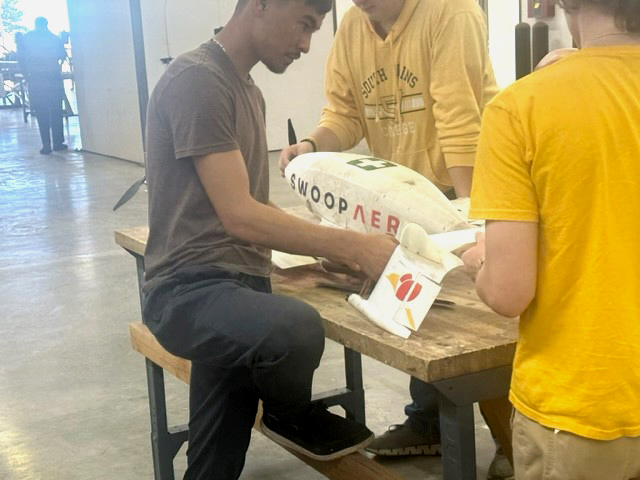 South Plains College students examine the cargo area of drone.