Equipment Donation
SPC Career and Technical Center receives equipment donation from Interstates
LUBBOCK – The Electrical and Power Transmission Program at South Plains College Career and Technical Center campus recently received $4,000 worth of equipment, wiring, pipes and electricians' bags from Interstates. The materials will benefit the students as they train to become electricians.
"The tools and cordless drills help our students use technology and train them to be better students," said Diana Malone, instructor in electrical and power transmission. "The pipes that we use in the lab are ½ inch in size, and the donation included ¾ to 2-inches, which are the new products and they're expensive.
"The gloves that they've given us will help prevent injuries and promote safety in the lab, which is something that we regularly emphasize," she said. "The leather gloves are cut-resistant and will allow them to work with electricity without worrying about getting shocked."
For more than 60 years, Interstates has tackled complex challenges and developed innovative solutions. Yet, the most impressive thing they've built is their team. At Interstates, they treat each other like family because the foundation of their success is their team. They offer opportunities for education and career growth, one of the best safety records in the business, and benefits that put their families first.
"Interstates is proud to support and give back to the local community, especially great programs like the Electrical Technology program here at South Plains College," said Mike O'Donnell, regional manager of Interstates. "Interstates depends on quality programs like this to produce qualified electricians. Thirty percent of our current craft employees at the Texas Regional Office have graduated from South Plains College, and we will continue to tap into this invaluable resource for future hiring needs."
The curriculum provides a sequence of electrical courses approved by the electrical industry that meet the needs of the industry as well as the goals and desires of the student. The Electrician Specialization prepares graduates with adequate knowledge and skills to enter and competently perform in the electrical industry. Graduates are readily employable with electrical companies within college service area and throughout Texas.
"We really appreciate the support of the industry and the opportunities it gives to our graduates," Malone said.
For more information, contact Malone at (806) 716-2424.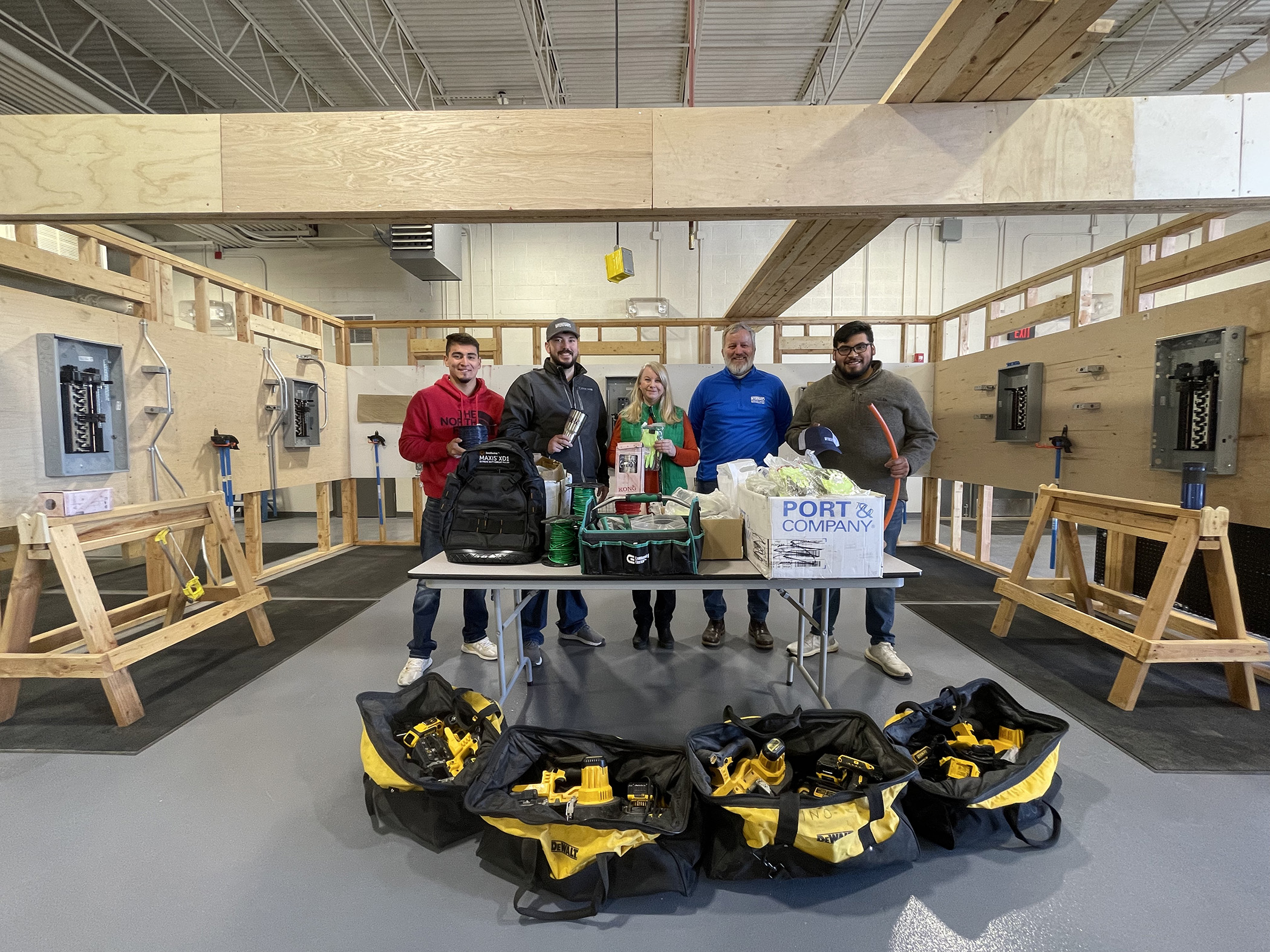 The Electrical Program at the South Plains College Career and Technical Center recently received an equipment donation valued at $4,000 for its students. The tools will be used to assist students preparing for careers as electricians. More than 30 percent of the craft employees at the Texas Regional Office graduated from South Plains College. Shown are, from left, Angel Pena of Levelland, Jacob Woods, Interstates project coordinator; Diana Malone, instructor in electrical and power transmission for SPC; Mike O'Donnell, Interstates regional manager; and Jacen Rodriguez of Lubbock.