Scholarship Gala
South Plains College Scholarship gala to feature special items in live, silent auctions
LEVELLAND – South Plains College's 25th Annual Scholarship Gala on Feb. 24 is not only an evening of dinner and music, but this year's event will also feature a variety of special items during the live and silent auctions.
All auction items included in the event were donated by community members/businesses in Levelland/Lubbock area, SPC alumni and caring supporters from across the state.
"The collection of items for the Silver Celebration Auction began in November," said Robyn Reaves, auction committee chairperson. "We have expanded the number of committee members to help in our quest to make this event as spectacular as ever. This year, the auctions will be digital."
The auction items will be available for browsing online beginning Feb. 16. The link to the website is available for all gala ticket holders, and patrons will be able to place their bids online starting at 6 p.m. on the night of the gala, Feb. 24. Each silent auction item displayed in the Mallet Event Center will possess a QR code that allows a guest with a cell phone the opportunity to view and bid on his item of interest. Bidders will then receive notifications if they are outbid on an item or if they have the winning bid.
"If someone doesn't have a cell phone and wants to look up an item, we will have iPads for them to use," she said. "Campus Ambassadors will serve as assistants to those guests who would like to place bids while remaining at their table."
The Auctions and Raffle Committee is supported by SPC employees and community volunteers who spend countless hours securing unique and special items that will appeal to auction aficionados. This year's committee members are Suanne Alexander, Kristin Bingham, Breann Buxkemper, Nicole Campbell, Lisa Delgado, Jody Drennan, DeEtte Edens, Raynie Gibbs, Lauren Gregory, Tori Hall, Kati Moody, Dee Dee Odorizzi and Robyn Reaves.
This year the live and silent auctions will feature items including a "Chef's Table" experience by the SPC Culinary Arts, season tickets to the Wallace Theater, an original painting created on canvas by artist Kristy Kristinek live during the dinner, a one-of-a-kind Lynn Haney Santa and a charcuterie board handcrafted by SPC alumnus Danny Farr.
The 25th Annual Scholarship Gala will include a new and exclusive "squares" game. One lucky guest will have a chance to win the grand prize, a trip-of-your-choice: NASCAR versus Top Gun. Patrons can pay $100 to purchase one of the 50 numbered squares. A drawing will be conducted to select the winning square after all the chances have been sold or the event has ended. The number of squares guests can purchase is not limited.
This year's raffle will include chances to win one of three items, including a United Supermarkets gift card. Raffle tickets will cost $20 each or five for $100.
For more information about the Auctions and Raffle Committee or other ways to be involved with the Scholarship Gala, contact Samantha Goldie, Director of Development and Alumni Relations, at (806) 716-2020 or by email at sgoldie@southplainscollege.edu.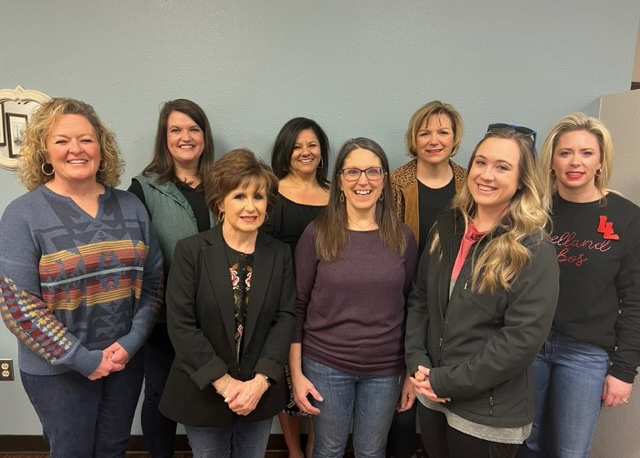 PC GALA AUCTION COMMITTEE – The Auction Committee is supported by volunteers from both South Plains College employees and the community. They have been working behind the scenes to bring unique and special items to auction patrons. This year's committee members are, on the front row from left, Dee Dee Odorizzi, Suanne Alexander, Jody Drennan and Kati Moody. On the back row, from left, are Robyn Reaves, Lisa Delgado, DeEtte Edens and Breann Buxkemper. Not pictured are Kristin Bingham, Raynie Gibbs, Lauren Gregory, Tori Hall and Nicole Campbell. (SPC Photo/Dane Dewbre)
####