2021 Faculty Excellence Award
South Plains College selects Jesse Day for 2021 Faculty Excellence Award
LEVELLAND – Jesse Day's teaching career at South Plains College has spanned 20 years, and in that time, he has built a reputation as a scholar, a masterful teacher and an advocate for student success. He has been selected as the 2021 recipient of the Faculty Excellence Award at South Plains College.
Day is an associate professor of computer information systems. He has worked through a wide range of educational opportunities from the standards of secondary education in mathematics to the college level aspects in information systems, mathematics and music as a part of his creative strategies.
"My education and experience have allowed me to grow and share a multidisciplinary perspective which proves essential for modern pedagogical practices," he said. "It is my goal to create a real-world experience in the classroom by offering content that reflects contemporary issues as well as how current and emerging technologies can be effective tools to bridge the gap of differing cultural and partisan viewpoints."
Day said he creates a positive influence with students while being actively involved in intramural sports, musical ensembles and dance team events at the college.
"I have recruited students, faculty and staff to organize and participate in various intramural activities," he said. "I volunteered to drive the dance team to various competitions across Texas. I offered classroom incentives for students to attend musical ensembles in commercial music. I earned trust and respect with students that extends into the classroom."
Day continues to stay updated on trends and changes within the industry by participating in professional development opportunities. He has attended Texas Community College Teachers Association Teachers' Workshops from 2015 to 2020. Since 2016, he has participated in Microsoft Office Specialist training in Word, Power Point, Excel Access, Word Expert (2016), Word Associate (Word 2019) and PowerPoint Associate (PowerPoint 2019). Day has been trained by the American Heart Association Heartsave CPR AED since 2017, Bleeding Control for the Injured (B-Con) Course since 2016 and the Texas Education Certification (ExCET) in Mathematics and Secondary Education since 1997.
Outside the classroom, Day has been very active in other SPC initiatives across campus. He has served on the Institutional Effectiveness Committee, the University Interscholastic League as Regional Computer Applications Test Coordinator, Texas Community College Teacher Membership Services Committee and the SPC Library Committee. Additional committee contributions include the SPC Admissions Committee, the SPC Advisement Management Team, the Retention Committee, the UTA Academic Advising Association, Texas Computer Education Association, the SPC Evaluation Committee and the Faculty Senate.
Since January 2001, he has attended the TCCTA Conventions including several for faculty leaders. He is active in the SPC Alumni Association and the Texas Tech University Alumni Association. Since 2019, he has participated in the Broadcast Music, Inc., a performing rights organization in the United States.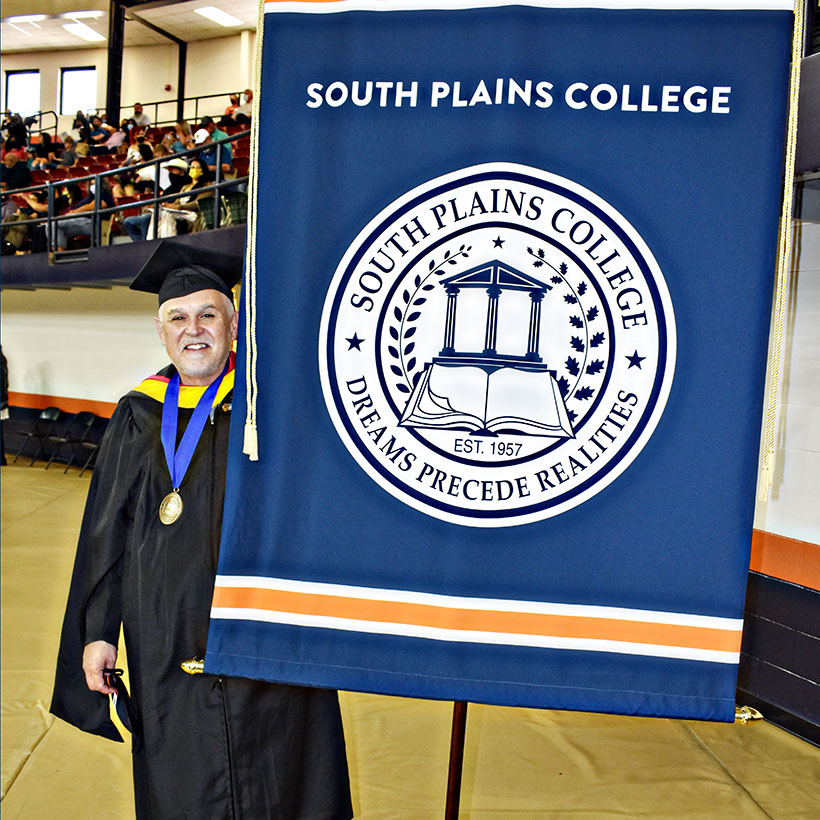 "I entered the field of education in 1995 at South Plains College as a certified tutor in mathematics at the Levelland and Reese Campuses," he said. "I later began teaching for the Mathematics Department as an adjunct professor in 1997 where I taught various subjects including College Algebra, Beginning Algebra, Intermediate Algebra and Math Analysis. I designed lessons, performed lectures, conducted question-and-answer sessions and assessed students' abilities based on departmental policy.
"I had the unique experience of teaching junior high, high school and college math at the same time which allowed me the opportunity to study and bridge the learning gaps," he said.
Day is recognized for being part of the first group to teach online courses at SPC in 2001, creating online content before WebCT or Blackboard e-learning platforms were introduced. He served on the first committee to coordinate the processes of student advising and manage student retention. He was awarded the SPC Advising Excellence Award in 2008.
Other honors included the 2006 SPC Master Texan Advisor, nominee for Who's Who Among America's Teachers in 2005, Title III Grant recipient in 2003 and he was named Teacher of the Week in 1999 by ABC 28 Partners in Education. In 1993, Day was named Who's Who Among Students in American Junior Colleges and USA Today listed him as an Academic All-American Team Nominee in 1992. He also served as the chapter president for Phi Theta Kappa at North Lake College in 1992.
Although his first love was music, Day said he soon discovered that he was pretty good at math. While attending SPC, one of his instructors told him that he would make a good tutor. After he started tutoring, Day realized that he enjoyed helping other students understand mathematical concepts that came easy to him.
"I loved seeing the light bulb go off in a student's mind when I broke down a math problem," Day said. "One student told her instructor that her tutor was the best person for breaking down a problem and then explaining it so that she could understand it. She then was able to complete the problem."
Day said that he really understood the community college student – especially since he came through the community college system, too. He always pushes his students to be better. Day helped them to become successful because he could identify with first generation students like himself. He sees himself as a facilitator of learning.
According to Ann Gregory, chairperson of business administration/cis department and professor of accounting, "Jesse is a team player. When we have had emergencies in our department and needed courses covered, Jesse always volunteers to help. Jesse is an excellent example of a modern day Renaissance Man who is a gentleman, sensitive to the needs of his students, pursues a wide range of ideas, and is interested in a variety of pursuits – not the least of which is his music."
Day has not only made an impact on the college, he has involved himself in several community causes as well. He has sponsored and performed with the SPC Dance Team and Dancing with the Texans events. Day coached Little Dribblers Basketball for five years and West Texas Pop Warner Youth Football for nine years. He coaches and played on SPC Intramural Sports including football, basketball, bowling and softball for seven years.
Day, a native of Littlefield, attended South Plains College prior to enrolling at North Lake College in Dallas where he received his Associate of Arts and Sciences degree. He earned a bachelor's degree in General Studies with Multidisciplinary Study in Mathematics, Music and Pedagogy and a Master of Science in Interdisciplinary Study in Management Information Systems and Educational Instructional Technology, both from Texas Tech University. He began his full-time teaching career at SPC in January 2001 after spending four years as a mathematics teacher for Anton Independent School District.
The Faculty Excellence Award is the highest honor bestowed by the South Plains College faculty upon a colleague who exemplifies the qualities and ideals of a "master teacher." The award was established in 1965 to honor master teachers for their dedication to teaching excellence. Faculty members are nominated for the award by their peers and are selected for the award by their peers. Recipients are presented an engraved medallion signifying this achievement and an honorarium sponsored by City Bank Levelland.
Tagline: Jesse Day named 2021 Faculty Excellence Award winner.