Kristina Huey
SPC graduate to carry banner for Technical Education at graduation ceremony
LEVELLAND – When Kristina Huey of Lubbock graduated from Coronado High School in 2019, she thought the next step on the ladder of life would include her attending Texas Tech University. However, fate had something better in mind. She ended up 30 miles west of Lubbock at South Plains College.
"I wanted to go to Texas Tech, but I didn't have the credentials," she said. "I needed higher test scores. Eventually I moved to South Plains College because I could get what I needed here to get into Texas Tech."
Huey spent the next two years at South Plains College, and she earned an associate in arts and science degree. She later learned about the Computer Drafting and Design Program. It all clicked from there.
"I decided to stay for two more years to get this degree," she said. "My dad has an architecture degree, and I grew up around it. I have a love for interior and exterior design in homes.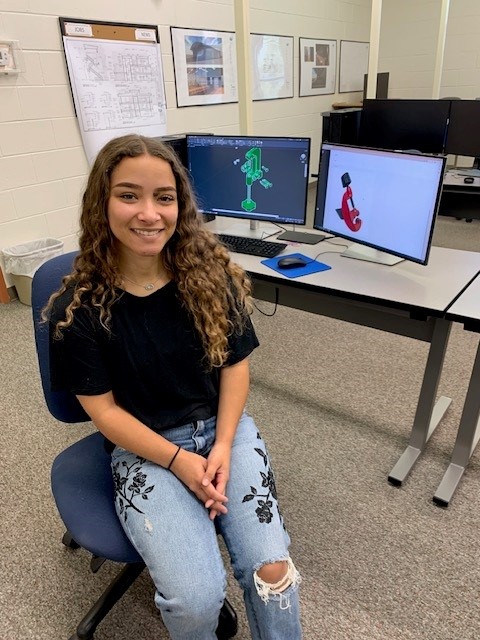 When she first started in the program, Huey said there was only one other female student among her classmates. However, family matters caused the other female student to leave school. Huey said that before she left, she talked to her, and she still plans to return to the program.
Huey said she is normally a quiet person, and she rarely engages in conversations with her male classmates until this semester. Her professor appointed her as a team captain, and Huey had to direct the team while working on their final project.
"I've had to come out of my shell and lead the team," she said. "I lean more toward the architectural side than the mechanical engineering side, just because the mechanical side is a bit harder for me," she said. "However, it's good to know both sides of the program."
As she nears the end of her program, Huey said she is grateful for her experience. She credits her professors and her classmates for her success, and she wants to see more female students in the program.
"This is an amazing program, and the professors really helped a lot," she said. "Anytime that I was struggling and didn't know the answer, I could always ask them for help.
"Because I am a quiet student, it takes me a while to seek help, but it is always given to me by the instructors," she said. "I would tell any female who is considering this program to walk through the doors; they will be there to help you succeed."
Huey said one of the things she learned is that a female student tends to have an eye for detail, and that is an asset in this program. She thinks female students will have an edge in the classroom and will do well in the profession.
Huey will graduate on Friday (May 12). She will receive an Associate of Applied Science degree in Computer Aided Drafting and Design. She will also serve as the Technical Education Banner Bearer during the afternoon graduation ceremony in the Texan Dome.
Huey currently works as an intern for Edge Homes. She plans to continue working there while she takes a year off from school. Huey said she will then transfer to Texas Tech.