Innovative Thinking
SPC Math, Engineering Department creates innovative thinking area for students
LEVELLAND – Imagine a work space where students can gather and contribute their thoughts and ideas to on-going projects or even new projects. They can write on desks or walls in an area free of rules. And, they can actually assist on a departmental app for other students. This is the atmosphere within the Makerspace in Room 121 of the Mathematics/Engineering building.
"It's a place to work and a place for every student who wants to collaborate, study or create new things," said Alan Worley, chairperson of the Math and Engineering Department and assistant professor of Mathematics.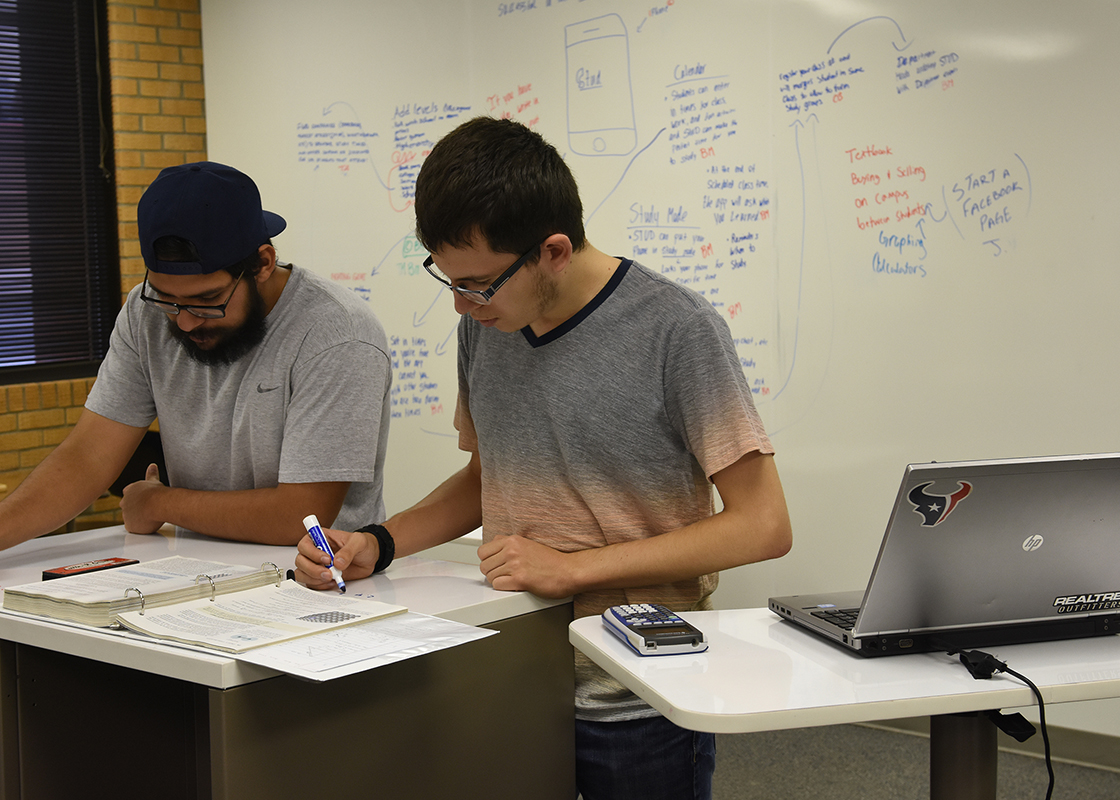 Worley teamed up with former participants in the Stanford's University Innovative Fellows to create the Makerspace for all South Plains College students. This national program empowers student leaders to increase campus engagement with entrepreneurship, innovation, creativity, design thinking and venture creation.
Unlike the normal classroom environment, the Makerspace is designed for movement. The room features an adjustable desk set at a standard height of five feet. The chairs are not only built for comfort, they are equipped with wheels to easily allow students to roll from one place in the room to another. The walls are coated with special paints which encourages students to write on any surface. The black wall was created for neon markers.
"A lot of the projects are math related but there's something here for everyone," Worley said. "We have one board where we are looking for help in recruiting women into the STEM program."
To help students bring their ideas to life, the room is equipped with carts filled with arts and crafts materials such as rubber bands, pipe cleaner, paper clips, string, markers, cardboard, etc., to encourage their creativity. The plan is to have 72 mobile bins in the room accessible for the students.
"We would like to buy a 3D printer," he said. "We also have Lego MINDSTORMS kits accessible and ready."
The Makerspace Grand Opening is slated for 11 a.m. on Thursday (Oct. 19) in Room 121.