Scholarship
Levelland businessman presents scholarship to military veteran
LEVELLAND – Former United State Army Private First Class Leslie R. Hernandez decided to enlist as a means of paying for college. After spending a year working and saving her money, she opted to go into the military. It was a choice that kept her going forward.
"I learned that my parents' earnings limited my ability to receive financial assistance to pay for college," she said. "And I didn't want them to be financially burdened, so I just worked for a year."
The Slaton High School graduate married her husband, Matthew, in February 2011, only months before she enlisted. She said he had graduated high school a year before she did, and he was serving in the U.S. Army at Fort Bliss in El Paso. She spent six months training in Missouri before coming to Fort Bliss. She served from 2011 to 2015 as a military police officer. She later had to leave the service because of injuries to her knees.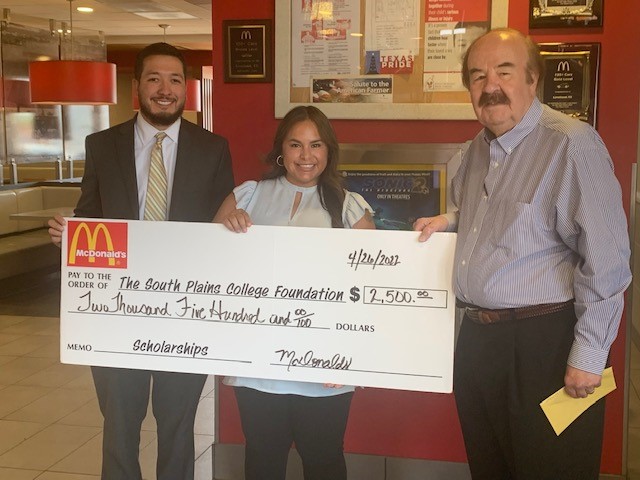 "I thought about going into law enforcement after the service," she said. "But I knew I wanted to help people. With my knee surgeries, I was able to talk to the nurses. They took amazing care of me, and they talked to me about going into nursing."
After leaving the military, Hernandez came to South Plains College where she obtained an Associate in Science. She then completed the Licensed Vocational Nursing program at SPC Reese Center, and she graduated in August 2018. Presently, she is a student in the Associate Degree Nursing Program at the SPC Levelland campus, and she plans to graduate in December. She has worked for the Lubbock Spine Institute since November 2019.
"Volunteering to serve in the military is a selfless act," she said. "I learned that I now have a drive in my life thanks to the military. I've learned that you have to pick yourself up and get it done. I'm grateful for the scholarship that Mr. Cohen has provided for me and my family."
Levelland businessman Bill Cohen, owner/operator of McDonald's of Levelland, has made it possible to honor servicemen and women with a special scholarship created for military veterans.
Cohen created the McDonald's of Levelland Veterans Impact Scholarship to assist SPC students. He served in the U.S. Air Force as a pilot.
"I'm a veteran, too, and I wanted to give a scholarship to help veterans so that they can get the tools they need to go out and be successful contributors to society," Cohen said.
For more information about ways to support scholarships and students at South Plains College, contact Jordan Flores, Director of Development and Alumni Relations, at (806) 716-2020.