Sound Reinforcement Program
SPC's Sound Reinforcement Program hosted seminar with world-wide appeal
LEVELLAND – Sound Reinforcement is something most people take for granted in places such as sporting events, graduation ceremonies, recognition banquets, church services, concerts and many other special events. Most of these simply could not happen without it.
In October, South Plains College's Sound Reinforcement Program hosted a three-day seminar presented by one of the world wide leading manufacturers in loudspeaker and sound system technology. The seminar provided training on some of the newest cutting edge technologies in the live sound industry.
SPC students, alumni and industry professionals were able to spend three days receiving training on sound system design and optimization. "Meyer Sound is so willing to share its resources with anyone who is interested in designing and installing sound systems" said Jeremiah Denning.
"It's incredible to receive this help and support from such a major manufacturer in our industry to produce the best graduates we can" said Quick. Meyer Sound doesn't just produce top of the line products but they also invest heavily to help educate our industry."
According to Quick, when Meyer Sound arrived on campus to set up for their seminar, they brought three pallets of gear that was used to put on the seminar. The seminar's presenter, Bob McCarthy, director of System Optimization at Meyer Sound, has been affiliated with the science of sound and deployment of speakers for more than 30 years. He is the author of the book, "Sound Systems Design and Optimization, Third Edition," which is used throughout SPC's Live Sound courses.
"This is the one book that is used industry wide as a reference guide for sound system design and optimization," Quick said.
More than 40 individuals from across the world signed up to attend the seminar. Among the 40 were 10 SPC alumni who are currently working in the industry. Meyer Sound has been presenting these seminars every couple of years at South Plains College since the start of the Sound Reinforcement program in the fall of 2006.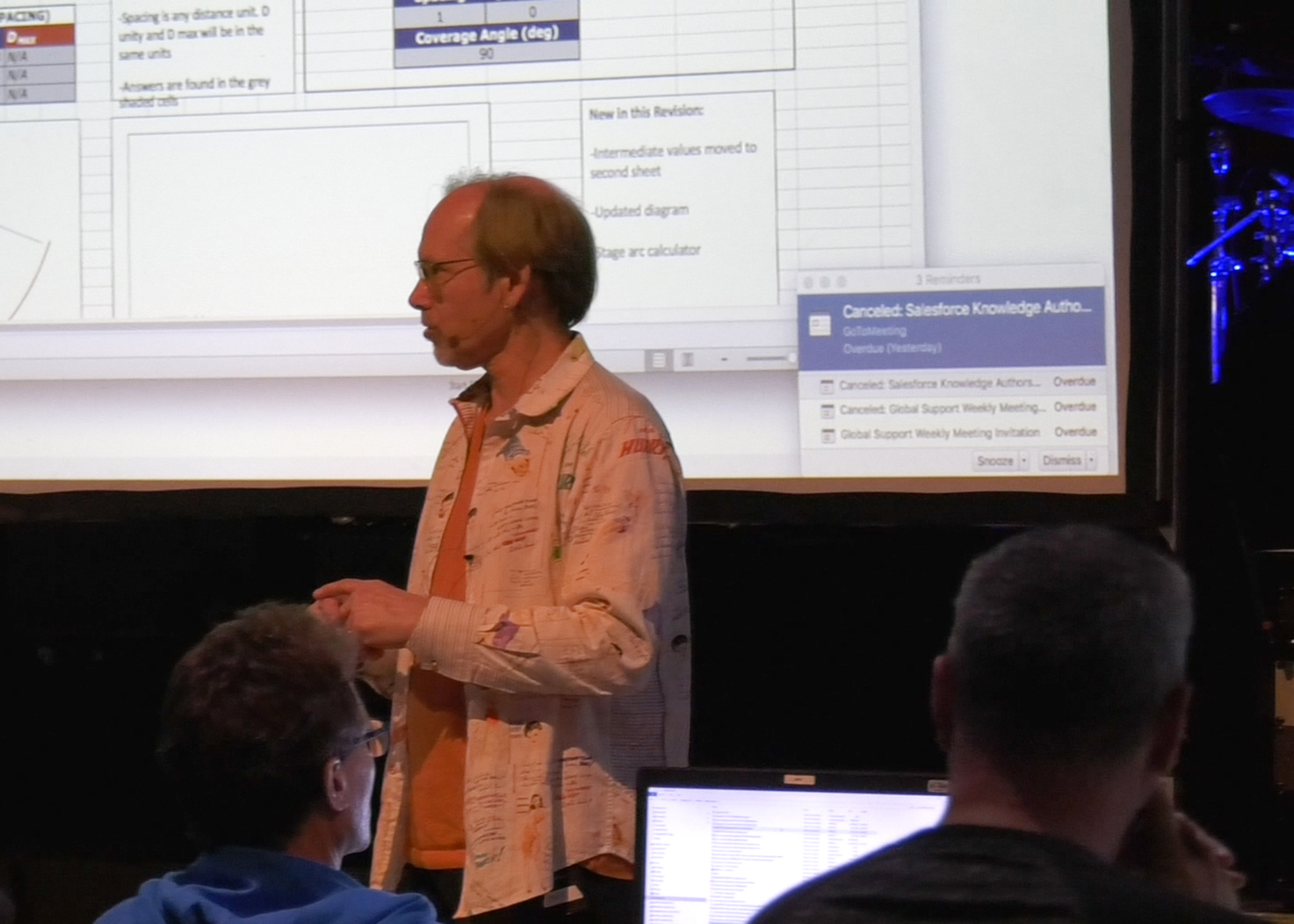 Bob McCarthy, director of System Optimization at Meyer Sound