SPC Foundation
SPC Foundation announces new scholarship for business students
LEVELLAND – To the customers and staff at AimBank Levelland, Juneta Hopper Mitchell was a treasure. Not only did she put the needs of her customers first, she knew the value of good customer service.
In recognition of her career in the banking industry, AimBank Levelland recently gave $10,000 to the Board of Directors of the South Plains College Foundation to create the Juneta Mitchell Memorial Scholarship in her memory. The scholarship will benefit South Plains College students majoring in banking related business. Preference will be given to graduates of Hockley County high schools.
According to Chad Alexander, Market President, Mrs. Mitchell worked for more than 40 years in the banking business. In 1972, she started as a loan secretary at Levelland State Bank. She became a loan officer in 1974. She remained a loan officer for many years and through several ownership changes. She along with other local individuals formed a group in 2003 to purchase the former First National Bank of Littlefield in 2003 which was renamed AimBank. She served as Executive Vice President for AimBank in addition to serving on the Board of Directors for the bank and holding company of Aim Bancshares, Inc.
"AimBank is excited about establishing this scholarship in her honor," Alexander said. "It made sense to partner with South Plains College because she took classes there and the college has a wonderful reputation. She climbed the ladder of success and we want the scholarship to help somebody locally because she wouldn't have wanted it any other way."
Mrs. Mitchell grew up in Midland and graduated from Midland High School. She attended South Plains College. She studied banking and marketing at the University of Colorado. She later took education courses at Texas Tech University. She married Roger E. Mitchell in 1961. He preceded her in death. The couple had one son, Rann (Kellie) Mitchell of Levelland.
"My mother was always working," Rann Mitchell said. "She enjoyed spending time in the community, but her favorite hobby was 'work, work and more work.'"
Mrs. Mitchell was involved with many service organizations including the children's Protective Services, the Hockley County Senior Citizens, Levelland Chamber of Commerce, Levelland Ambassadors, the Salvation Army, the American Cancer Society and the American Heart Association. Mrs. Mitchell died Aug. 15, 2017.
"I would like this scholarship to help somebody in business like banking or maybe Ag because she was an Ag lender," Rann Mitchell said. "She liked helping ranchers and farmers."
For more information on the scholarship, to make a donation or for more information about ways to support scholarships and students at South Plains College, please contact Julie Gerstenberger, Director of Development and Alumni Relations, at (806) 716-2020.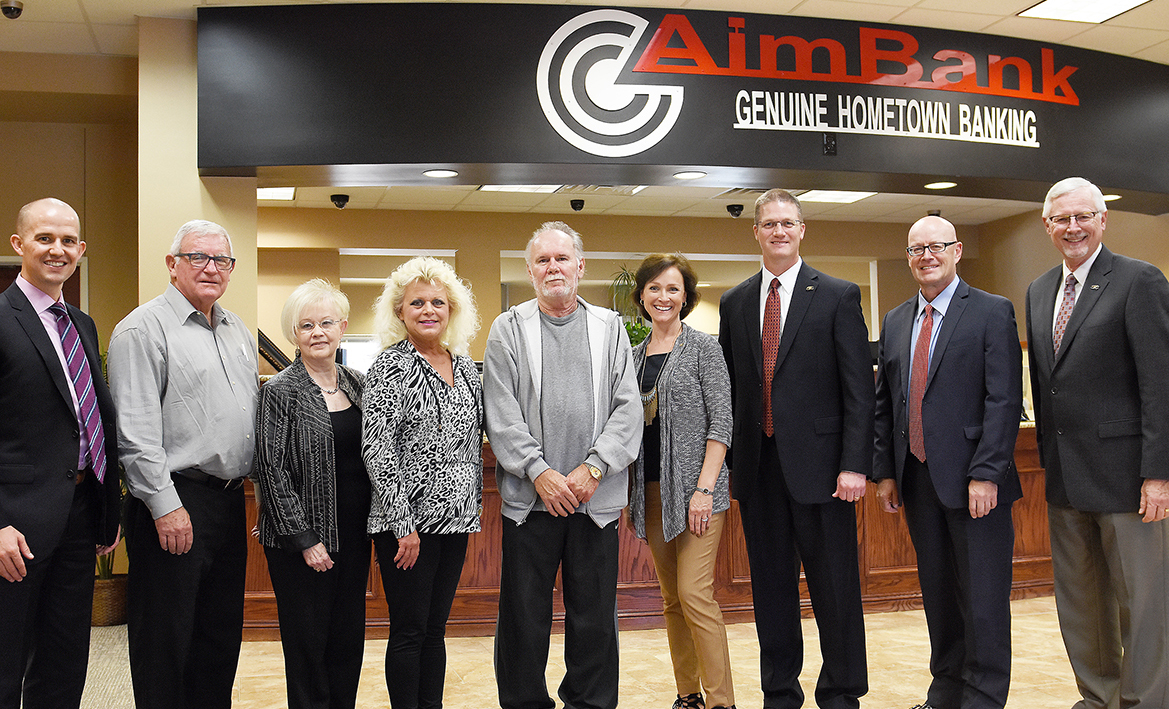 EMPLOYEE HONORED – The bankers, family and friends of the late Juneta Mitchell gathered at AimBank to announce the establishment of an endowed scholarship at South Plains College. Shown are, from left, Chad Alexander, Levelland Market President; Kenny Willmon, Board of Director; Millie Rush, Senior Vice President; Kellie and Rann Mitchell, son and daughter-in-law of Juneta Mitchell; Julie Gerstenberger, director of Development at SPC; Robin Satterwhite, President of South Plains College; Scott Wade, CEO of AimBank; Stephen John, vice president for Institutional Advancement at SPC.
(SPC Photo/Wes Underwood)