Morgan Minnick
SPC names recipient of 2023 President's Student of the Year
LEVELLAND – The highlight of a graduating student's accomplishment shines like no other honor. For Morgan Minnick of Logansport, Ind., the honor represents her crowning achievement.
Morgan has been named the 2023 President's Student of the Year at South Plains College. The award was presented Friday (May 12) during the 65th Annual Commencement Ceremony in the Texan Dome. It is presented to an outstanding student who has been most successful academically and socially while making significant contributions to the campus environment.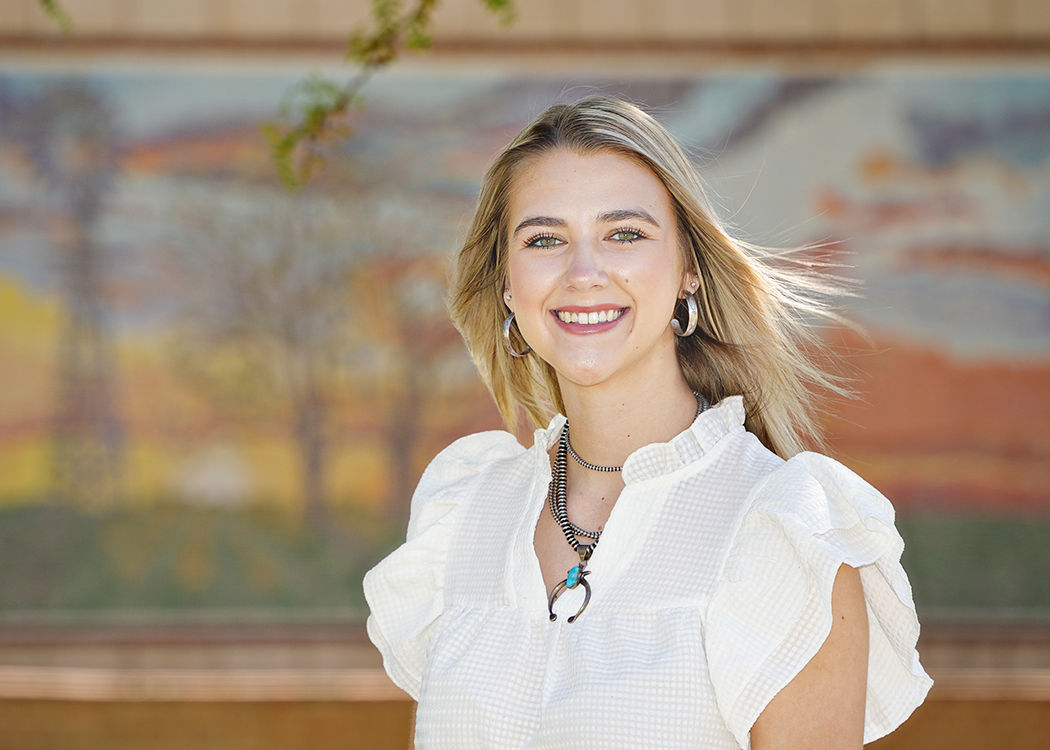 Minnick's journey to SPC began following a recruitment trip from the SPC Livestock Judging Team Coach at the time, Conner Newsom, Dave Cleavinger, professor of agriculture and Conner Brews, the new SPC Livestock Judging Coach. She said they advised her to come visit the area, and she fell in love with West Texas.
Minnick said she considers Dave Cleavinger to be the most influential professor on campus.
"He has made my time here just astronomically great," she said. "He cares for our students; he helps us pick classes and guides us in the right direction. If you need to have a conversation with him, he stops what he's doing to talk to you."
When Minnick began making her campus visits, COVID was at its height. She visited several schools and drove 18 hours to visit SPC. She said she received a packet from SPC and made her own tour of the campus.
"I was very fortunate to make it out here and get so much of my education paid for," she said.
Minnick is the recipient of the John and Auvena Morton Scholarship, the John L. and Vergie Belle Smallwood Scholarship, the Jim and Ramona Davis Ag Products Scholarship and the Christine DeVitt Scholarship in Agriculture.
Minnick is an excellent student who has made the most of her college experience while attending South Plains College. She has been recognized on the Deans' Honor List in fall 2022 and the President's Honor List in fall 2021, spring 2022 and possibly spring 2023 for academic achievement. She said she made all A's this semester.
Minnick is a graduate of Lewis Cass High School in Walton, Ind. She is the daughter of Daniel Minnick of Logansport and the late Kasia Minnick. She plans to transfer to Texas Tech University to study agriculture communications and she will also continue with livestock judging.