Student of the Year
SPC President selects 2017 Student of the Year
LEVELLAND – Nancy Munoz of Levelland was selected 2017 President's Student of the Year at South Plains College during the Student Awards Assembly held Thursday (May 4) in the Texan Dome.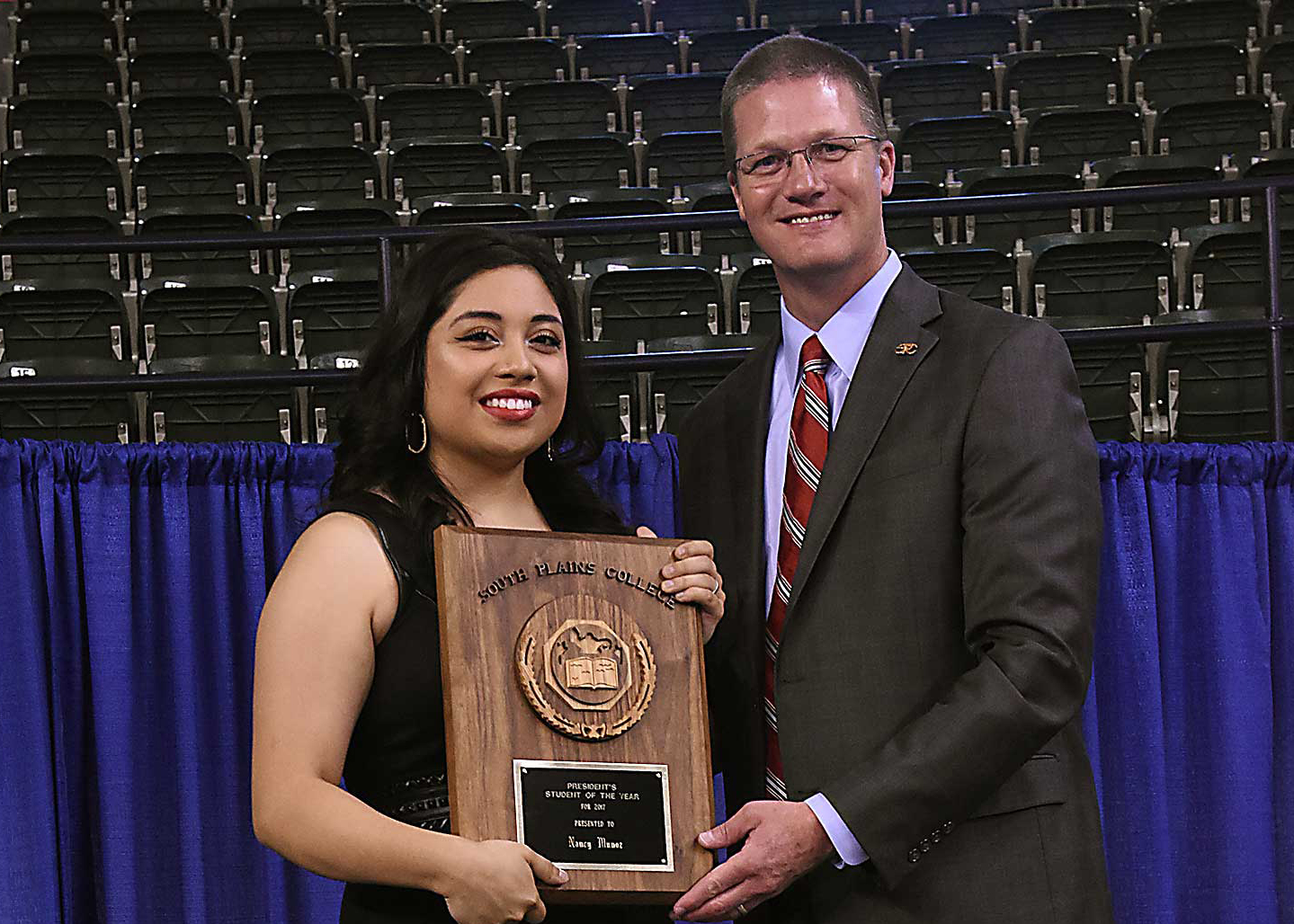 The President's Student of the Year is awarded to an outstanding student who exemplifies excellence in academics, socially and has contributed most to the SPC campus environment. It is the highest recognition a student can receive at South Plains College.
Nancy's accomplishments are exemplary. She is a member of the Phi Theta Kappa International Honor Society and she represents the South Plains College campus as a Campus Ambassador and Hostess for the Texan Club. Nancy was named the 2017 Homecoming Queen. She was named Outstanding Student and Top Female for Math, Engineering and Computer Science for both her freshman and sophomore years.
She is the recipient of multiple scholarships including the Musselwhite Award, Shell pre-Engineering, Smallwood Scholarship and the Charles Miller scholarship. Nancy was awarded an internship with Stanford University and the Department of Energy; a member of the President's List for fall 2015, spring 2016 and fall 2016; and she was an University Innovation Fellows participant. She maintains a 3.9 grade point average.
She serves as S.E.A.R.C.H. Club President, Catholic Student Ministry President, Pay It Forward President and STAR Center President. Nancy created the Women in Math, Computer Science & Engineering Club. She strives to increase diversity in a field of study that needs more women and minorities among its numbers.
Nancy graduated from Levelland High School and is the daughter of Mr. and Mrs. Roberto and Grisenda Munoz of Levelland, Texas. After graduating from South Plains College, she plans to transfer to Texas Tech University to earn her bachelor's degree in Industrial Engineering.