Outstanding Students
SPC recognizes outstanding students during annual commencement ceremony
LEVELLAND – South Plains College students Jie "Lily" Xiao of Levelland and Greg Balboa of Levelland have been named recipients of the Vera Sue Spencer and Thomas Spencer, Sr. Awards for Outstanding Achievement. They will be honored during SPC's 61st Annual Commencement Ceremony on Friday (May 10) in Texan Dome.
The Vera Sue Spencer Award is presented to a SPC female student who demonstrates the qualities of outstanding leadership and service to the college and community. The cash award was established by Dr. and Mrs. Thomas Spencer in memory of their daughter, Vera Sue, who died while Dr. Spencer was president at SPC. The award was established by the Spencer Family in 1971, and recipients are recognized each year at commencement.
Originally from Fuzhou, China, Xiao is a sophomore business administration major and a first generation college student. She serves as the treasurer for the Student Government Association. She is listed on the fall 2018 President's Honor Roll with a 4.0 grade point average, winner of the silver medal of the 2018 Scholastic Art & Writing Award, winner of the 2018 Levelland Police Patch Design Contest and the first place winner of the Third Annual Levelland Young Artist contest.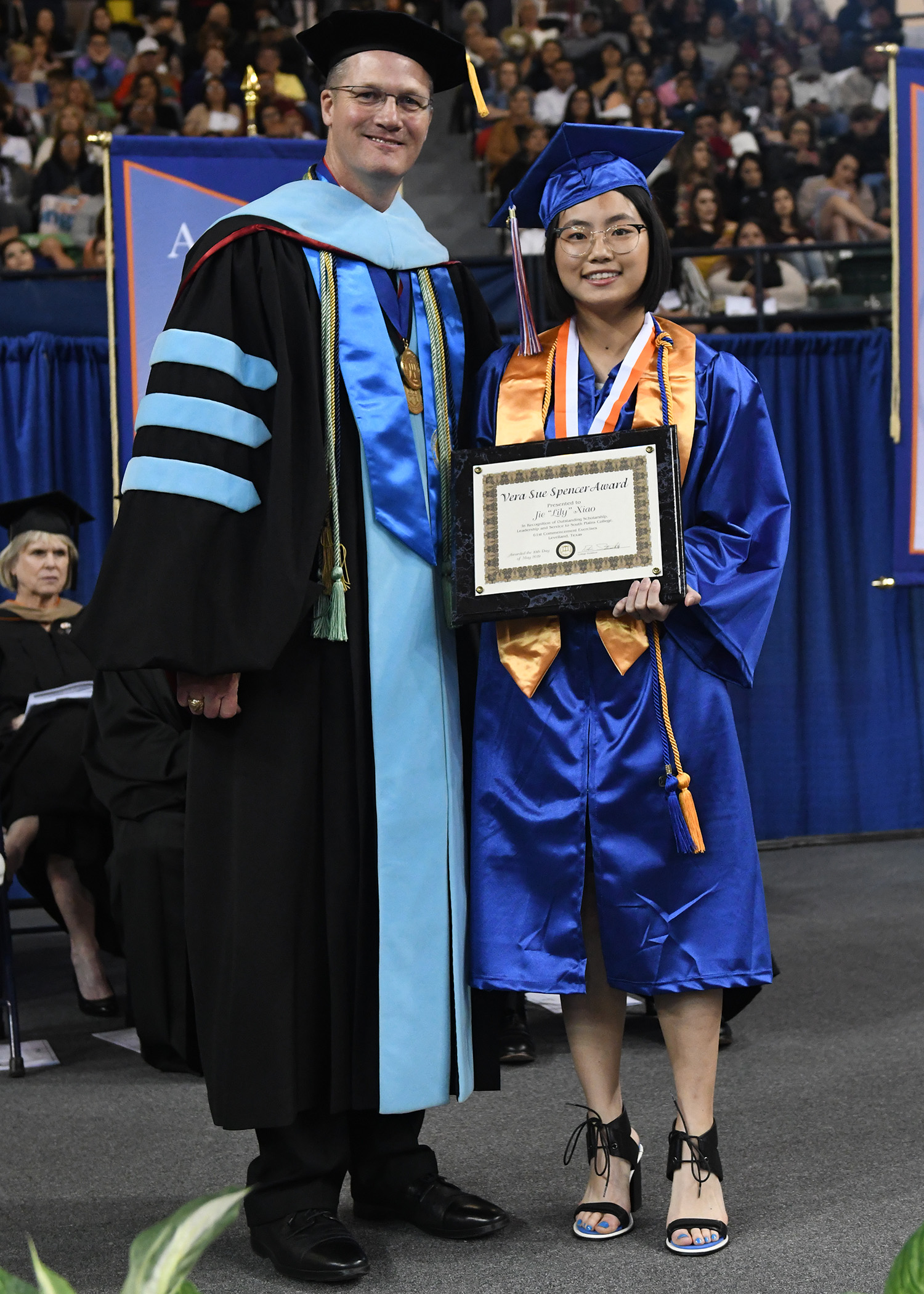 Xiao helps the SGA by participating in events that promote student activities, service and interaction on campus. She is a member of the Phi Theta Kappa International Honor Society, and she works as a lab assistant in the Technology Center. Xiao is the recipient of the John L. and Vergie Belle Smallwood Scholarship, the Gano and Goldie Tubb Rotary Scholarship, the Achieve the Dream Scholarship and the SPC GenTx Scholarship.
"While I was in high school I participated in the Upward Bound Program at SPC," she said. "The faculty and staff have motivated me to follow my educational path. Thanks to the Upward Bound Summer Program, I was exposed to the welcoming and supportive environment. I heard many success stories about people who previously attended South Plains College. To better prepare myself for my future, I chose SPC."
Xiao is committed to academic excellence, and she also finds time to volunteer as well as serve as the president of the STAR Center Student Organization. Xiao and other members of SCSO worked at the college's annual Scholarship Gala. She also volunteers with the residents of the Beehive Retirement home where she helps them play games.
"Through taking the core curriculum courses that are required at SPC, I was exposed to diverse areas of study that helped me distinguish my interest and discover my career path," she said.
Xiao said that initially she suffered from low self-esteem because English is her second language. She credits the English instructors at SPC for helping and encouraging her to improve her confidence in writing.
"Writing is a large aspect of higher education and because of the skills I gained from the English courses, I am ready for the classes at a university level," she said.
Xiao is the daughter of Jing Chen and Jun Lin Xiao of Levelland. After graduating from South Plains College, she plans to transfer to the University of Texas at Austin or UT at Dallas to obtain a bachelor's degree in business marketing.
The Thomas Spencer Sr. Award is presented annually to an outstanding male student who demonstrates the qualities of leadership and service to the college and community. The late Dr. Thomas Spencer, Sr., played an important role in the formative years of South Plains College as its founding president. In recognition of his leadership at the college and later as president of the Texas Community College Association, the college established the Thomas Spencer Sr., award in 1998 in celebration of its 40th anniversary. A committee comprised of faculty and administrative personnel nominate and select the award recipient.
Balboa is a sophomore psychology major. He serves as vice president of the SPC Student Government Association. During his term, he co-founded a student organization, Campus Connects, to help connect first-time students to academic and social resources on campus. He set out to create an opportunity for students to interact with someone in real life who would take time to help them with anything they might need such as a friend, a place to hang out, finding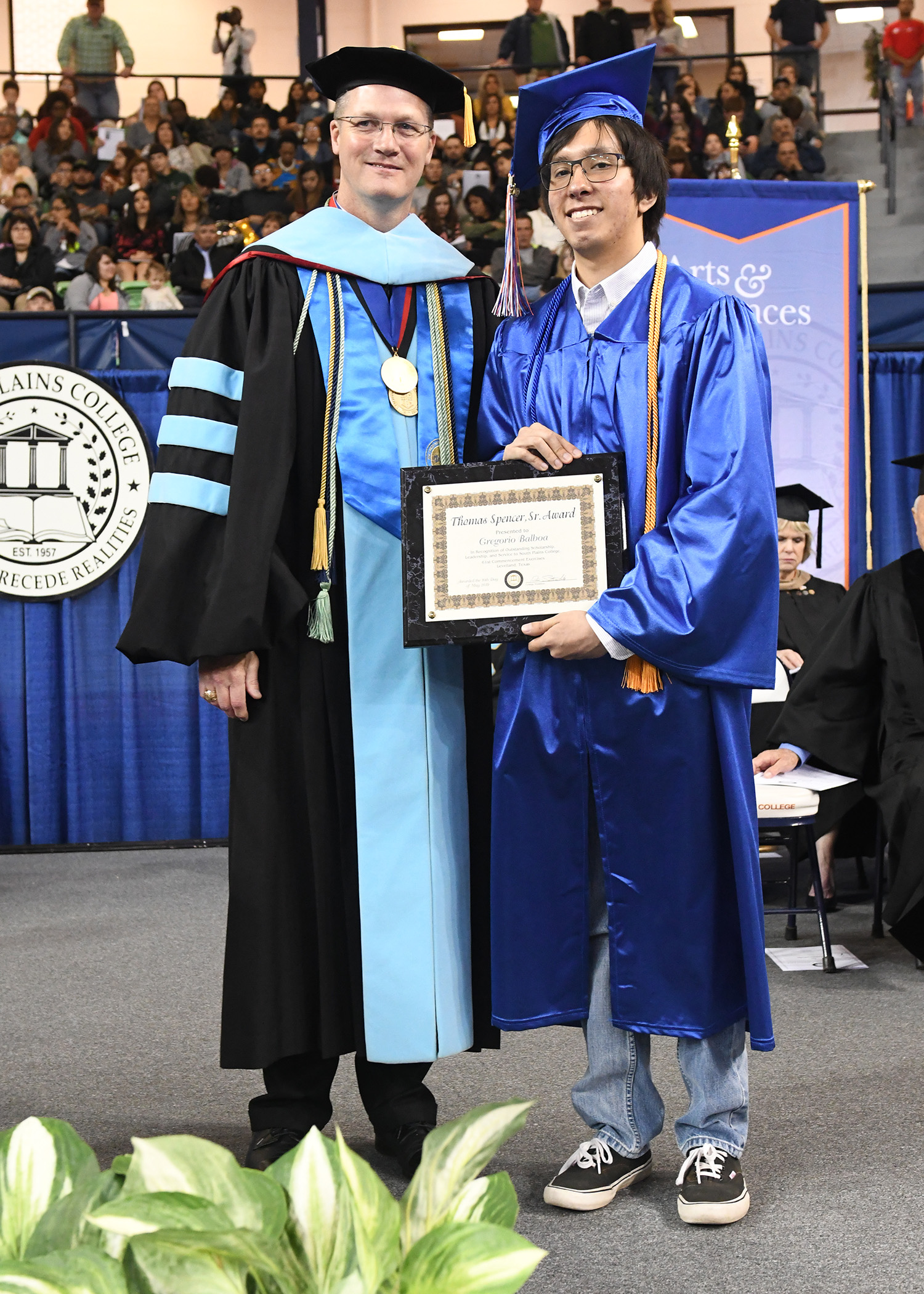 resources and much more.
Campus Connects works as an extension of the Campus Ambassador program. Through the organization, Balboa introduces students to clubs/organizations that might interest them, and he shows students how to improve their study skills through campus resources. He conducts weekly meetings on Mondays where he helps students figure out where to go in town to shop, hangout or grab something to eat. He also invites the students to get involved with the local community.
"I chose SPC because it was here in my home town so I already had experience with the community feeling," he said.
Balboa is a member of Phi Theta Kappa International Honorary Society and a recipient of the SPC Campus Ambassador Scholarship. He volunteers his time on campus and in the Levelland community at the Salvation Army and Levelland Independent School District. At LISD, he helps oversee the after school activities for elementary school children. His volunteer efforts helped Balboa obtain a part-time position with the ACE program.
"I think that SPC has prepared me to transfer to a university because it has given me the experience and knowledge to continue my education," he said.
Balboa is the son of Patricia and Tony Balboa of Levelland. After South Plains College, he plans to attend Lubbock Christian University to continue his education. He wants to start his own practice in psychology so that he can help others.