Paragon Awards
South Plains College wins national marketing awards
LEVELLAND – The staff of the South Plains College's Marketing and Recruitment office recently won a gold and a silver Paragon Award at the National Council for Marketing and Public Relations (NCMPR) conference in San Antonio.
NCMPR's prestigious Paragon Awards recognize outstanding achievement in design and communication at community and technical colleges. It is the only national competition of its kind that honors excellence exclusively among marketing and PR professionals at two-year colleges.
South Plains College won the Gold Paragon Award for its Quick-Turn Video entry SPC Fire Academy 9/11 Memorial Stair Climb. The Silver Paragon Award was presented for South Plains College's Digital/Electronic Media category for its e-view book entry. This year's competition drew 1,939 entries from 262 colleges across the United States and Canada.
"The Marketing and Recruitment staff at South Plains College are amazing talents," said Dane Dewbre, associate dean of Marketing and Recruitment. "I am honored to have a staff like this that does such a great job at telling the South Plains College story."
The staff of the SPC Marketing and Recruitment include Dewbre; Matt Ballentine, Visual Communications Specialist; Chase Dunn, Recruiter; Adrian Mellberg, Web Content and Social Media Coordinator; Nathan Boyd, Visual Communications Specialist; Peyton Sauer, Coordinator of New Student Programs; Cindy Scott, Administrative Assistant to the Associate Dean of Marketing and Recruitment; Wes Underwood, Communications Specialist/Photographer; and Myrna Whitehead, Coordinator of News and Information.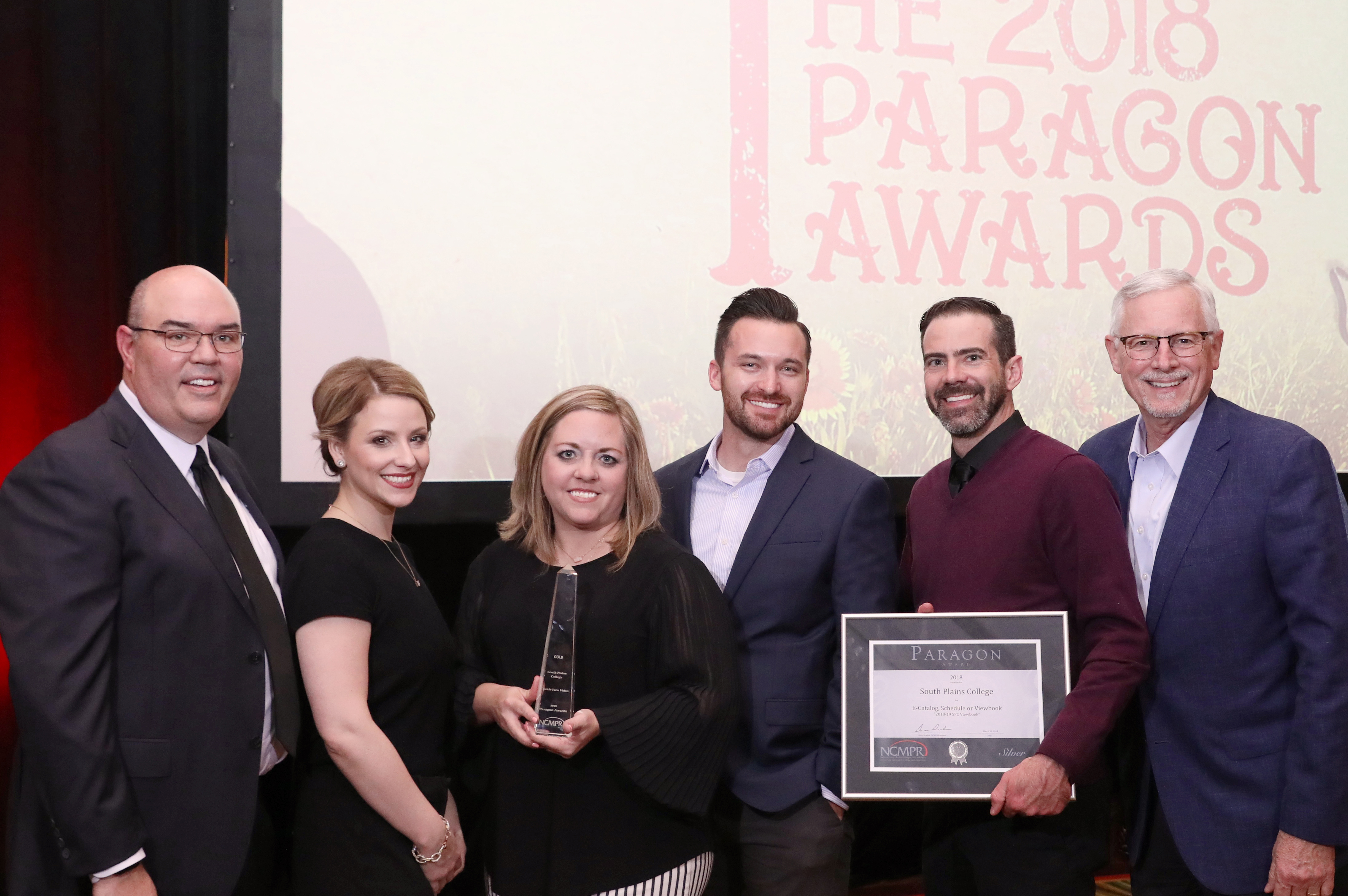 SPC WINS AWARDS – Members of South Plains College's Marketing and Recruitment office recently won two 2018 Paragon Awards presented by the National Council for Marketing and Public Relations during its 2019 conference in San Antonio. The Paragon Awards recognize outstanding achievement in design and communication at community and technical colleges. Shown are, from left, Dane Dewbre, associate dean of marketing and recruitment; Peyton Sauer, coordinator of new student programs; Adrian Mellberg, web content and social media coordinator; Chase Dunn, recruiter; Matt Ballentine, visual communications specialist; and Stephen John, vice president for institutional advancement. (Courtesy Photo by Ben Munson and NCMPR)