Cosmetology
COVID-19 prompts student to seek new profession through cosmetology
LEVELLAND -- The Covid-19 pandemic changed the lives of people around the world. For local salesman Shelton Morris, the impact of Covid-19 on the job market motivated him to look for a new opportunity.
Morris of Lubbock considers Coronado High School his high school although during his senior year, he attended school in Fort Worth. He spent more than 37 years working in sales jobs including selling for Custom Homes and he earned a certification as an inspector by the Environmental Protection Agency. Throughout his career, Morris received an insurance license, a real estate license as well as a food and beverage license.
However, on April 1, 2020, everything changed. Morris was laid off from his job.
"I didn't see a choice," he said. "The country was in lockdown, and nobody was wanting to talk to a salesman. You couldn't even go out and see anybody (clients).
"And, I always wanted to learn this industry so I thought I would give it a shot," he said.
After looking into cosmetology programs and barber schools in the area, he chose to attend South Plains College in Levelland. Morris said SPC stood out head and shoulders above any of the other programs he researched and visited.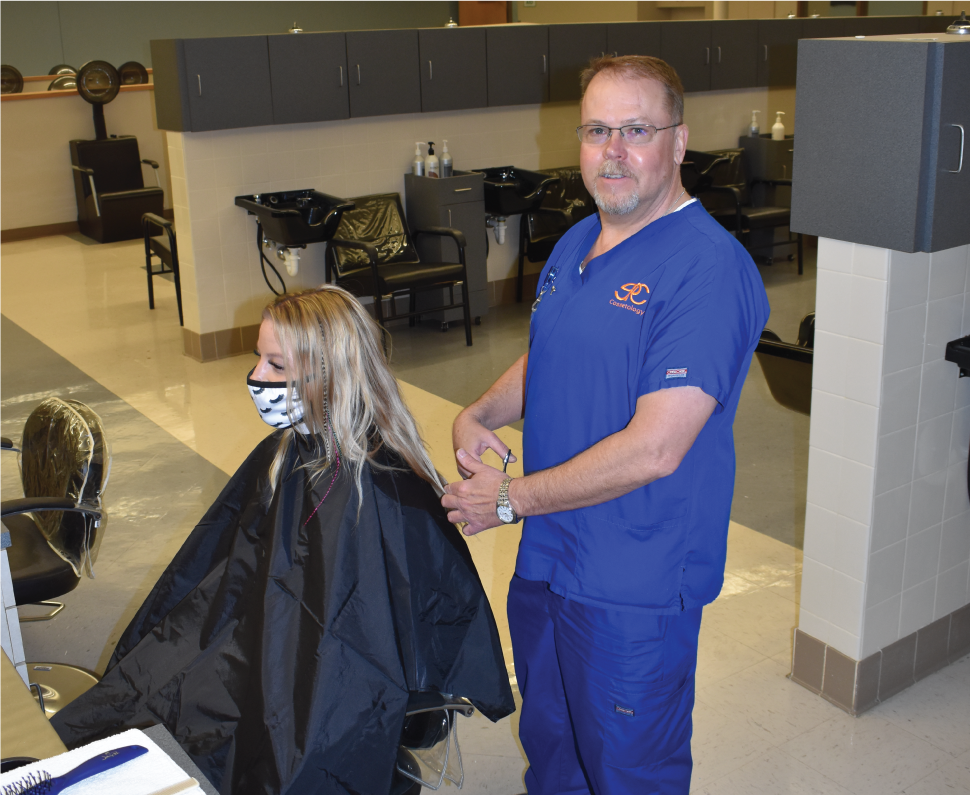 In fall 2020, Morris joined the Cosmetology Program at SPC. He said he didn't expect to be the only male in the class but he is happy with his decision.
"It's been fine and a lot of fun working with my classmates," he said. "I'm quite a bit older than most of the students so I felt fairly prepared."
Morris said that while a barber school would have taught him the essentials of the cutting hair, he is glad he came to SPC where he has been able to learn and obtain hands-on experience in all of the facets of cosmetology. Morris said he cannot work with a straight razor which he said he never intended to do anyway.
He has learned to perm and color hair as well as how to perform facials, pedicures and manicures. With his new skill set, Morris said the opportunities are open for him depending on whichever path he chooses to follow.
"I may be a manufacturer's representative or work for a cosmetic company or hair care company – the door is wide open," he said. "When I interviewed for this program, I was told that opportunities would come my way. And, everything I was told has come true 100 percent!"
Although it has taken nearly 37 years to get to this point in his life, Morris said he is happy about his decision to come to South Plains College.
"I wanted to try this profession right after high school, and this program has been everything I expected," he said. "This was my dream years ago, and now it is being realized."
Morris will graduate in May 2021 before he embarks on a new journey as a professional cosmetologist.


Cosmetology Program at South Plains College
During this two-semester program, students will be taught the rules and regulations of the Texas Department of Licensing and Regulation. Students will understand the theory and skills of shampooing, hair and scalp treatment, hair cutting, chemical hair relaxing, hair styling and shaping, manicuring, cold waving, hair coloring, skin care and facials. Students will learn all applicable safety and sanitation rules and regulations in order to comply with the Texas Department of Licensing and Regulation along with salon development, salon operations, professional ethics and record keeping.
Students will acquire the knowledge, skills and experiences necessary to become licensed by the TDLR and to work as a cosmetologist in the State of Texas. Students receive a Certificate of Proficiency upon completion of the curriculum from South Plains College. To qualify for the Certificate of Proficiency, the student must complete a Capstone Experience during the final semester of the program.
In addition to meeting the general admission requirements of South Plains College, students who wish to enter the Cosmetology program must make separate application to the program, must obtain satisfactory scores on the Cosmetology Entrance Test and must interview with program faculty. Entering students are required to be at least 17 years of age and have a high school diploma or GED. Once accepted into the Cosmetology program, a student is required to complete an application with the Texas Department of Licensing and Regulation, pay a $25 registration fee with the TDLR, and provide personal identification. These requirements must be completed before the student may begin class. Program faculty will assist students with the TDLR registration process.