Nursing
South Plains College Plainview Center honors nursing graduates
PLAINVIEW – South Plains College Plainview Center recently honored nine graduates during a pinning ceremony Thursday (Aug. 8) in the Fair Theatre.
Plainview graduates include Toni Cordova, Clarissa Denise Hernandez, Josh Mata, Jordan Nichole Valadez and Cynthia Luna.
Lockney graduates include Crystal Vasquez, Gracie Cervantes and Anissa Guerrero.
And, Christella Reyna of Olton.
Program Coordinator and Assistant Professor Suzanne Griffin, AAS, ADN, RN, served as mistress of ceremonies. SPC Director of Nursing Programs Melissa Tomblin, MSN, RN, provided the welcome.
Chief Nursing Officer for Covenant Health-Plainview Leslie Hackett, MAM/HCA, BSN, RN, delivered the keynote address. Musical entertainment was performed by Jeremy Huffhines. Representatives of the Gideon Auxiliary presented bibles to the graduates.
Members of the SPC Plainview Center faculty Becky Halford, MSN, RN, instructor of vocational nursing; Leah Rios, LVN, clinical instructor; Lori Conklin, LVN, clinical instructor; and Juan Gonzalez, LVN, clinical instructor, assisted with the pinning.
The Pinning Ceremony marks the completion of the vocational nurses training and the eligibility of the graduates to write the National Council Licensing Exam to become licensed vocational nurses.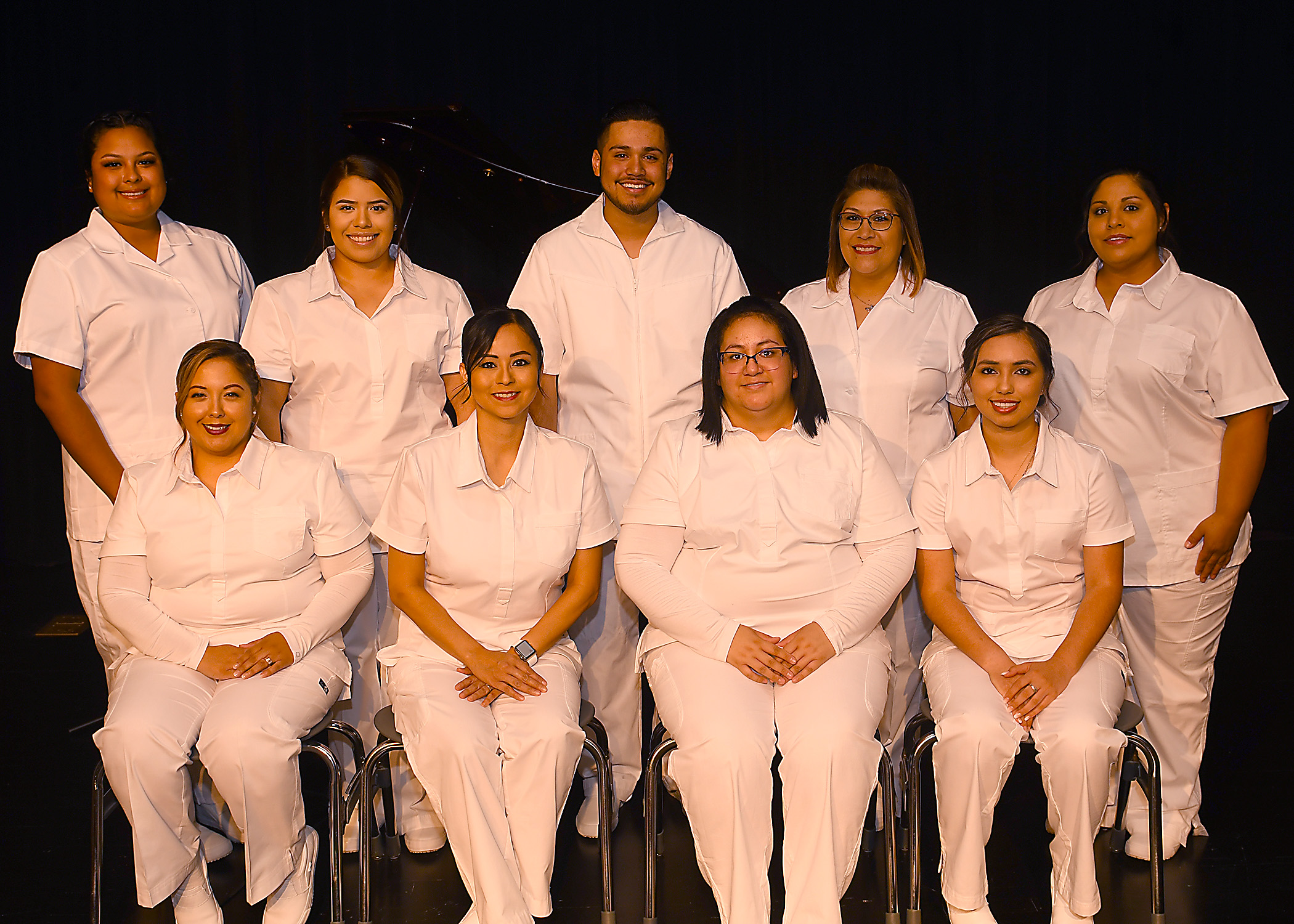 CLASS OF 2019 – South Plains College Plainview Center recently hosted a pinning ceremony to honor the graduates of the Class of 2019. Shown seated are, from left, Christella Reyna of Olton; Toni Cordova of Plainview; Clarissa Denise Hernandez of Plainview; and Anissa Adelina Guerrero of Lockney. Shown standing are, from left, Cynthia Luna of Plainview; Jordan Nichole Valadez of Plainview; Josh Mata of Plainview; Gracie Cervantes of Lockney; and Crystal Lynn Vasquez of Lockney. The event was held in the Fair Theatre. (SPC Photo/Wes Underwood)