2021 President's Student of the Year
SPC names recipient of 2021 President's Student of the Year Award
LEVELLAND – D.R. (Trip) Roberts III of Wichita Falls has been selected 2021 President's Student of the Year at South Plains College. The award was announced during the Student Awards Assembly held May 11 (Thursday) in the Texan Dome.
The President's Student of the Year is the highest recognition a student can receive at South Plains College. This award honors an outstanding student who has been most successful academically and socially, while making significant contributions to the campus environment.
This year's recipient has been named to the President's List for Spring 2020 and Summer 2020. He is listed on the Dean's List for fall 2019 and fall 2020. Roberts is a member of Phi Theta Kappa International Honor Society. He was nominated for this award by Jackie Underwood, program director and assistant professor of physical therapist assistant.
According to Underwood, "Trip has demonstrated himself as a true leader especially in this last year with limited face-to-face interaction with classmates and faculty. He would check in with quarantined classmates to make sure they were up to date and often volunteered to partner with classmates to help them 'catch up' when they were able to return to lab."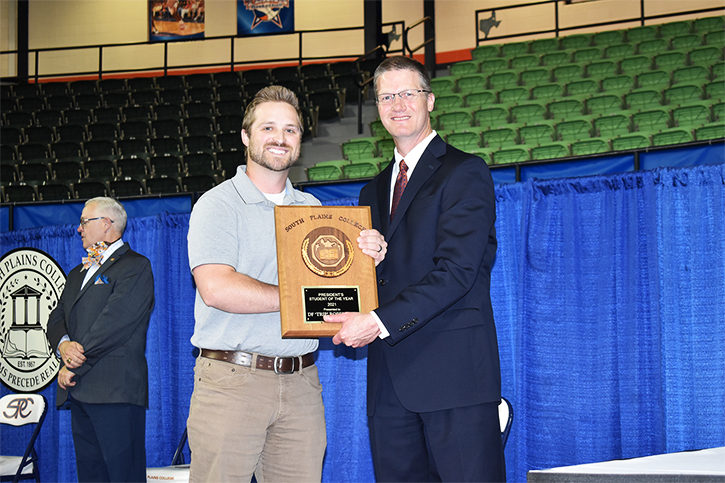 Roberts is the recipient of multiple scholarships including the 2019 Ray and Donna West STEM Scholarship, the 2020 Ray and Donna West Scholarship in Physical Therapy Assistant and the 2020 W.V. and Mattie Muriel Felker Memorial Scholarship.
Roberts currently serves as the Vice President of the SPC Physical Therapist Assistant Student Association Texas Physical Therapy Association and he serves on the nominating committee for the Student Association TPTA. Roberts and a group of classmates developed a mentoring program between sophomore and freshman students in an effort to grow professionalism in second year students while building a support network for the freshman students.
In addition to his academic accomplishments, he plays an essential role in improving student's lives at SPC and within the community. He said he had the opportunity to engage in several community volunteer activities including leading Senior Sneak Day at the SPC PTA campus, playing wheelchair dodgeball with physical therapy patients who were confined to wheelchairs as well as leading and performing in an educational video about shoulder physical therapy. He posted the video on the SPC PTA Facebook page as a tool for the public to use, if desired.
Trip said he considers Kevin Beaugh, assistant professor and academic coordinator of clinical education, to be his most influential instructor.
"He sees things in a way that most people do not," he said. "That helped me understand different points of views on many issues. He is also very intelligent and knowledgeable in the field of physical therapy, and he does a great job at integrating fresh learning strategies into his curriculum."
Trip is the son of D.F. and Penny Roberts of Wichita Falls. He has signed an offer letter to work as a Physical Therapist Assistant at McCombs and Associates Physical Therapy in Lubbock after graduation.
Tagline: D.R. (Trip) Roberts III of Wichita Falls, left, accepts 2021 Student of the Year from Dr. Robin Satterwhite, president of South Plains College.