Ryan Heth
South Plains College selects Ryan Heth for 2023 Faculty Excellence Award
LEVELLAND – Colin Powell wrote that "excellence is not an exception, it's a prevailing attitude." Ryan Heth, assistant professor of kinesiology, wears the badge of excellence by surrounding himself with peers who share the same core values.
Heth has earned a reputation across campus as a master teacher, an outstanding colleague and a reliable supporter of SPC students. He has been selected as the 2023 recipient of the Faculty Excellence Award at South Plains College.
The award was presented during the 65th Annual Commencement Ceremony in the Texan Dome. The award recognizes a faculty member for exemplary work in the classroom, service to the college and service to the community.
Since joining the faculty in 2008, Heth has earned a reputation for being the first person to volunteer within the department. According to one of his colleagues, Heth stepped up to be a Blackboard Buddy during the peer review process of online courses. No matter the task, he can be counted on to spend the time to learn the process and become proficient at it. Heth is truly an asset to the department and the SPC community.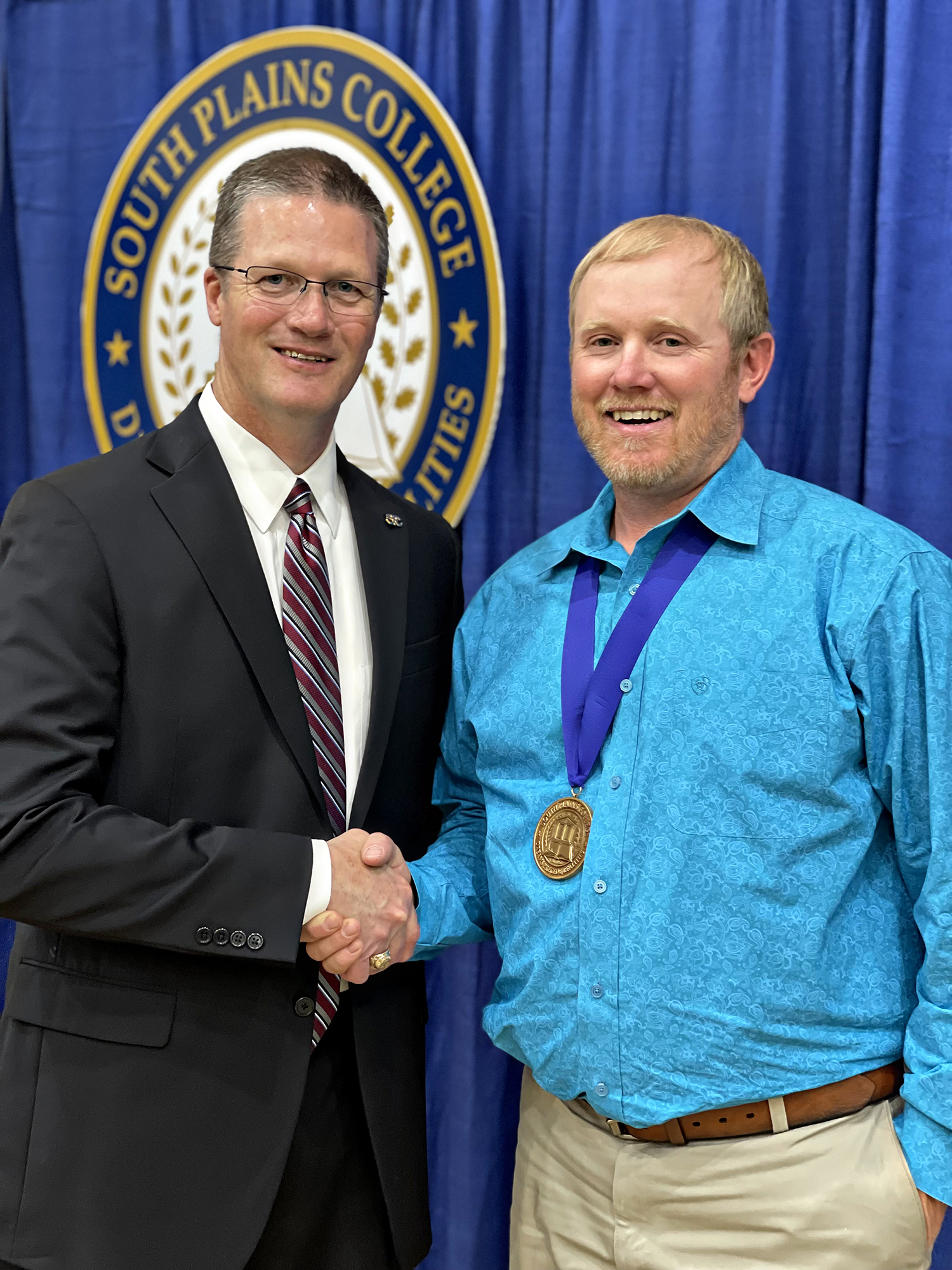 Heth serves as a member of several committees on campus, including the SPC Scholarship Committee, Faculty Senate, Assessment and Blackboard Buddy, to name a few. He has been instrumental in the development of quality online kinesiology activity classes, and he helped create the new Sports Management course for kinesiology.
"I aim to bring real-world situations to my lectures when teaching students," he said. "I want them to see beyond the classroom setting and be able to apply what we cover in our discussions to situations they will experience after college."
Heth works hard to provide quality classroom instruction, which is demonstrated by the fact that few of his classes ever get canceled. He can often be found in his office late at night and on weekends to make sure that his classes are organized and professional. He is always on the cutting edge of classroom technology and incorporates that technology into his courses. He goes above and beyond to challenge himself by finding options to help struggling students.
Heth shows his commitment to the college by doing the behind-the-scenes activities that are regularly done without fanfare. He updates the department's website; in staff meetings, he shares new ideas that could help the department better assist faculty, employees and students; and he connects with his students in every class. Heth works well with all faculty and staff within the department and across campus.
A colleague said that Heth makes sure to praise the good deeds and works of employees and students to the leadership in the department and the administration of the college. He shows his genuine support for his colleagues at South Plains College.
Heth demonstrates South Plains College's vision of focusing on students. He goes out of his way to make sure no student is left behind. He tries to accommodate a student in any way he can, even if that means extra work or hours for himself.
In particular, he has a student in one of his online cardio classes. The student signed up for the class knowing he had knee problems that would make completing the class more difficult. Not to be deterred, Heth had the student come in during his off time to complete the assigned tasks in a way that would accommodate the knee problems. His win-win philosophy has earned him a 4.8 in the most recent student evaluation score.
Heth is a graduate of Midland High School and Midland College, where he was a dual credit student. He received a Bachelor of Arts in Criminal Justice at Angelo State University. He worked as a teaching assistant while pursuing his Master of Science in Kinesiology at ASU. He also worked at Texas Tech University as a full-time staff member.
Heth is a Master Texan Advisor and serves as the general student advisor for the kinesiology department, He assisted with the development of the department's transfer guides, is a UIL regional basketball volunteer, a UIL tennis tournament director, a SPC scholarship committee member for eight years, a member of the SPC Scholarship Gala committee, a member of the departmental website design committee, a department Blackboard buddy, and a member of the SPC Faculty Senate.
In the classroom, Heth utilizes many creative strategies to keep his students engaged. He said a student today needs to have a plan in place with clear goals established. This will help prevent academic fatigue and allow him to see the finish line that lies ahead.
"I enjoy seeing students open their eyes to the opportunities available once they earn a college education," he said. "I encourage them to become active in their academic activities—not only in the classroom but in developing themselves outside of their courses during their college years."
As for his role and contributions to South Plains College, Heth said success begins in the classroom.
"First and foremost, I am genuinely passionate about teaching students," he said. "This is where I feel I can make many connections and show them the opportunities and paths available in the kinesiology and sport management fields.
"I also see advising as a role that is equally important as teaching," he said. "I thoroughly enjoy helping students plan a schedule and prepare for their journey after SPC. I see this as an opportunity to excite students about their future while encouraging them to work hard to reach their goals."
Heth said that during his advising meetings, he encourages students to apply for scholarships while attending SPC as well as pursue scholarships at their next college. He said that even a small scholarship can have a significant impact on a student's overall semester and year.
Heth believes the availability of instructors and their willingness to help students wherever they are on their academic journey is the key to their obtaining successful futures. These attributes motivate Heth to be the best he can be in the eyes of everyone he encounters.