Spirit of MLK, Jr Award
SPC honors Spirit of Martin Luther King, Jr. Awards winners
LEVELLAND – South Plains College recently presented the Spirit of Martin Luther King Jr. awards to individuals who embody the spirit of leadership through service that Dr. King practiced. The honorees were announced during a dinner Thursday (Feb. 20) held in the Founders Room.
Motivational speaker, author and entrepreneur Raven Turner delivered the keynote address. She is the author of her first self-published book, "Pushed: Turning Adversity into Advantage" and the owner of Raven Turner & Associates, LLC. Ms. Turner shared her own personal stories and experiences with the audience to encourage them to change their perspective on the way they perceive failure and opposition.
"Life will stretch you, challenge you, and even try to break you; just to reposition you and convey its message; that life is about growth and change and the journey must be traveled regardless of how bad are the roads and accommodations."
​The honorees are SPC sophomore Danish Lewis recipient of the MLK Student Leadership Award; Myrna Whitehead, coordinator of News and Information, recipient of the Black Student Union Staff Leadership Award; Robert Plant, assistant professor of Mathematics, recipient of the Spirit of MLK Community Leadership Award; and Jessica Miesner, public service librarian in the SPC Library, recipient of the Black Student Union Advocates Award.
The event was sponsored by the Office of Student Life.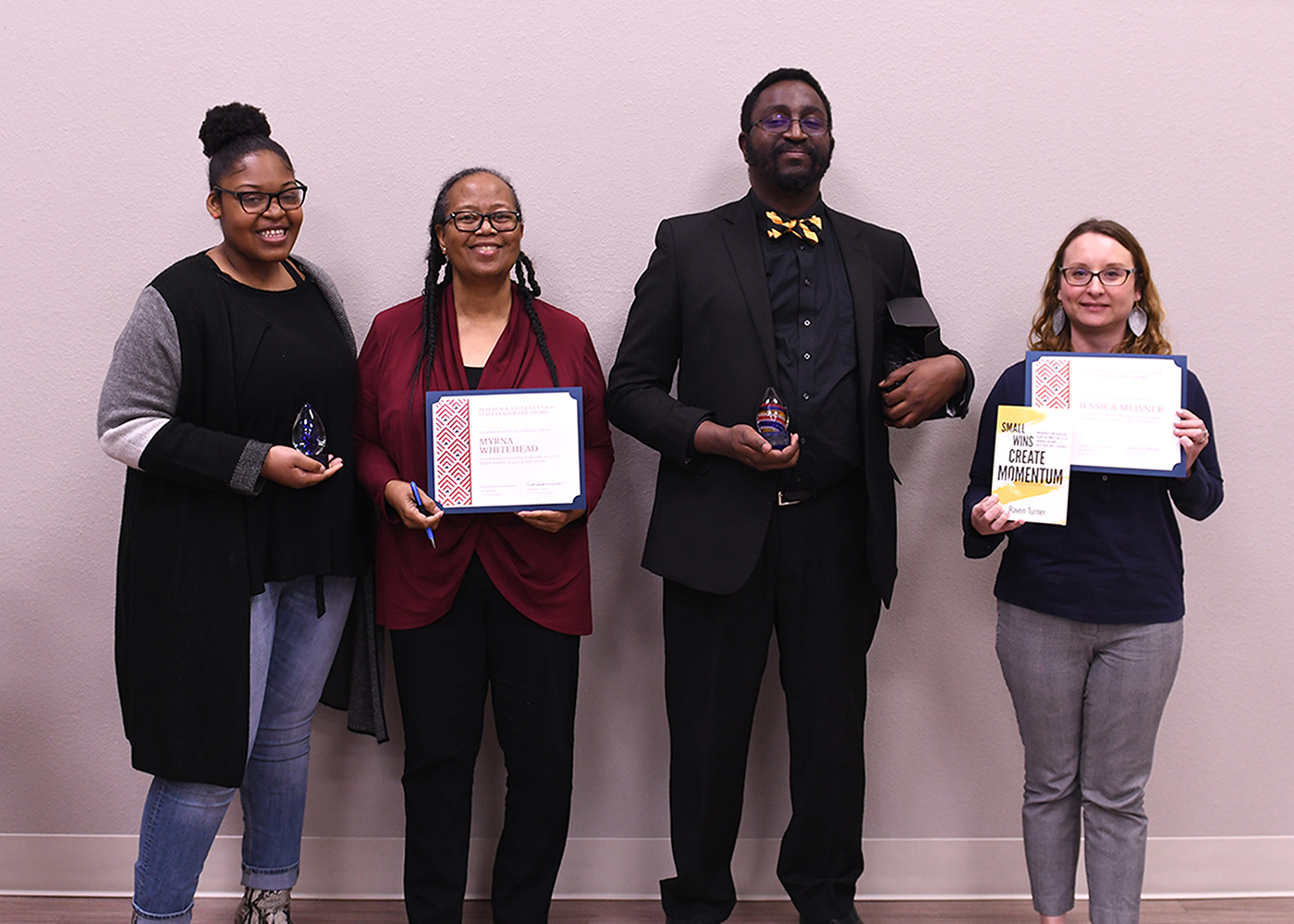 SPIRIT OF MLK WINNERS – South Plains College recently presented the Spirit of Martin Luther King Jr. awards to individuals who embody the spirit of leadership through service that Dr. King practiced. From left, SPC sophomore Danish Lewis received the MLK Student Leadership Award; Myrna Whitehead, coordinator of News and Information, received the Black Student Union Staff Leadership Award; Robert Plant, assistant professor of Mathematics, received the Spirit of MLK Community Leadership Award; and Jessica Miesner, public service librarian in the SPC Library, was presented the Black Student Union Advocates Award. (SPC Photo/Wes Underwood)