Robotics Competition
Plainview High School team captures SPC robotics competition
REESE CENTER – N2, a team from Plainview High School, walked away with the coveted Tin Man trophy following the robotics competition held recently in Building Six on the South Plains College campus.
The final battled featured four teams – Lazbuddie ISD's Crockett, Kelton ISD's RIP, Plainview ISD's N2 and SPC Plainview Center's Grease Lightning. Grease Lightning, the only college team to make it to the finals, earned a spot in the finals by winning the consolation round.
The contest featured four preliminary rounds featuring teams from SPC main campus in Levelland, SPC Reese Center and SPC Plainview Center as well as teams from Plainview High School, New Deal Independent School District, New Home Independent School District and Lazbuddie Independent School District.
The teams representing Levelland campus were At-At – James Miles of Denver City; and Marvin – Larry Taylor of Memphis and Rachel Johnson of Hereford.
The teams representing SPC Plainview Center were Grease Lightning – Santos Chavez, Raul Longoria and Shawn Salinas; El Diablo – Daniel Montelongo and Bryan Longoria, both of Plainview; and Los Ice Pix – Alex Moreno and Jackie Compton, both of Plainview.
The teams representing the SPC Reese Center campus were Littlie Cutie Pies – Trey McDowell of Dallas and John Kinchelor of Snyder; and Dartha Consuela – Rudy Perez of Littlefield, Ubaldo Marco Lua of Indio, Calif., and Raoul Kamela of Lubbock.
The winning team from Plainview High was comprised of Edgar Baeza, Ben Bozeman, Armando Delgado, Armando Gonzalez, Matthew Hastey, Andre Hernandez, George Martinez, Jimmy Rodriguez and Nathaniel Vaqera. The coach for Plainview High is Terry Nelson.
The teams from Kelton were RIP – Brock Buckingam and Mark Herndon; Unicorn Farts – Abby Tolbert and Kubir Bkahta; Terrible Tacos – Jayton Couch and Trenton Jasper; El Diablo – Larry Galven and Jacob Maxwell; and Ghettobot Soo – Kaleb Kimbro and Kyle Dawson.
The Lazbuddie teams featured Whitney Provence, R.J. Radford, Coby Glover, Preston Stewart, Josh Cox, Bernardo Lopez, Coy Baird, T.J. Bullard, Michael Wales, Mikayla Merigan, Ian Albertson, Alexandria Sanchez, Julian Elizalde, Andres Solano, Shelton Gable and Debbie Weir.
The New Deal High School team Vortex included Esther Braddock, team leader; Miguel Braddock (armorer); Garrison Durham (weapons); and Keden Williams, driver.
The New Home Independent School District team included Lexi McLaurin, Dillan Ford and Eduardo Fuentes. The sponsors were Emily Vanderpool and Sabrina Multer.
The contests judges were Manuel Prieto, Maintenance Supervisor for SPC Plainview Center; Michael Hawk, instructor in Electrical and Power Transmission Technology; and Tim Jones, instructor in Welding.
The IMET Program includes the Robotics course as part of the electronics curriculum. Among the concepts introduced range from what is a robot through the construction of a home-made Computer Numerical Control machine. A CNC Machine is a machine that uses a computer to control its motions and associated with milling and cutting machines. Industrial robotics is emphasized throughout the curriculum.
For more information, contact Bill Tackett, instructor in electronics technology at Reese, at (806) 716-2297.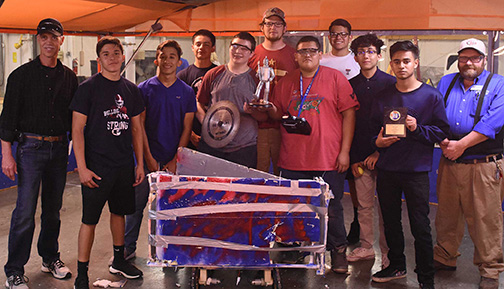 ROBOTS BATTLE WINNERS – Team N2 from Plainview High School was crowned champions in the Tin Man XVIII Robotics Competition. The event was held Friday (May 5) in Building Six on the South Plains College Reese Center campus. Shown on the front row, from left, are Rob Blair, Dean of Technical Education at SPC; Andre Hernandez, Edgar Baeza, Matthew Hastey, Jimmy Rodriguez and George Martinez. On the second row are, from left, Armando Delgado, Nathaniel Longoria, Armando Gonzalez, Pete Rojas and Bill Tackett, instructor in Industrial Manufacturing and Emerging Technologies. Not pictured is Terry Nelson PHS Robotics Instructor/Sponsor. (SPC Photo/Wes Underwood)