Truck Simulator
South Plains College purchases four truck driving simulators
REESE – South Plains College recently purchased four three-screen VS600-VS600M Truck Simulators to be used in the Truck Driving Program at the SPC Reese Center campus.
The purchase was made possible with a grant from the Texas Workforce Commission through the Workforce Solutions South Plains and a generous donation from the Lubbock Economic Development Alliance.
The simulators from Virage Simulation, Inc., reproduce realistic vehicle behaviors under different loading conditions and replicate the effects of gravity during hill driving as well as driving under different weather conditions.
"These simulators will truly enhance the classroom environment," said Jay Warnick, director of continuing education and workforce development at SPC. "They will aid students who might have difficulty with the actual equipment train in a stress less computer environment to enhance their driving and backing skills."
The Multi-Function Display includes additional training including helicopter views of the vehicle progressing in its environment; real-time, interactive, animated schematics of the pneumatic brake system and interactive gear synchronization indicators.
The visual scenes reproduce city, highway, industrial, farmland and mountainous environments in addition to a practice field. The sound system allows verbal instructions to the driver including giving commands or requesting feedback and navigational directions.
For more information, contact Warnick at (806) 716-2547.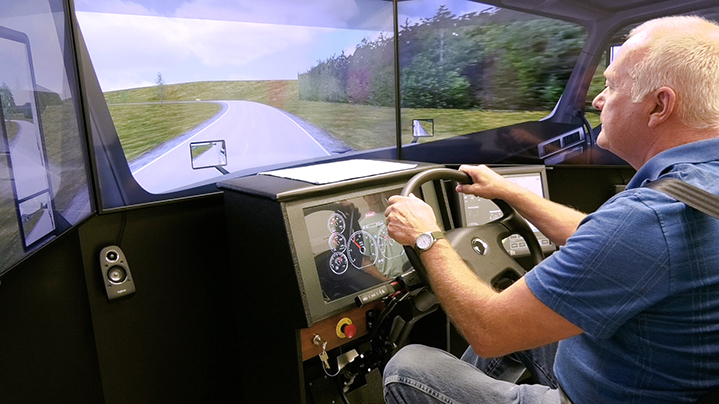 TRUCK DRIVING SIMULATORS – Students enrolled in South Plains College's Truck Driving Program gain hands-on experience using the new VS600M Truck Simulators. Thomas Butters of Midland practices driving a mountainous terrain. (SPC Photo/Nathan Boyd)