ACRP
SPC student brings artistic flair to Automotive Collision Repair Program at SPC
LEVELLAND – Madelynn Rodriguez of Morton is a freshman in her first semester pursing her Basic Certification in Automotive Collision Repair.
Her father, Marcelo, is a mechanic by trade but he also likes to rebuild classic cars.
"He wanted me to help carry on the family business," she said. "I have always been pretty artistic. I've always liked drawing and painting. In high school I was in a lot of art competitions. And I participated in art quite a bit. So, he just automatically knew that I was already talented in this area."
Rodriguez said last year she attended a Senior Sneak at SPC where she encountered a female student who was in the collision repair program. Following their conversation, Rodriguez said she felt the program would be a good opportunity for her.
With one semester nearly under her belt, Rodriguez said the hardest thing she has learned so far is to not to give up or get too frustrated.
Rodriguez arrives on campus at 8 a.m. Monday through Thursday. After an hour of computer work, the students enter the lab where they work on body shop activities. So far, she has learned how to perform dent repairs, how to paint and how to buff, she said.
"I've learned pretty much everything and how to work with the tools in the shop because I didn't know anything about tools before I came here," she said.
One of her projects involved painting a fender. However, Rodriguez wanted to give the fender a little bit more flair.
"At first, I wanted to do butterflies and a flower – a rose," she said. "But I couldn't get the rose to come out right. The teacher had told me about doing a fade, when you get two colors and you fade them together.
"I thought that would be pretty cool," she said. "We did it on the stripe, and I had to tape the stripe out straight and I finally got it."
Originally, Rodriguez wanted to use the color orange, her favorite color. The other color was purple. However, she said, the colors did not mix well together. They settled on blue and it worked.
While Rodriguez is relishing the skill set she's obtaining in the program, she said she knows her Dad will be happy. However, her younger sister Kami still hasn't warmed up to the idea of her sibling working in a body shop. Kami, 16, is a junior at Morton High.
"She didn't want me in the program because she was afraid that I wouldn't like it with all the boys in it," Rodriguez said. "She thought I might get picked on or teased by them. Now that she sees what I'm doing, she said that it's pretty cool."
Rodriguez said she male students in the program consider her as an equal. She said the guys have been really nice and they always help her whenever she asks. The hands-on component of the program is essential to learning her craft.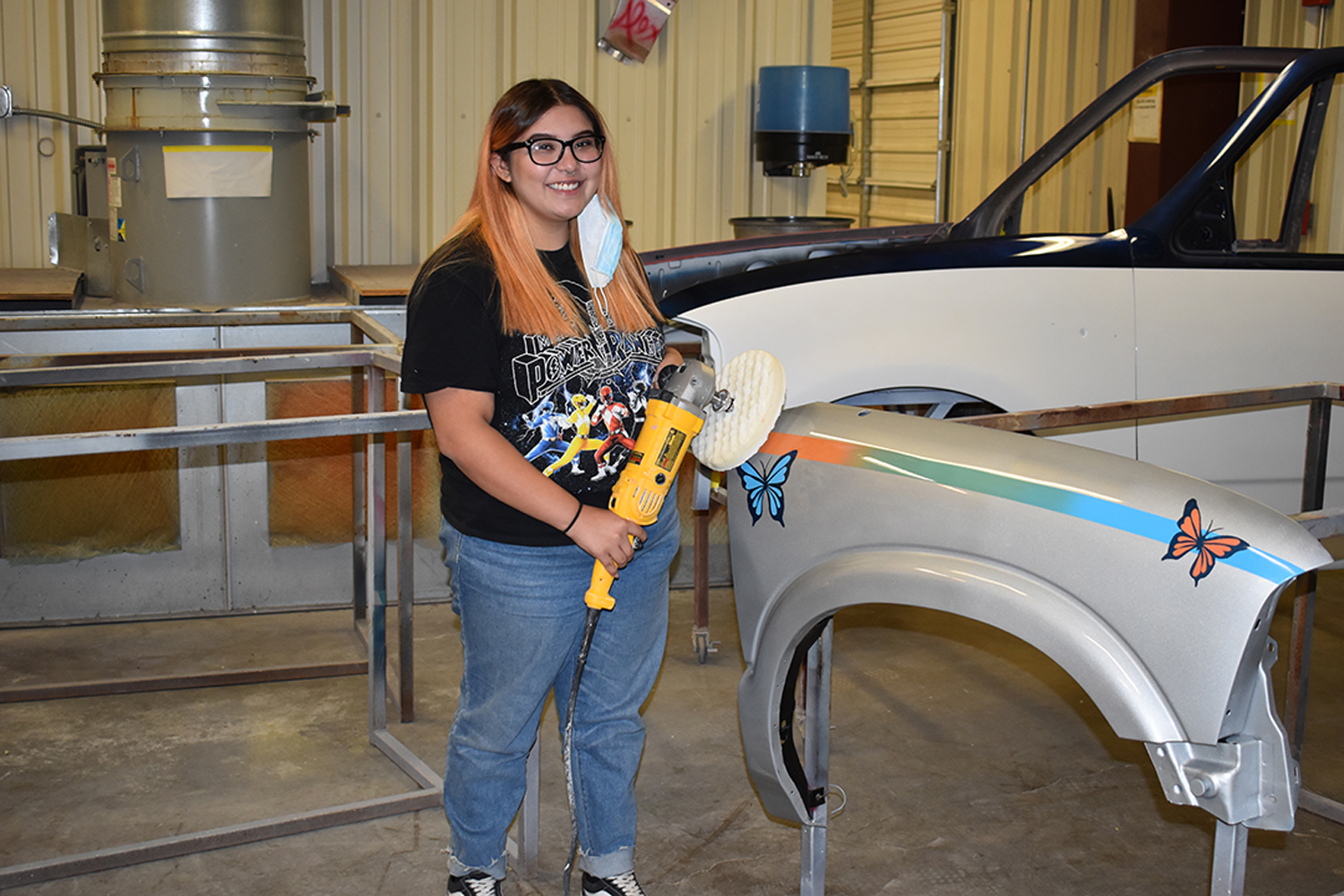 "You can't just learn how to do this from a book or computer," she said. "You need to be able to do everything on an actual vehicle."
In the future, Rodriguez plans to land a stable job, buy a new car and be able to afford a place to live for herself. She is not attached to West Texas, and she said she wouldn't mind moving to Dallas.
Rodriguez said she would like to see other females in the program because it will lead to a good career.
"I would tell other females to just go for it because anybody can do this kind of work," she said. "The value of education is to be able to find employment anywhere."
Rodriguez will graduate in May 2021.
The Automotive Collision Repair program emphasizes I-CAR Pro Level 1 Non-Structural Certification, which prepares qualified graduates for entry-level employment in the collision repair industry. The program provides students with skills necessary for employment as an automotive body/ frame and refinishing technician. Students successfully completing the curriculum described below will meet all requirements for the Automotive Collision Repair Basic Skills Certificate. I-CAR automotive body and frame skills consists of vehicle structural design, mig-welding body components, measuring systems, manufacturer specifications, vehicle control points, build tolerance, metallurgy, steering and suspension identification, basic automotive electrical service and repair, and basic estimating principles. Automotive refinishing skills consists of surface preparation, refinish materials, pneumatic tools usage, maintenance, and repair, High-Volume Low-Pressure paint gun spray pattern adjustments within industry standard down-draft paint booths, color and texture matching through manufacturer variance program, refinish and blend techniques, color tinting, polishing, compounding, spot, panel and overall refinishing, graphic lay-out, pin-striping as well as basic air brush techniques.