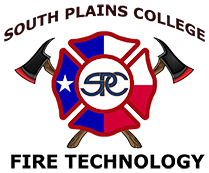 The Fire Technology program at South Plains College consists of three components:
These programs are designed to build upon each other toward a career in the fire service.
The Basic Fire Academy Level 1 Certificate is a 25-credit-hour program for students who want to become certified structural firefighters in the state of Texas. It provides the knowledge and hands-on skills needed for students to pass the Texas Commission on Fire Protection (TCFP) basic structural firefighter examination.
The Advanced Fire Technology Level 2 Certificate adds 20 credit hours in either Emergency Medicine or Fire Service specialization training to the 25 credit hours already earned during Basic Fire Academy training, for a 45-credit-hour award. Students who choose the Emergency Medicine specialization will be receive 20 credit hours of training in both EMT-Basic and Advanced EMT courses, successful completion of which leads to Texas Department of State Health Services (TDSHS) certification in those respective areas. Students who choose the Fire Service specialization will receive 20 credit hours of training in advanced fire service topics, including the six Fire and Emergency Services Higher Education (FESHE) core courses.
The Associate of Applied Science (AAS) in Fire Technology adds 15 credit hours of general education requirements (3 credit hours each in English, Speech or Computers, Math or Natural Science, Humanities or Fine Arts, and Social and Behavioral Science) to the 45 credit hours previously earned in the Level 1 and Level 2 Certificates, for a 60-credit-hour award.
Select the appropriate link from the menu on the left to obtain detailed information regarding each program and contact information.
Are you interested in hiring students from South Plains College? Fill out our form below and a program advisor will contact you.